Labour shotgun proposals are an unwarranted attack on shooting industry
SUGGESTIONS by the Labour opposition that shotgun certificate holders should have to "prove their suitability" to own a firearm in future are an unwarranted attack on the 600,000 shotgun certificate holders in the UK and completely unworkable, says the Countryside Alliance.

In a statement outlining Labour amendments to the anti-social behaviour crime and policing bill on 14 October 2013, the hadow crime and security minister Diana Johnson said her party wishes to strengthen firearms licensing, with an increased fee for licences and to:- "shift the onus to the applicant to prove their suitability."

Countryside Alliance director of campaigns Tim Bonner said:- "Firearms licence holders understand that gun ownership in the UK is a responsibility, not a right and generally accept the justification for some of the strictest gun control laws in the world. A review of Police guidance to strengthen the test of 'fitness' to possess firearms, is being undertaken by the Home Office and ACPO, with the full support of the shooting associations. These new proposals from the Labour Party are, therefore, completely unjustified and together will be seen as an attack on the legitimate shooting community. Of particular concern is the suggestion that over 600,000 shotgun certificate holders should have to 'prove their suitability' to own a shotgun. Although Labour does not say how these assessments of fitness would be made it can only be an unjustified burden on a law-abiding minority and threaten the future of an industry that is worth £1.6 billion a year and employs 60k people."

The Countryside Alliance is not opposed to an increase in the licence fee, but it needs to be accompanied by a better service to those applying for a licence. Numerous inefficiencies exist within the current licensing system.
Hot Club of Cowtown October / November 2013 UK Tour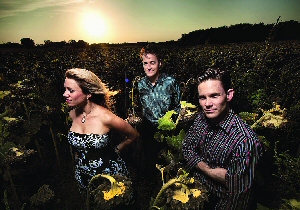 THE Hot Club of Cowtown is back to tour the UK through October and November 2013 and stopping off in Southport for a live gig on Thursday, 14 November 2013, at the The Atkinson on Lord Street (PR8 1DB)! Hot Club of Cowtown's latest release RENDEZVOUS IN RHYTHM is an exuberant collection of Gypsy songs and American Songbook standards played acoustically and recorded in the hot jazz style of legendary violin and guitar masters Stephane Grappelli and Django Reinhardt. RENDEZVOUS IN RHYTHM is the Hot Club of Cowtown's 1st ever dedicated foray into the Gypsy jazz and French swing of Paris in the 1930's and features the band's sparkling spins on standards made famous by Reinhardt and Grappelli including Crazy Rhythm, Minor Swing, Dark Eyes, The Continental, I'm in the Mood for Love, Douce Ambiance, and many more.

The Hot Club of Cowtown comprises Elana James-fiddle and vocals, Whit Smith, guitar and vocals and Jake Erwin, upright bass and vocals. Since its beginnings in the late 1990s, Hot Club of Cowtown's star has continued to rise as its reputation for jaw-dropping virtuosity and earth-shattering live shows has become the band's global brand. Lauded for its "down-home melodies and exuberant improvisation" (The Times, London), the Hot Club of Cowtown has always weaved a combination of seemingly disparate styles together to its own magical effect, setting up camp "at that crossroads where country meets Jazz and chases the blues away" (The Independent), and "conscious always that above all else, the music is for dancing and an old-fashioned good time" (The New York Times). The Hot Club's musical alchemy has been described as "Another breathless journey in the Texas tardis" (The Times, London), while American Songwriter shrewdly observed that "The excellent three players of this band could be doing anything but have chosen to honor the greats of jazz and swing with their sound." The Belfast Telegraph calls them "a pretty much perfect country trio at the very top of their game." while a live review last year in the New York Times described the trio as armed with "an arsenal full of technique and joy."

Along with the Hot Club's dedicated cult following worldwide they have toured for the US State Department as Musical Ambassadors to Azerbaijan, Armenia, the Republic of Georgia and the Sultanate of Oman-certain titans of the industry have also taken notice. Bob Dylan, with whom the band toured and with whom James has toured and recorded, is a continuing inspiration both personally and professionally. The Hot Club has opened several shows for Willie Nelson, toured with Nelson and Dylan during a summer-long stadium tour and opened seven nights of Roxy Music's sold out "For Your Pleasure" UK stadium tour in early 2011. In the UK the Hot Club of Cowtown continues to tour extensively and has been featured at the Glastonbury Festival and has also been a returning guest on Later with Jools Holland, the Cambridge Folk Festival, the Radcliffe and Maconie Show, and Bob Harris Country on BBC Radio 2.

To book tickets to the 8pm show at Southport's The Atkinson call the on:- 01704 533333. Tickets for that performance will be charged at:- £16 / £14 Conc. For more information and the latest tour news, please visit:- hotclubofcowtown.com

Southport Nice 'n' Naughty defends their Bangor Shop
"THE Nice 'n' Naughty would like to respond to the comments made by Liberal Democrats Bangor, Gwynedd, Councillor June Marshall, at last night's successful sex establishment license renewal for our store, located at 27 High Street, Bangor. We are grateful to Councillor Marshall for raising the concern that Nice 'n' Naughty stores could sell violent hardcore pornography that is demeaning to women since there is often confusion as to what types of material are available in licensed sex shops.

Here at Southport's Nice 'n' Naughty, as with each of our 12 licensed stores, we are carefully regulated and perhaps an object of greater scrutiny, than for example, an unlicensed premises who sell adult material. We are acutely aware of our responsibilities and staff are trained to ensure only adults gain access to the premises. Any pornographic products found within each store can only be viewed by adults who choose to enter them. Once inside customers may purchase a variety of items ranging from massage oils and lingerie on one end of the spectrum, to sex toys on the other. However I assume by Councillor Marshalls comments that she is referring to the extensive range of over 500 R18 certified DVDs available in store. Customers often use the word hardcore to denote R18 classification.

Before we can sell an adult DVD, it is subject to classification by the British Board of Film Sensors (BBFC), much in the same way as any movie. DVDs classified as R ( restricted) 18 may only be supplied in licensed sex shops and supplied to adults of not less than 18 years of age. The category is primarily for explicit works of consensual sex or strong fetish material involving adults. During the classification process, the BBFC state that certain types of material are not acceptable and films containing such material will fail classification. Included in prohibited material is anything that indicates withdrawal of consent, or any infliction of pain or acts that may cause lasting physical harm. At the more extreme end the classification prohibits penetration by an object associated with violence or likely to cause harm. On this basis, it would be impossible for us to supply an R18 DVD that was in any way violent, since it would not pass the stringent classification of the BBFC. We are unsure what shops or products Councillor Marshall may have previously encountered or when, but the classification laws are quite explicit on this point. Nice 'n' Naughty would however be delighted to invite her to our premises in order to allay any concerns.

In terms of being demeaning, the BBFC is equally as clear, stating that any humiliation or abuse which does not form part of clearly consenting role play is not acceptable. They go on to say that strong physical or verbal abuse, even if consensual, is unlikely to be accepted. As such the content of the certified R18 titles sold by Nice 'n' Naughty, is neither violent nor demeaning and would strongly refute the allegation.

But of course there is the wider point that some may feel any sexual activity portrayed in a DVD is demeaning to women. I do understand and empathize with this view. However it is not born out of fact. Over 60% of customers visiting our stores are women who clearly do not feel demeaned by our products. Similarly almost 30% of adult DVDs sold in store are purchased by women. Clearly many women have no objection to R18 media.

There is also the issue of social responsibility, in that Nice 'n' Naughty attempts to control who may purchase the material in store. This is a considerable improvement on the position taken by the leading internet providers, whose search engines in the main allow unrestricted access to a variety of hard core material, some of which may never have been classified. Hence whilst it is easy to tarnish the role of a licensed sex shop, it at least offers a regulated alternative to the plethora of downloadable pornographic material.

Nice 'n' Naughty would urge Councillor Marshall to visit our store and gain a closer understanding of the challenges we face and the control we exercise." Trish Murray, Nice 'n' Naughty.
Editors note:- "We have contacted Councillor June Marshall for more information about her side of this report and will add it to the next issue if we get a reply."
Campaigners welcome radical shift in local power
REGULATIONS giving town and parish Councils radical new powers over planning appeals and large developments come into force this week. The regulations allow town and parish Councils to use the Sustainable Communities Act for the 1st time. The Act is a legal mechanism which gives Councils the ability to trigger action they need from central government to address community decline. Leiston Town Council in Suffolk have already used the Sustainable Communities Act to force the developers of the Sizewell nuclear power plant to fund independent reviews of the planning application. Local Works, a coalition of over 100 organisations, have campaigned for 2 years for this legislative change allowing town and parish Councils to use the Sustainable Communities Act. Commenting on the advent of the new regulations, Steve Shaw, National Co-ordinator of Local Works said:- "We are delighted to see the dawn of a new era of local democracy. Town and parish Councils are the closest representatives to their local communities, and it is only right that they have access to the radical powers only the Sustainable Communities Act provides. The Act empowers Councils to take action in the face of the unique threats their communities face by cutting through central government red tape. We look forward to seeing what the future holds following this important shift in the balance of power." Do you have any views on this topic? If you do, please let us know by emailing us to:- news24@southportreporter.com.