GMB CEC AUTHORITY FOR OFFICIAL STRIKE BALLOT IN ENGLAND AMBULANCE SERVICE UNLESS PROGRESS IS MADE OVER 25% CUT IN SICK PAY FOR 35,000 STAFF
THIS moves us a step closer to a national dispute in the ambulance service in England as other unions are likely to adopt a similar stance

GMB Central Executive Council (CEC) meeting on 15 October 2013, in London has given authority for negotiators to proceed to an official strike ballot unless there is progress in discussions with employers who imposed cuts to sick pay by up to 25% for 35,000 ambulance workers in England from 1 September 2013.

Last month the TUC Congress in Bournemouth backed a GMB emergency motion on resisting cuts to ambulance workers pay by up to 25%. See notes to editors for text on motion carried at TUC Congress.

A GMB spokesperson said:- "A full report was given to CEC from the national negotiators on this dispute. CEC has now given has given authority for the negotiators to proceed to an official strike ballot unless there is progress in discussions with employers. This moves us a step closer to a national dispute in the ambulance service in England as the CEC was told that the other unions (Unite and Unison) are likely to adopt a similar stance to that of GMB."
Commissioner joins rural officers during Firecrest action week
CRIMINALS operating in Lancashire's rural communities are being targeted by Police and the County's Police and Crime Commissioner has been along to see the Firecrest operation in action.

Clive Grunshaw joined officers from Broughton Police Station at the Beacon Fell Visitor Centre, in the Forest of Bowland, this on 16 October 2013, to see what is being done to improve rural security and help residents living in isolated communities feel safer.

The community action day; which saw crime prevention advice and information about rural Watch schemes handed out to residents – is part of a series of events taking place across the county during Lancashire Police's week of action.

The Commissioner said:- "Community action events like today's at Beacon Fell are vital to allow residents to engage with their local officers and find out how they can make their homes and workplaces more secure. Rural crime in Lancashire is low, but when it does happen it can have a significant impact on those affected. As Police and Crime Commissioner I am committed to ensuring Lancashire Police does all it can to keep instances of rural crime down, and initiatives such as Farm Watch, Canal Watch and Caravan Watch are important to help officers do that. Firecrest is not just a week long initiative, there is a long-term commitment at Lancashire Constabulary to tackling and further reducing rural crime and this morning clearly demonstrated the enthusiasm and dedication our rural officers have to achieving this."

PC Chris Banks, who ran this morning's event, said:- "This morning we have been targeting the most rural area on our patch handing out advice, bike locks, shed alarms and promoting the Watch schemes. For us it is fantastic to have the Commissioner along as there is a lot of good work going on in the rural areas in particular to keep crime levels low."

For more information about Firecrest, follow:- #firecrest on Twitter throughout the week.
LOST PRESCRIPTION MEDICATION - SOUTHPORT
MERSEYSIDE Police are urging members of the public to exercise caution following the loss of a quantity of prescription drugs. The drugs were reported missing on Monday, 14 October 2013, and were thought to have been lost in Hesketh Park, Southport. A 100ml bottle of Morphine is missing and was in a blue rucksack. Taking medication that is not prescribed for you can be harmful or even prove fatal. If any one finds the medication please hand it in at a local Police station or pharmacy or contact Merseyside Police:- 101.

Air Ambulance on 999 call out to Formby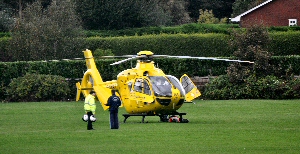 ON 14 October 2013, the Air Ambulance landed next to the public footpath part of St Luke's Church Road, on the corner of Range High School playingfield to a casualty on the privet road and public footpath, at the back of the houses on Elsworth Close, Formby. Sefton Range Service, NWAS and the NW Air Ambulance were in attendance.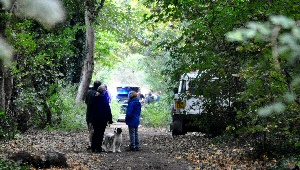 The North West Air ambulance told us that:- "We had a call come in at 15:05 requesting us to attended an equestrianism incident in Formby. The incident had resulted in a female, in her 20's, falling from a horse when she was out riding. She was suspected of having head injury and was taken to transferred by our Air Ambulance, from the incident site, to Preston Hospital."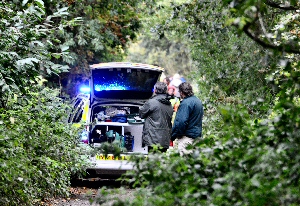 The North West Air Ambulance is a charity which has been flying life-saving missions throughout the North West region since 1999. The service provides urgent hospital transfers for critically ill or injured patients, particularly those needing to travel long distances for emergency surgery, and those with spinal injuries. As in this case, any casualty with an injury to the head and suffering a fall like this should be assumed to have a neck (spinal) injury as well and will often be treated accordingly. Sadly the service can only run with public support, so please go to the NWAA website and make a donation and help the "Yellow Bird" say flying high and saving lives...
Do you know what to do in an emergency involving a casualty with a head injury? Did you know that all head injuries are potentially serious and require proper assessment? Click on here to find out few hints about what to do in an emergency. Sadly hints are no substitute for thorough knowledge of first aid, but it still helps to know the very basics!