'Stop and Think!' says UK's Highways Agency
THE UK's Highways Agency road workers including construction workers, project managers and traffic officers are being urged to 'Stop and Think!' in a bid to drive down workplace accidents.

The initiative, has been launched in the North West as part of the Highways Agency's ongoing 'Aiming for Zero' campaign aimed at slashing reportable accident rates among staff and contractors. It is also being staged to help mark European Week for Safety and Health at Work.

In 2012 to 2013 nationally one Highways Agency employee was killed, 17 seriously injured and 27 slightly injured; with a further fatality, 26 serious injuries and 35 slight injuries among contractors working to help operate, maintain, repair and improve motorways and major A roads (the strategic roads network). On Monday, 21 October 2013, the Highways Agency issued CCTV footage underlining the dangers faced by roadworkers from road users' poor driving.

Earlier this year, with a focus on road users' behaviour, traffic officers and construction workers across the North West; including safety barrier maintenance crews, traffic management operatives and salt spreading crews; spoke of the daily dangers they faced from driver behaviour.

Now the same road workers, among them contractors and sub-contractors delivering repairs and improvements on behalf of the Highways Agency in the region are being asked to focus on their own behaviour.

The new Highways Agency 'Stop and Think!'! campaign is designed to remind road workers; and colleagues; that an accident free working environment also depends on their own attitudes and actions as well as those of drivers.

A 'Stop and Think!' workshop at the Highways Agency's Westhoughton depot, on Thursday, 24 October 2013, they rounded off the week long national Health and Aafety activities focusing on workers' behavioural attitudes.

Matt Sweeting, the Agency's regional director for the North West said:- "We are reminding drivers that they have a responsibility to keep our road workers free from harm. But most of this week is about re-focusing our own minds on safety issues and getting everyone involved in the work of the Highways Agency to think constantly about theirs and others' safety. 'Stop and Think!' Is about pausing for a moment when planning or carrying out a survey or making a repair and considering what risks there might be to health, safety and wellbeing for everyone involved."

Part of Thursday's workshop they concentrated on sharing best safety practice. By re-thinking operations; such as the way cones and signs are laid out. Plus the Agency's 2 service providers for the North West celebrated more 2 million working hours without a reportable accident.

But that is not all... The Road Worker's Safety Forum (RoWSaF); a cross industry group led by the Highways Agency; has won a prestigious international award for helping improve safety at roadworks including reducing by up to 40 per cent the number of times road workers have had to cross live carriageways.

Regional traffic officers, project managers from the Highways Agency's regional office at Piccadilly Gate, main contractors for the region Balfour Beatty Mott MacDonald and EM Highways Services as well as other contractors from the Agency's 'supply chain' such as Tarmac and Chevron attended Thursday's event.

No jobs recovery in the North West
THE latest labour market figures show that the North West had the highest increase in unemployment of any region over the Summer. Unemployment is now at 294,000 (8.6%), up 24,000 over June 2013 to August 2013. The Office for National Statistics identify a pattern of falling employment rates in the North West and identify no fall in unemployment over the past year. Nationally, there was a small drop in unemployment, but the figures also show that a record 1.4 million people are working part-time. Kevan Nelson, Regional Secretary of UNISON North West, said:- "Nationally, the labour market is failing to deliver decent quality jobs and there is a growing problem of under employment. In the North West, we are still seeing a fall in both the quality and quantity of jobs. The North West has borne the brunt of the Government's austerity policies. Public spending cuts have led to job losses and moves to more precarious, low quality forms of employment. The Government's policies are failing the people of the North West and this will be compounded by further Council cuts planned for 2014/15."
Letter to editor:- "Energy costs"
"WITH colder weather around the corner, and further gas and electriCity price rises predicted, millions of people across the UK will be extremely concerned about how they'll pay their fuel bills this winter. We know that this issue is widespread amongst the people we help, and our research last winter found that almost two-thirds of people on low incomes were not sure if they could meet their fuel costs without experiencing financial hardship. In addition to rising energy prices, the costs of other everyday essentials are on the increase. With personal finances being increasingly stretched and in response to the largest shake-up of the UK benefits system, Turn2us has launched a new, free and easy-to-use online Benefits Calculator at benefits.turn2us.org.uk. The new calculator is a vital tool to help more people access the financial support they may be entitled to. The calculator helps individuals to find out what welfare benefits they are entitled to, how much they should receive and how to make a claim. It also links to our Grants Search tool to help people find other sources of support from charitable funds. We urge anyone who is struggling to check their eligibility for financial help now - it could make all the difference this winter and beyond." Alison Taylor, Director, Turn2us, London.
ECHOTWO @ ARENA LIVERPOOL THIS DECEMBER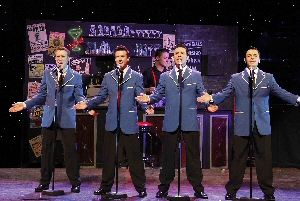 THE international hit show 'New Jersey Nights' comes to EchoTwo @ Arena on 5 December 2013 for 1 night only! This spectacular show takes you on a nostalgic musical journey celebrating the greatest hits of one of the biggest selling groups of all times:- 'Frankie Valli and the Four Seasons.' Featuring four great singers, perfect harmonies, stylized costumes, a rockin' live band and amazing dancers 'New Jersey Nights' delivers all of the Four Seasons hits, including: Sherry, Rag Doll, Can't Take My Eyes Off Of You, Big Girls Don't Cry, Let's Hang On, Walk Like A Man, Dawn, Silence is Golden, Bye Bye Baby, Oh What A Night and many more. If you like the music of Frankie Valli and the Four Seasons, you'll love this show! Tickets are on sale now! You can book tickets online or call the Liverpool Arena Box Office on:- 0844 8000 400.