New partnership to help young people remove explicit images online
Photographs in this report are by Jon Challicom and posed by models.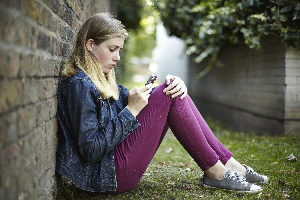 ACTION taken as new survey reveals 60% of young people have been asked for a sexual image or video and 40% have created an image or video of themselves

ChildLine and the Internet Watch Foundation (IWF) are joining forces to ensure young people of 17 years and under know where to turn to get sexually explicit images removed from online. The partnership comes as a result of a ChildLine survey of 13-18 year olds which revealed that young people are frequently taking huge risks by making and sending sexual images of themselves.

Shockingly, 60% of the young people questioned said they had been asked for a sexual image or video of themselves, demonstrating a concerning prevalence and an immense pressure on young people to participate. 40% said they had created an image or video of themselves, with around a quarter of all those questioned saying they had sent the image or video to someone else.

Over half of the young people surveyed by ChildLine said they had received a sexual photo or video, most received them from a partner but a third received them from a stranger. Whilst most said the image went to a boyfriend or girlfriend, a third said they sent it to someone they met online but didn't know in real life and 15% said they had sent it to a total stranger.

Labelled as 'sexting', the sharing of self-generated sexually explicit images or videos by mobile phone or online is now commonplace amongst young people to the point that it is considered 'mundane'.
James*, 17, revealed that he continues to engage in sending and receiving images, despite the risks:- "Sexting is really pretty normal at my age. It seems like everyone's doing it. There are definitely risks involved. Someone saw a video message I had sent to a previous girlfriend, took a screen shot and posted it online. They called me a pervert and lots of people I knew saw it. I was completely devastated and, to be honest, almost suicidal. I've never pressured anyone into sexting, and when any girl I've been seeing hasn't been interested I've been fine with that. There are some people though who will put pressure on you. I do worry about who is behind the phones of the people I sext with, obviously if you don't know the person in real life there's no guarantee that they are who they say they are. There is also a big risk around the ages of the girls you contact. Of course you can ask, but there's no proof that they're telling the truth."

Since NSPCC commissioned research uncovered a worryingly increasing trend for 'sexting' and a fear amongst young people of turning to adults for help when things go wrong, ChildLine has been committed to providing young people with support to tackle the issue.

Peter Liver, Director of ChildLine Services, said:- "In contrast to the scale of the problem, few young people are calling ChildLine to talk about the issue, whether for fear of being judged or being reported to the authorities. Most common contacts to ChildLine are when the issue has escalated beyond their control. It is essential we are able to support young people to talk to ChildLine before an issue escalates but also that we are able to help them to deal with removing images from online. The sharing of these images does not necessarily happen in isolation, it can be related to other online issues such as cyber bullying and draw from influences such as celebrity and easy access of online pornography. Our partnership with the IWF means that we can help young people to verify their age before logging a complaint to get the image removed swiftly and efficiently."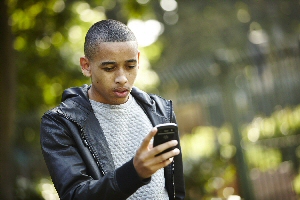 Susie Hargreaves, IWF CEO said:- "We're delighted to be partnering with ChildLine as we have sadly tracked a marked rise in self-generated sexual content featuring young people. A snapshot study conducted by IWF analysts over a 47 hour period found well over 12,000 self-generated images and videos of young people online. Most recently, we see images and videos being gathered together and sold for commercial gain. The IWF works strictly within UK law; we have to be certain that the image features someone under the age of 18 which is why this partnership with ChildLine is all the more important to ensure we can receive the information to remove explicit content as soon as possible."

As part of their focus on the issue, ChildLine have also developed their first app for young people designed to provide tools to defuse the pressures to send an explicit image. Called 'Zipit' the app offers witty images to send instead of explicit ones, advice for how to engage in safe chat, what to do if you feel threatened or if an image becomes public and a direct link to call ChildLine. The app will be available later this month.

Peter Liver continued:- "With the constant rise in smart technology being made available to young people, the self-generating and sharing of sexually explicit images is not a 'fad' that will go away. We know that threatening young people with the consequences of their actions is not the most impactful way to engage them, in a similar way as telling them not to drink or smoke. The app means we are providing young people with a tool to help them deal with or remove the pressure to engage in it."
* Names have been changed to protect identity. Also these photographs are of models!
PRIMARK FALL - WOMAN DIES
A 57 year old woman woman has died in Liverpool hospital on Tuesday, 22 October 2013 following an incident at a store in Liverpool City Centre. Merseyside Police Officers were called to the Primark store in Church Street, 6pm, on 22 October, by Paramedics following a report a woman had fallen from the 3rd floor. The lady who has been formally identified was taken to hospital by Ambulance, were she unfortunately died a short time later. The next of Kin do not want the woman's name to be released to the public and anyone who knows her name is being asked out of respect to the family not to release it. At this time the death if not being treated as suspicious and the matter has been referred to the coroner.

Changes to hospital parking fees and penalties
PARKING penalties for motorist have been cut at Southport and Ormskirk hospitals, but Geoff Wilding, Facilities Manager, has told the media that:- "The fixed penalty notices fee has fallen from £60 to £30, providing it is paid within 14 days. We have agreed this with UK Parking Control, the company that monitors parking on the Trust's behalf, in response to feedback from visitors." The penalty for notices unpaid after 14 days also falls from £120 to £60. UK Parking Control Ltd. issues penalty notices to drivers who park in Blue Badge spaces they are not entitled to, park on pavements, park on double yellow lines, or block access to essential clinical services and emergency services such as ambulances and fire engines. The Trust receives no income from fixed penalty notices which fund UK Parking Control's management costs. Parking charges for some visitors will increase as of 1 November 2013. Parking for staff will also cost more.
VISITORS

Up to 31/10/2013

From 1/11/2013

Up to 20mins

FREE

No charge

20mins to 2hrs

£2.80

£2.90

2hrs to 4hrs

£3.40

Unchanged

4hrs to 8hrs

£4.10

£4.20

Over 8hrs

£5.20

Unchanged

Weekly pass

£10 + £10 deposit

Unchanged

3

month pass

£30 + £10 deposit

Unchanged

STAFF

Up to 20hrs

£170 a year

£172 a year

More than 20hrs

£340 a year

£344 a year

Designated parking

£565 a year

£570 a year
Director of Finance Damian Reid said:- "The Board agreed 2 years ago that charges should rise in line with the cost of living, but we have decided to keep the increase this year to the equivalent of 1%. Income from parking charges goes towards the cost of maintaining and managing the car parks. The remainder goes directly to patient care."
The Trust also plans some changes to parking arrangements in the months ahead including the introduction of supermarket style mother and baby spaces, particularly for women's and children's services at Ormskirk hospital.
Damian added:- "We are also investigating new ticketing arrangements in a bid to reduce delays and improve the experience for visitors."
Young healthcare students in training at the Liverpool UTC to undertake work experience with the Royal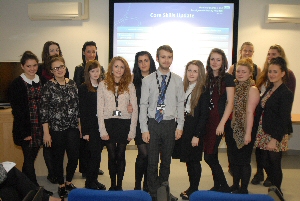 STUDENTS enrolling on healthcare courses at the new University Technical College (UTC) on Greenland Street, will get first-hand experience of the skills needed to care for patients thanks to a unique partnership with the Royal.

Around 200 work experience placements a year will be available for UTC students aged 16 and above in clinical and non-clinical areas at the Royal Liverpool University Hospital, Broadgreen Hospital and the Liverpool University Dental Hospital.

Jo Marinas clinical skills training manager at the Trust said:- "This will be a great experience for these 16 to 19 year olds who will be shadowing and observing staff in their roles. Not only will they see how clinical staff care for patients, they will also get a real insight into the wide range of career opportunities available in healthcare both in clinical and non-clinical roles. They will each receive induction training beforehand so that they understand our values and practices and are trained in cores skills such as compassionate care, infection control and patient confidentiality."

Around 20 students recently had their core skills induction training ahead of starting their placements in the coming weeks.

18 year old Polly Rooke from Prenton on the Wirral said:- "I've always wanted to look after people and see the University Technical College as a gateway to a career in nursing. I'm looking forward to starting my work experience and learning about all the different roles there are in hospitals."

Hannah Johnston, 17 from Kirkby said:- "I enrolled with the University Technical College as I want to work as a Clinical Bio-Chemist. At the UTC we have carried out a number of experiments that university students do. I'm looking forward to seeing the work that is undertaken in the pathology laboratories at the hospital, as this is what I want to do in the future."

Liverpool Life Sciences UTC is the first in the country to specialise in Science and Healthcare, with academic and professional qualifications including GCSEs, BTECs, A-Levels and NVQs. The partnership with the Royal will ensure that local 14 to 19 year olds will be equipped with the technical skills and a range of qualifications to enable them to take full advantage of the job opportunities in health and life sciences that will be created with the development of the new Royal and the BioCampus which will follow on the site of the current hospital. The BioCampus will provide 100,000 square metres of development space for companies involved in research, pharmaceutical and biomedical industries and will create around 5,000 high-tech, high value jobs. In addition staff at the Royal have been working closely with teachers at the UTC to develop the core curriculum and training materials for students.

Jo Marinas, said:- "Our teams have worked closely with the UTC in all aspects of the health sciences curriculum. We developed the teaching topics to target what we know are the main health issues faced by the local population. These include cancer, diabetes, respiratory illnesses, care for the elderly and alcoholic liver disease. We have also helped to design and equip the healthcare education rooms at the UTC to ensure they provide a realistic environment for students to test out their skills and knowledge. There will be a treatment area equipped with a 'Sim Man' (an electronic, life-like patient simulator designed to replicate real life scenarios) to provide students with realistic interaction with how patients react to various health conditions. We also helped to select the equipment for the UTC's laboratories so that students can replicate some of the work carried out in a clinical lab."

Lyndsay MacAulay, Director of Enterprise at the UTC said:- "Partner organisations like the Royal are an essential element of the UTC. Their support provides huge benefits to our students including, working with a network of trained clinical professionals, understanding the context of their learning and putting the skills into practice whilst out on placement. All essential experiences for students who are hoping to access careers in health care and sciences. This will in turn help us to provide ready made trainee medics, nurses and pharmacists to train to work in the new Royal and ensure local students are qualified to access some of the 5,000 roles that will be created with the BioCampus."