WHODUNIT AT THE ADELPHI HOTEL!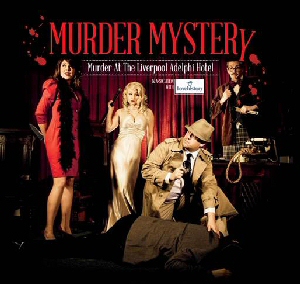 STRAIGHT off the sell out success of Murder at St George's Hall, one of the biggest murder mystery events ever held in Liverpool, LoveHistory will be heading to the Adelphi Hotel, Liverpool with Murder at the Adelphi Hotel. Taking place on 2 November 2013, 25 January and 22 March 2014, Murder at the Adelphi is a Murder Mystery dining experience filled with deception, intrigue and murder that will leave audiences mesmerised.

Set within the grandeur of one of the City's most famous buildings, guests will be wined and dined in silver service fashion; a service ONLY available in Liverpool at the Adelphi Hotel- and will bear witness to a murder most foul! In true "whodunit" style, each table in the dining area will be named after a much loved fictional detective; Sherlock Holmes, Inspector Morse, Phillip Marlow, Columbo, Miss Marple, Hercule Poirot and guests to this auspicious event will need to use their powers of deduction to piece together the crime.

During the course of the evening, guests will be given various clues that will help them bring the killer to justice. But they will need to have their wits about them, as this crafty perpetrator is out to mislead and distract with red herrings aplenty as they try to maintain their innocent façade. It's down to the guests to catch the killer and decide their fate in this fascinating interactive experience.

As one of Liverpool's iconic landmarks and one of the oldest standing hotels, the Adelphi has long caught the public's imagination. During 20th Century, the Adelphi was the hotel of choice for affluent passengers before they embarked on their journey to America and many iconic stage performers including Frank Sinatra, Laurel and Hardy and Judy Garland have spent the night at the hotel.

In Murder at the Adelphi Hotel, the early days of the Adelphi will be brought to life in the hotel's Sefton Suite by a team of professional actors playing characters who will do their best to misguide, deceive and obscure the truth. Guests will question and interrogate each character and eventually name the person responsible for this most heinous of crimes. This is a truly bespoke event and as the drama unfolds so does the history of this magnificent building.

Lovehistory's Judy McLean said:- "Lovehistory are excited to be hosting this event in the Adelphi Hotel. We love using these iconic buildings to explore and present the history of the City in a new and dynamic way. The evening event will run from 7pm to 10:30pm with a late bar available. Table service for drinks will be available throughout the course of the evening. Dinner will consist of three courses and starters will be served at 8pm. Lunch time event will start at an earlier time of 12:00 Noon and will run until 5pm. This will include a full lunch menu and refreshments throughout, teas, coffees and confectionary. Lovehistory will ensure that this event is a masterpiece in terms of Murder Mystery evenings and as the guests enjoy the finery, the food and drink, the culprits will be at play. All content will be appropriate and draw inspiration from crimes of that period. So experience Liverpool's past with this truly murderous masquerade!"

For further information please visit:- lovehistory.co.uk.

Tickets are as follows:-

Evening shows:- £33.00
Noon show:- £28.00
(Tickets include a silver service, 3 course meal)

Purchase in person at TicketQuarter, Queens Square, Liverpool. Online* or on:- 0844 800 0410. * £2.25 handling fee per order.

LOCAL SUPERMARKET GIVES SOUTHPORT CITIZENS ADVICE BUREAU A NEW LOOK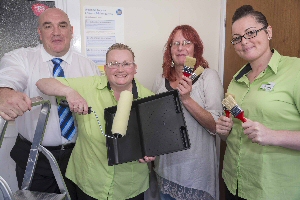 COLLEAGUES at Asda Southport and Asda Aintree have raised up to £300 which has gone towards a revamp of Southport's Citizens Advice Bureau.

Southport's Citizens Advice Bureau has been offering impartial and confidential advice to local residents for nearly twenty years and the local centre was in need of a good makeover.

Asda colleagues have been raising money and volunteering at the centre for the past 2 and ½ months to get the rooms looking brand new for the re-launch. The centre has been decorated and new carpets have been fitted to give the centre a fresh, modern feel.

On top of the £300 raised in store by customers, the Asda Foundation donated a further £100 which went towards the new carpets.

Community Life Colleague, Sharon Gregory-Wareing, said:- "Everyone at the Citizen's Advice Bureau volunteer to help out the local residents. We wanted to show the volunteers how grateful we are for their work and give something back to the local community. We're so happy to unveil the new-look rooms and hopefully it will be a much more pleasant place for local residents to visit!"

In total, Asda colleagues have decorated the waiting room, four of the interview rooms and the corridor.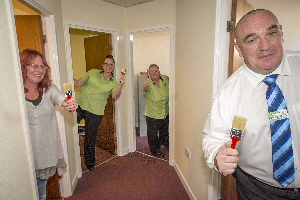 Southport Ceramics Studio Open Day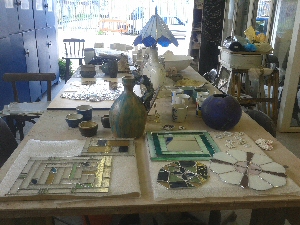 THIS Saturday, 26 October 2013, Southport Ceramics Studio welcomes visitors to the studio to see our amazing facilities and a display of work by its members.
Come and talk to us about the wide range of courses in pottery, glass and mosaic that we have to offer and find out what we have planned for the coming year!
Open from 11am to 4pm, on Saturday, 26 October 2013, at Unit 2, Rosehill Business Park, off St Luke's Road. PR9 0SH. To attended please call Chris Turrell-Watts on:- 07931286105. The event is a free event. We hope to see you there!