Teenagers to the rescue in national 'Make It' Competition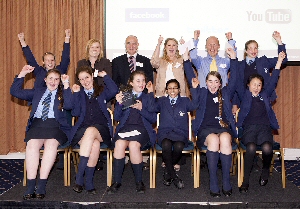 MERSEYSIDE and Wirral high schools proved they have what it takes to 'Make It in Manufacturing' by coming to the rescue of victims of natural disasters, war zones and other troubles at an event held this week.

The team from Belvedere Academy battled their way to victory against eleven other schools in the Survitec Make It Enterprising Challenge, a collaboration between The Manufacturing Institute and Survitec Group, the leading manufacturer of high quality marine and defence safety and survival equipment.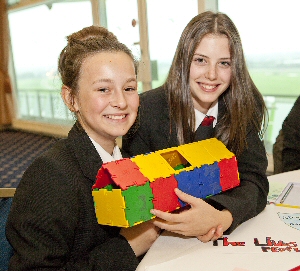 The 13 and 14 year olds had to set up their own mini-manufacturing businesses and were tasked with designing, building and marketing their own imaginative 'Safety Pods', containing equipment vital for survival in emergency situations.

On the day, teams completed a series of tasks, each taking on job roles from managing director to operations managers through to finance, sales and marketing managers.

They were also challenged with developing a brand for their company before pitching their fully costed ideas in a Dragons' Den-style presentation to Survitec managers, who played the role of members of the Joint Emergency Committee, a fictional United Nations style body responsible for responding to humanitarian and military emergencies.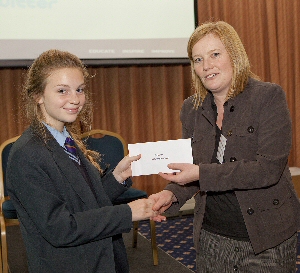 Judges praised the all-girl team from Belvedere Academy for their excellent team work and their unique rescue pod design that would protect victims of a nuclear disaster. Using a newly created radiation repellent their 'Parachute Pod' would provide essential equipment needed to escape a nuclear disaster danger-zone.

Meanwhile, the team from Wirral Grammar School for Boys were awarded the runners-up accolade for their life raft and shelter that was designed for use in a flood or tsunami. Their simple 'pull and done' ethos would allow for quick deployment of their raft and the judges praised their creativity and solid financial plans.

One pupil from Archbishop Blanch and one from West Derby School also won commendations and prizes from the judges as the day's Outstanding Individuals.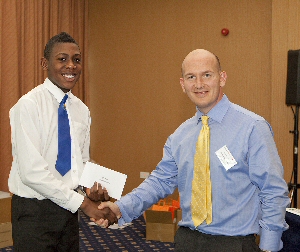 The event is part of a series of themed challenges which The Manufacturing Institute is supporting through its 'Make It' campaign, which aims to attract the brightest and best new talent into manufacturing by promoting the sector as an exciting and rewarding career option for young people.

Stephen Melia, Make It Events Coordinator, said:- "All of the schools participating in this challenge showed a real ability to be creative and think innovatively – which is exactly what modern manufacturing is all about. By connecting young people to manufacturers through practical hands-on events, the 'Make It' campaign is a really effective way of inspiring a future generation of young talent for the manufacturing sector."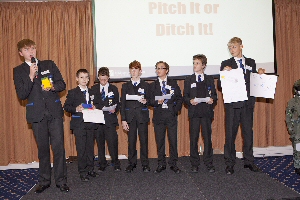 Nick Mulhall, Managing Director at Survitec Birkenhead, said:- "We need great talent to help deliver our future growth plans and the Make It campaign is the single best opportunity for us to engage with young people close to our business. As one of the leading manufacturers in its field, Survitec Group is already increasing its intake of talented young engineers and designers and I'd like to think some of the stars of the future have been here at 'Make It' today."

Both schools will now go through to Make It's Grand Regional Final to be held in summer 2014.
'Soul Man' Geno Washington to play in St. Helens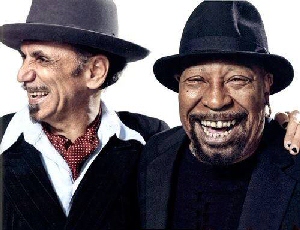 ON Saturday, 26 October 2013, Geno Washington Washington, known as:- "the UK's No 1 1960's Soul Man" is set to play at the Moss Bank Community Club, Queensway, St. Helens, (WA11 7BY). He will be on stage with his legendary soul band:- 'The Ram Jam Band'. If you want to know more about the night and/or purchase tickets call:- 01744 605800.

Liverpool scoops top cruise accolade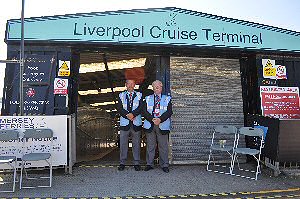 LIVERPOOL has been named the UK's best port of call by the world's largest travel review website. 'Cruise Critic' – sister site of 'Trip Advisor' - named the City as their top pick based on the warm welcome visitors receive when they arrive in Liverpool, the historic architecture and the fact that so many attractions are within a half hour walk of the terminal. They also highlighted the benefits of the city's recently constructed turnaround terminal.

The awards celebrate excellence in cruise travel, and are selected by an international panel of cruise journalists in 18 different categories, recognising the very best cruise lines, ships and ports.

Adam Coulter, UK Editor of Cruise Critic, said:- "For Beatles fans and football fans alike, Liverpool is a place of pilgrimage, and the centrally located, historic port is convenient for cruise visitors, offering plenty to see and do without going far from the ship. Highlights of the city's maritime history include the Albert Dock and Pier Head, which features the Liver building, the Port of Liverpool building and the soon-to-be- refurbished Cunard Building."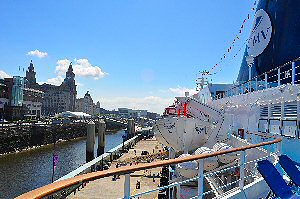 Liverpool City Council's cabinet member for culture and tourism, Councillor Wendy Simon, said:- "We are delighted with this accolade! Cruise critic is a hugely respected website and a must-visit for anyone taking a cruise. Liverpool's win is thoroughly deserved; the team at the terminal, along with representatives from our tourist industry go above and beyond to welcome people to the City and make it a memorable trip for them. I'm sure this recognition will encourage even more people to choose Liverpool as a destination to travel to and from which will be a great boost for the city."

Angie Redhead, Cruise and Operations Manager at Liverpool Cruise Terminal, said:- "This is a fantastic way to top off the strongest year the cruise terminal has had since it opened in 2007. Liverpool has so much to offer visitors, from culture and history to shopping and sightseeing and it is pleasing to be acknowledged in this way. Almost all of the passengers coming through the terminal have said they would recommend the City as a destination not to be missed and have cited the beauty of the City and the friendliness of the people. We have a busy schedule of cruise liners confirmed for next year so it is full steam ahead including overnight stays from the Queen Victoria and Celebrity Infinity."

In addition to the award for Best UK Port of Call, the Editors' Picks Awards also name the best cruise lines and ships in 17 other categories. Of those categories, several awards went to cruise lines that call at Liverpool including:-

► Celebrity Cruises:- Best Suites; Best Cruise Ship Bar (SKY Bar)

► Fred. Olsen Cruise Lines:- Best Value for Money

► Thomson Cruises:- Best for Cruising with Kids

► Princess Cruises:- Best for Romance

The full list of Cruise Critic Editor Picks Awards for 2013 and information regarding each award is available online.

Liverpool cruise terminal welcomed 35 ships in 2013 and 45,000 passengers. The 2014 cruise season will see 49 ships come to Liverpool, bringing with them more than 61,000 passengers.
Hillsborough Cup to remember 96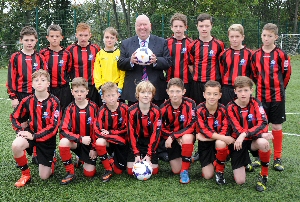 A FOOTBALL competition for Liverpool schools to mark the 25th Anniversary of Hillsborough, is being launched.

The Hillsborough Cup and Hillsborough Plate; the brainchild of Mayor Joe Anderson; is an under 13s competition involving 19 secondary schools in the City.

The 1st matches in the knock out competitions will be played later this month, with the finals being held in Spring 2014 at Liverpool Soccer Centre in Walton, a few weeks prior to the 25th Anniversary service to be held at Anfield.

Mayor Anderson said:- "Every person who died at Hillsborough in 1989 was a football fan and the Hillsborough Cup and Plate is a fitting and appropriate way to remember them as we approach the 25th anniversary of the tragedy. It is really important that we do all we can to educate current and future generations about the tragedy so that we never, ever forget it."

The initiative is also being backed by the Hillsborough families and Liverpool and Everton Football Clubs.

The following schools are involved:-
St Francis Xavier's (SFX), University Academy Liverpool (UAL), Alsop, Archbishop Beck, Childwall, De La Salle, West Derby, Gateacre, Calderstones, North Liverpool Academy, St Margaret's, Fazakerley, Bluecoat, Cardinal Heenan, King David, Broadgreen, Parklands, St Francis Assisi and Enterprise South Liverpool Academy (ESLA).
Prime Minister is irresponsible to blame higher bills on green investment
COMMENTING the Prime Minister's announcement of a review of "green levies", Caroline Lucas, MP for Brighton Pavilion, said:- "It's irresponsible of the Prime Minister to blame higher bills on measures to invest in green energy and energy efficency. The main reason reason families are paying more is the increasing wholesale price of gas, which is expected to rise by 40% over the next few decades. The Government's own Committee on Climate Change has said that the costs of low-carbon measures have been small by comparison. Both Labour and the Coalition are missing the point that the best thing we could do to cut bills in the long term would be to end our dependence on gas and invest seriously in renewables. Nuclear power is also increasingly expensive yet the Government is happy for billpayers to fund a lavish subsidy for EDF. By contrast, renewable technologies have seen dramatic price falls over the past few years. If the Prime Minister really wants to help families struggling with bills he should put in place measures to insulate homes up and down the country. This could be funded by a windfall tax, and would create hundreds of thousands of jobs."
So do you our readers think about this? Email us to:- news24@southportreporter.com with your ideas and views on this national issue.