Calls increase to NSPCC helpline from Merseyside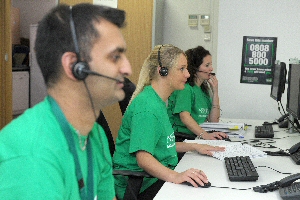 THE NSPCC's helpline is assisting more children suffering from abuse or neglect across Merseyside. Last year the free, 24-hour helpline dealt with 2,689 reports about children in the North West region where there were concerns about them potentially being so badly abused or neglected, they had to be referred to social services or police for further investigation. Many of these involved children under 5. This is an increase of 9% on the previous year (2,462 contacts). In Merseyside there has been a 5% increase in referrals from 517 to 544.

John Cameron, head of the NSPCC helpline, said:- "These figures do not necessarily represent more abuse or neglect in the region, but are likely to show that people are more willing to take action and pick up the phone following recent shocking cases. It's encouraging that people feel they have a responsibility for vulnerable children and are acting to report their concerns. We urge the public and professionals to continue to act on their instincts when they feel something could be wrong, and not wait until they are certain. We work closely with local authorities who take the next, vital step in protecting these children and we want to support and advise anyone working with children and enable them to take urgent action when necessary. It's extremely worrying that nationally half of our referrals involve children under five, including babies, who rely on adults to speak out on their behalf."

One woman who contacted the helpline about a family living in extreme conditions told a counsellor:- "There are flies and maggots in some of the rooms. The house is full of unwashed clothes and mess. Their pet dog lives in their bathroom. The whole house stinks of dog's urine. The young child can't play anywhere as there is so much mess everywhere."

And a neighbour worried about children aged four and seven said:- "The children often go round to other houses in the street asking for money or something to eat for dinner because the mum and dad spend their money on drink and drugs. I find this appalling."

These referrals (where a child's information is passed onto social services or the police for further action) make up part of the 50,989 contacts in total nationally from the public who were worried about children's welfare.

During 2012-13 more than 91,000 children were protected from abuse following calls to the helpline. Calls sometimes involve more than one child.

Alongside its main helpline the NSPCC has also set up 29 dedicated helplines including:-
► Operation Yewtree (child abuse by late Jimmy Savile and others)
► Operation Pallial (child abuse in North Wales children's homes)
► Operation Fernbridge (child abuse in Elm Guest House by prominent men)

In addition, the NSPCC helpline has worked closely with the Crimestoppers, NAPAC, the Royal College of Midwives and community groups such as Daughters of Eve.

Anyone worried about a child can contact the NSPCC on:- 0808 8005000, text:- 88858 or you can contact them via email, 24/7. Calls to the 0800 number can be anonymous.

SYNEXUS SEEKING FEMALE OSTEOPOROSIS PATIENTS TO ASSESS NEW TREATMENT
SYNEXUS, the world's largest multinational company dedicated to the successful recruitment and running of clinical studies, is currently recruiting female patients in MERSEYSIDE who have been diagnosed with osteoporosis to take part in a clinical study assessing a new treatment.

Osteoporosis is a condition that affects the bones, causing them to become weak and fragile and more likely to break (fracture). These fractures most commonly occur in the spine, wrist and hip. Approximately 3 million people in the UK are thought to have osteoporosis, and there are over 230,000 fractures every year as a result.

Whilst current treatments for osteoporosis are effective in reducing the risk of new fractures, Synexus is assessing a new treatment to see if it can provide additional benefits to ladies already being treated for the condition.

The study that Synexus is running may be suitable for ladies who:-

► Are aged between 60 to 90

► Have already been diagnosed with osteoporosis

► Have been treated with Alendronate / Fosamax or Fosavance for 3 or more years

Those who would like to find out more or are interested in participating in this study should contact their nearest Synexus Clinical Research Centre and quote the relevant reference code:-

► Merseyside:- 0151 550 9951

► Ref no:- 16569

There is no obligation for people to participate and if they do decide to take part, their GP will be kept fully informed of their involvement. Patients will be reimbursed for their time and all reasonable out of pocket expenses if they are accepted onto the study.

Synexus has many years experience in conducting a wide range of clinical studies. Each year, thousands of patients take part in clinical studies at Synexus' Dedicated Clinical Research Centres. There are many different studies running at each of the Centres throughout the year including potential treatments for conditions such as osteoporosis, raised cholesterol, eczema, asthma, diabetes and osteoarthritis of the knee.

Participating in a Synexus clinical study means patients receive increased medical attention and may benefit from medications that aren't yet available to other sufferers of their condition, while making a positive contribution to the health of future generations.

For more information about Synexus and the other studies that it is currently conducting visit:- improvinghealth.com.
ASDA unveils Halloween Spooks people
ASDA Southport has appointed an official 'spooks-person' to cope with the demand for Halloween advice from customers.
Each store in the region will have its own spooks person, who will be clearly visible in spooky attire and on hand to help customers find what they're after for their ghoulish gatherings.

Asda's Events Manager, Chris Waters, said:- "Halloween is extremely popular with our customers but choosing the right treats, costumes and party foods can be a real challenge. Our spooks-people will be on hand to show customers 'witch' way to turn for all their spooky shopping and how they can save with any Halloween deals and help them find all they need to feed their own little vampires."

The spooks people will replace Asda's go-getters for the Halloween period and will be on hand to help customers forget any Halloween items they've forgotten when they reach the till, ensure queues are kept to a minimum during the busy period and to offer advice on everything from stocking up for trick or treat or what you need for Halloween games.

To celebrate store cafes are also offering children the chance to create their own monsters in a drawing design competition, with the winning monster being introduced as a new character for Halloween 2014. To enter simply visit your local store and visit the café or speak to the Community Life Champion.