North West Air Ambulance Charity adds 3rd aircraft to fleet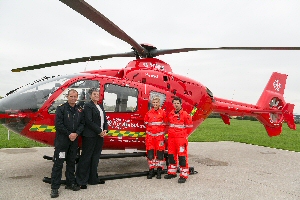 THE North West Air Ambulance Charity has announced that it will be adding a third helicopter to its fleet, which will enhance the life saving service being provided to the people of Merseyside.

The addition of the further aircraft will allow the charity to undertake more critical and intensive work across Merseyside at the scene of emergencies, allowing support of transfers between Intensive Care Units and providing a greater service to patients.

The new aircraft will undertake a trial of the enhanced service from October 2013 and will initially be coloured red until the scheme is complete. Should the trial be successful, the helicopter will join its yellow fleet.

Since it launched in 1999, the charity has flown more than 11,000 missions across the North West region. Committed to continuously enhancing its service and improving patient care, the charity moved its aircraft to bases at two of the region's dedicated trauma hospitals in August 2013, allowing qualified doctors to travel onboard to incidents which require specialist clinical care on scene.

Lynda Brislin, chief executive of the North West Air Ambulance charity, said:- "Our new heli will enable us to ensure a more consistent and efficient delivery of the best clinical team to our patients and will give the gift of time to more of those in need. By having an additional paramedic crew, with a focus primarily in the Merseyside region, we can provide an even better service to those in need in the North West. However, as a charity, developments of this nature come at a significant cost and would not be possible without the support and generosity of the local people who are fundamental us remaining operational."

For more information on how to support the charity or to make a donation, please visit:- nwaa.net.

GROUP WITH LEARNING DISABILITIES GOES LIVE WITH RADIO SHOW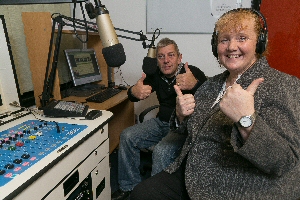 A group of people, supported by North West charity Alternative Futures Group (AFG), are going live with their own radio show on a station dedicated to the disability sector. The new monthly show is on LDOK.net, an inclusive online radio station, broadcasting from Media City in Salford, which features presenters and artists with a learning disability. AFG supports people from across Merseyside, Cheshire and Greater Manchester and seven people, who sit on the Service Users Representative Forum (SURF), have been given the opportunity with their first live show broadcast earlier this month.

Nancy McFarland, SURF Chairman at AFG said:- "The opportunity to have our own radio show on LDOK.net gives the people AFG supports a way to positively express themselves, whilst developing in confidence and also increasing our communication skills. I really enjoyed presenting the first show and letting people know how AFG has supported me to live independently. We also discussed the recent World Mental Health Day as well as playing some of my all-time favourite songs and some special requests."

Carol Toner, Community Service Director at AFG said:- "This is a very exciting opportunity which the people we support have warmly embraced. AFG is privileged to support some fabulous people and we believe this platform will allow them to showcase their creativity and the fantastic work they do in the community. Every year, Alternative Futures Group enables more than 900 people with learning disabilities and mental health needs to be successfully supported to build a life for themselves. In 2013 we are celebrating 21 years of putting people at the heart of everything we do and this is another example of how we help people take control of their lives."

Samina Taj, Project Lead from Alternative Futures Group said:- "Hosting a radio show on LDOK.net is a great opportunity for the people we support to build skills. With 35,000 people tuning in every month it also helps to combat and challenge stigma."

The next 'SURFing the Airwaves' show is on 11 November 2013, from 11am on ldok.net. More information can be found by visiting alternativefuturesgroup.org.uk or by visiting our Facebook page, 'AFG Support'. You can also follow us on Twitter @AFGSupport.