Organised Bonfires and Fireworks Displays 2013
Photograph below is by Patrick Trollope...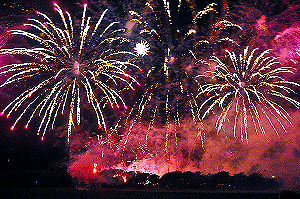 IF you are not holding your own shows this year we have quite a few professional firework displays to choose from on Merseyside. As normal most of our skies will be light up by public and privet displays, but please remember to be safe this year. Merseyside Fire and Rescue Service have reported that:- "Last year we attended 473 bonfire related incidents. This is a reduction of 30% compared with the previous year on Merseyside. The majority of accidents happen at private parties so it is best to attended organised displays." So you will be pleased to know that this year you have quite a few to choose from... Starting with Southport Rugby Club Fireworks (PR8 4QW) will be holding one on Friday, 1 November 2013, followed by Birkenhead Firework Display 2013 (Birkenhead Park, CH41 4HY), Halsall Bonfire and Fireworks (L39 8RR), Leasowe Firework Display and Bonfire 2013, Lingham Park, Upton - Fireworks only, Upton Park, Moreton - Fireworks only, Woodchurch Leisure Centre - Fireworks only, Central Park (CH46 6BN), Wallasey - Fireworks only (CH44 0BS), Mersey Park, Tranmere - Fireworks only, Mayer Park, Bebington - Fireworks only, Leasowe Adventure Playground - Fireworks and bonfire, Newsham Park (Newsham Drive) and Sefton Park (Croxteth Drive), Spark in the Park - Sherdley Park, St Helens (Call:- 01744 676864), all on 5 November 2013. That is not forgetting Hesketh Round Table has organised a family bonfire and firework display in aid of Help For Heroes on Tuesday, 5 November 2013. We advise that you ring before planning a visit to check all these details are up to date and also that note that events are subject to weather conditions. Merseyside Fire & Rescue Service along with many of the event organisers have added:- "Please do not bring along your own fireworks, sparklers or Chinese lanterns to any of the displays!"
Merseyside Fire and Rescue Service have also said that:- "The Fire & Rescue Service are working with Merseyside Police and would like to advise that the safest events are the organised bonfire and fireworks display in and around your area. If you want advice please contact your local Council or visit:- merseyside.police.uk/autumnfun."

If you do hold your own party, make sure you follow the firework code, shown below, thanks to Merseyside Fire and Rescue Service:-

Bonfire Safety Tips

If you have a bonfire, follow these simple guidelines:-

► Bonfires can only be held on private land with the owners permission.

► Warn your neighbours beforehand; so they are aware and can make necessary preparations.

► Only burn dry material, do not burn anything which is wet or damp, this causes more smoke.

► Check there are no cables (telephone wires etc.) above the bonfire.

► Build the bonfire well away from buildings, sheds, fences and trees.

► Do not use petrol or paraffin to start the fire it can get out of control quickly.

Once the bonfire is lit, make sure you:-

► Keep a bucket of water or a garden hose nearby - in case of emergencies.

► Do not leave the bonfire unattended.

► Keep children and pets away from the bonfire.

► Do not throw any fireworks into the fire.

► Do not burn aerosols, tyres, canisters or anything containing foam or paint - this could produce toxic fumes and some containers may explode, causing injury.

► Once the bonfire has died down, spray the embers with water to stop it reigniting and ensure it is completely extinguished.

As a local Firework Display team and Firework retailer MDL Fireworks Ltd. told us:- "If you are having a privet display, say at home, you can help minimise dangers to you and other by only buying fireworks from 'registered' or 'licence' stores. It is illegal for people who are not 'registered' or 'licence' to sell Fireworks. If you go to a legitimate shop, they can explain what each firework does and if it is safe for you to use them, within the area you want to display in. Please ask before buying and using fireworks, as not only do you find out what it does, but also how to use the firework, in question, safely! Help legitimate shops like ours, to protecting you and the safety of others by ensuring that the fireworks you only obtain are from legitimate storage and distribution outlets. If you are getting your own fireworks please remember to bring your ID with you as well, as 'legitimate' and 'reputable' retailers will not sell to you if you do not have it! You must be able to prove you are over 18! If you have concerns over anyone selling fireworks, you can report this by phoning the Citizens Advice consumer service - The Office of Fair Trading, on:-08454 04 05 06."

Merseyside Fire and Rescue Service adds:- "Have a safe and enjoyable celebration by staying safe, staying smart and staying onside."

Links to external websites:-

► ROSPA Bonfire Safety:- saferfireworks.com
► Gardens Bonfires:- gov.uk/garden-bonfires-rules
Did you know? The local Firework team MDL Fireworks Ltd. are putting on the Lancaster Firework Spectacular on 2 November 2013. They are also firing at the Fleetwood Town FC site, on the 3 November 2013, along putting on many others shows through out the year and this November.

A bit of Light Railway fun this Hallowe'en
Photographs below are by John McIntyre...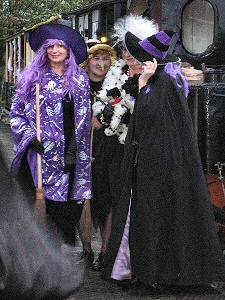 THE West Lancashire Light Railway (WLLR) will be celebrating it's annual Hallowe'en festivities... "All of your readers, young and old, are all invited... Dare they come and visit us on Sunday, 27 October 2013, they will have a frightfully good time!!!" they told us.

Steam trains will run as usual from 11.30 to 4.00pm, but after that, as darkness falls, the steam hauled Hallowe'en Specials will operate from 5.00pm until 6.30pm... The Railway runs next to a former clay pit which served a brickworks adjacent to the old West Lancashire Railway, so you could not ask for a more interesting setting!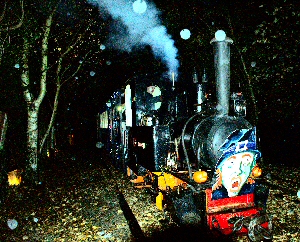 Admission free. Tickets to ride on the trains will cast:- Adult - £2.50, Children - £1.50, Seniors - £2.00, Family tickets - £6.00.
Look out for The Tarleton Terror, The Barmy Bishop of Becconsall, The Headless Horserider from Hundred End, The Girlie Ghoul from Hoole, and (last, but not least) The Hound from Hell.

The event offers free car parking on site. The No. 2 Preston-Southport bus passes the entrance to the Railway.
Hot and cold drinks are available on site.
For more sustaining refreshments we recommend the nearby branch of Booths or the fish and chips shop across the road!

If you have not been and do not know its location, use the following on your Sat Nav. - just type in - Station Road, Hesketh Bank, (PR4 6SP) and you will find us!
Warning about illegal sales of fireworks
A warning has been issued by Merseyside Fire and Rescue Service about the dangers of bangers and selling fireworks illegally.

Merseyside Fire and Rescue Service officers working in FIRST (Firework Incident Research Safety Team) along with police officers have seized 38 tonnes of illegal fireworks since the beginning of 2006.

Fireworks can only be sold by retailers with registration from Merseyside Fire & Rescue Service between 15 October and 10 November 2013.

The illegal sale of fireworks and poor storage of fireworks can lead to a conviction.

Members of FIRST also carry out test purchases to uncover those selling fireworks illegally.

FIRST, which sees police officers working alongside Fire and Rescue Service officers, has helped convict people for offences including selling fireworks illegally and poor storage of fireworks.

The number of illegal fireworks seized however has reduced from 12 tonnes in 2006 to 1.5 tonnes in 2012.

Watch Manager Ian Mullen, who is leading the bonfire strategy for Merseyside Fire and Rescue Service this year, said:- "In some serious cases in Merseyside young people have had their fingers blown off by bangers. They are unpredictable and are dangerous. People who sell illegal fireworks, particularly to youngsters, could be responsible for leaving them with serious injuries through firework misuse. Selling fireworks out of the back of a van or a house is illegal. It is also illegal to throw fireworks in the street. Joint inspections will also be carried out by Fire Officers and Trading Standards to ensure shops are registered by Merseyside Fire and Rescue Service to sell fireworks."

Bangers were made illegal by the Fireworks (Safety) Regulations 1997. Any retailer caught selling bangers may face 6 months imprisonment and a fine of up to £5,000.

Chief Superintendent Rowley Moore from Merseyside Police said:- "Anti-social behaviour throughout this period will not be tolerated and anyone suffering from it should call us so that we can take action. I would also warn anyone thinking of selling fireworks illegally to think again. Selling fireworks without a licence and selling fireworks that are counterfeit are both criminal offences and highly irresponsible and we will be out in force in the coming weeks to crack down on this problem. If you want advice please contact visit:- merseyside.police.uk/autumnfun."