GET ON BOARD WITH ARRIVA THIS CHRISTMAS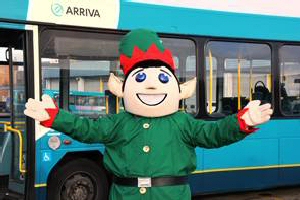 ARRIVA Buses will be making dreams come true this festive season, as it aims to spread some goodwill and cheer by granting a number of special Christmas wishes for its customers.

To say thank you for choosing to travel with Arriva this year, bus users visiting the Arriva website throughout December are being invited to leave their hopes for any gifts that will help to add a little extra sparkle to their Christmas.

By writing a message and posting it to the online virtual Christmas tree, people will automatically be added to Arriva's festive wish list and be in with a chance of seeing their hopes become a reality.

Debra Heaton, marketing and communications manager of Arriva North West, said:- "At Arriva we're already getting into the Christmas spirit and what better way to start celebrating than by giving something back to our wonderful customers.

Whether it's a wish for yourself, a loved one, or someone who you think deserves a special treat this year, we really want to hear from you. It doesn't have to be a big wish, or even something we can wrap, but if we can put a smile on someone's face then we know we will have succeeded in spreading some goodwill this season."

People are urged to post their wishes by logging on to to their website or by visit their Facebook page. Wishes to be granted will be selected by Arriva and successful recipients will be contacted directly.

For more information about Arriva's Christmas wishes and for full terms and conditions, see their website.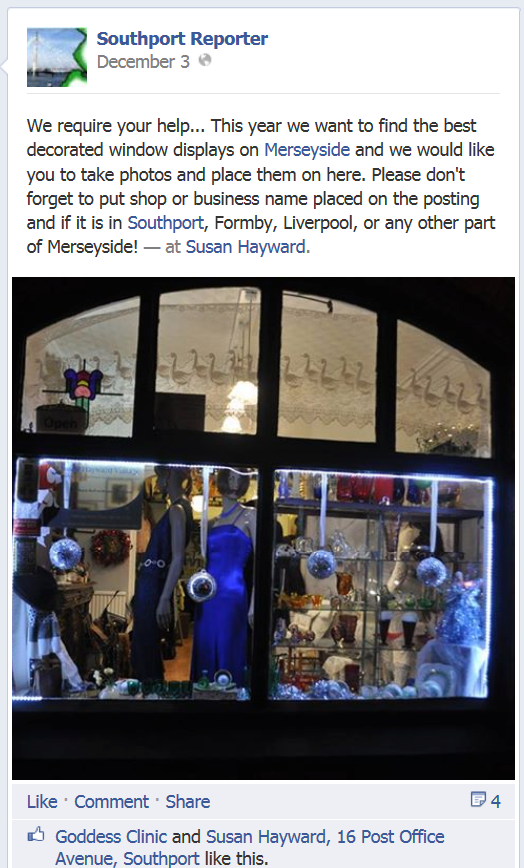 Festive Shop Window Photos Wanted
THIS year we want your help! We are looking for the best shop and business window displays on Merseyside. If you see a good displays, please let us know by taking a photograph and uploading it with the name of the business and its location to our Facebook Page by Christmas Eve...

Autumn Statement keeps North West business costs down and helps high street
THE government has unveiled changes to the business rates system which will cut taxes, supporting the North West's small businesses and high streets.

Businesses in 232,000 premises in the North West will all see benefits from the government's actions, and 102,000 premises in the North West will see their business rates bill frozen or falling. Measures include:

A 2% cap on the RPI increase to business rates. This will benefit 174,000 business premises across the North West – the remaining 56,000 properties will pay no rates at all
A £1,000 business rates discount; available for 2 years to shops, pubs and restaurants worth less than £50,000l; will benefit 46,000 properties in the North West
Extending the Small Business Rates Relief for another year will provide continued support to 81,000 small businesses; 56,000 of which will pay no business rates at all

The cap on business rates, £1,000 discount for retail properties and extension of the Small Business Rates Relief come alongside other government action to cut the costs of rates for business, including:

A reoccupation relief which will provide a 50% business rates discount for 18 months, on retail properties that have been vacant for a year or more
Relaxing the rules around the Small Business Rates Relief so that small businesses wishing to grow and take on a second property will be able to receive the relief for a year after expanding

Cutting the tax on employment for the North West...
Businesses and young people in the North West will also benefit from government action to cut employer's National Insurance Contributions for all under 21s on earnings up to £42,000. This means:-

► Employer National Insurance Contribution bills for 174,000 under 21s in the North West will be wiped out from April 2015.
► 38,000 employers in the North West will benefit.
► £55m worth of savings for North West employers in the first year alone.

The North West will also benefit from actions already taken to cut employer National Insurance Contributions in this Parliament:

► Raising the threshold at which employer National Insurance Contribution becomes payable, lifting 140,000 people in the North West out of employer contributions altogether.
► Introducing the £2,000 Employment Allowance for up to 137,000 businesses in the North West.

For more on the package to cut employer National Insurance Contributions, click on here.