Planning for growth
LIVERPOOL residents are being asked to help shape the growth and development of the City over the next 15 years. The City has launched a 4 month consultation over its Local Plan, which aims to provide the housing, business, industrial units and infrastructure the City needs.

Liverpool's Local Plan is aimed at delivering over 40,000 new homes and 300 hectares of land for industrial and commercial use by 2028, and the consultation gives people the chance to have a direct input into future planning policy by sharing their views on what the plan should contain.

To have their say, people should visit:- liverpool.gov.uk and follow the link. There is the option of providing a 'quick comment' on what they would like to see in the plan, or of providing a more detailed response by answering a series of questions on housing, employment and development using a more detailed feedback form.

Views are being sought on a range of planning issues, from the management of certain types of development such as student housing and hot food takeaways, to the provision of open space; and from the design of new homes and shopping areas to the protection of the historic environment.

Through the consultation, there is also a 'Call for Sites', with people being asked to air their views on locations where development should happen, sites which should not be developed, and areas which should be developed carefully.

Liverpool City Council's Cabinet Member for Regeneration, Councillor Malcolm Kennedy, said:- "Liverpool's Local Plan is a really important document, which will guide the development of our City at a crucial time for us. We have to ensure that we have a plan which can drive the City forward despite the difficult economic climate and deliver the Mayoral priorities for growth. What's equally important is that we take on-board the views of local people, so that they are fully involved in the development of the plan and have the opportunity to play their part in setting out the way forward for Liverpool over the next couple of decades. This consultation will feed into our final Local Plan document which will include specific sites for development. So it's important that people get involved at this stage. We want this entire process to be as inclusive as possible, and we welcome all views, from all sections of the community."

The areas which Liverpool's Local Plan will cover include:-
► Allocating sufficient land to meet housing, business and other development needs
► Setting out opportunities for development
► Determining clear policies on what will and will not be permitted
► Indications of broad locations for strategic development and allocating specific sites for development
► A clear strategy for enhancing the natural, built and historic environment

As part of the consultation, the City Council will be hosting three 'Find Out More' events on 21 January at 3pm, 23 January at 10am and 29 January at 3pm. For more information on event locations and to book a place in advance, people should call:- 0151 233 3021.
As well as being available on-line, consultation forms are also available at community libraries or can be obtained by calling:- 0151 233 3021.

The Local Plan consultation runs until 31 March 2014. The final Local Plan document is expected to be adopted by the City in late 2015 or early 2016.

MARTINI LOUNGE TO RETURN TO LIVERPOOL'S ICONIC ST GEORGE'S HALL FOR VALENTINES SPECTACULAR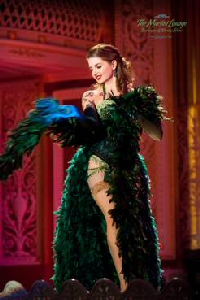 THE organisers of Liverpool's renowned Martini Lounge Burlesque and Variety Show are delighted to announce a vivacious Valentine's Day themed show as their first fabulous foray of 2014. Tickets to wine, dine and titillate your loved one would make the ideal Christmas or Valentine's gift and are available to book now!

Taking place on 22 February 2014, this evening of perfect peeling and tantalising tease marks a hotly anticipated return visit to the striking surroundings of St George's Hall, perfect for the most romantic time of the year and the most pertinent venue to reflect this tradition. This awe inspiring show has created a classy and delightfully ludicrous night of entertainment.

Audiences have an option to delve into a dinner and show experience where a delicious meal will be served, spiced with special performances; in the these sumptuous surroundings; previous to the main event, for which tickets are available separately also.

The Martini Lounge's Valentine's event will feature a unique the line-up of performers, which will be revealed in the New Year, but organiser Millie Dollar has pulled out all the stops and managed to bag the veritable Tour de Force that is Velma Von Bon Bon as compère for the evening. Endearingly silly and daintily sexual, Velma never fails to raise a good old fashioned belly laugh with her hilarious blend of off the wall humour. Sexy and funny at the same time, there is no doubt that Velma can slip into to the role of the master of ceremonies with ease and host a show to remember. And of course no evening would be complete without a show stopping routine from Liverpool's very own amorous Aphrodite, Miss Millie Dollar. Having effortlessly enchanted audiences internationally with her own famous routines, Millie can perform anything from traditional burlesque to the raunchy bump and grind popularised in the 50's and usually mixes the 2.

Unanimously regarded as the must-see Burlesque and Variety show in the UK, The Martini Lounge honours the satire and performance art that evolved since Burlesque's 19th Century beginnings. The audience is invited to enjoy a festive performance of glitz and glamour from a by-gone age, a stylish and enchanting night of entertainment.

Time...

► Dinner Show Guests:- Doors from 5.00pm, Show start 6.00pm.
► Evening Event Guests:- Doors from 7.00pm, Show start 8.00pm.

Tickets...

Dinner Show and Evening Event Tables:-
► £74, including2 course dinner and evening event
Evening Event only:-
► Circle – £22

To book please go to:- martinilounge.co.uk.