New Royal will be one of the 'greenest' hospitals, saving around £1m in energy bills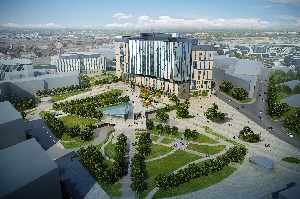 DESIGNERS of the new Royal Liverpool University Hospital say the world class new facility will use around half of the energy consumed by the current hospital and will be one of the 'greenest' hospitals in the country.

Carillion, principal contractor for the new Royal, has revealed how plans will dramatically reduce the impact on the environment and greatly enhance sustainability, compared with the current hospital.

The new Royal will need around half the amount of energy that is used to power the current hospital each year (41 Giga-joules compared to 79 Giga-joules). The Trust currently spends over £2.7million a year on powering the Royal, meaning the new hospital will save over £1m a year, which can be reinvested into patient care.

The energy saved would be enough to power nearly 2,000 households a year and will ensure the new Royal meets NHS energy targets (45 Giga-joules per year).

The new Royal will get 10% of its energy from renewable sources with a borehole on site to support heating in winter and cooling in the summer. This will help the hospital to reduce its carbon emissions from 140kg per m2 to 119kg per m2, which is equivalent to saving an area of tropical rainforest the size of Anfield, Goodison and Prenton Park combined!

Water usage in the new Royal will be reduced by 125 mega litres of water, nearly enough water to fill a bath for everyone living in Liverpool, through recycling and cleaning rainwater and water used in the hospital, new automatic flushing systems and better water pressure controls.

20% of the materials used in constructing the new Royal will come from recycled materials and Carillion says none of the waste during construction will be taken to landfill.

With car parking underground, the hospital site will provide more greenery and more attractive surroundings, with 1.5 acres of public space, the size of a football pitch, at the green heart of the site. There will be new and improved routes for public transport and cycle access and there will be charging points for electric cars within the grounds of the new Royal.

The new Royal has been designed to the most stringent environmental standards, in line with the Building Research Establishment Environment Assessment Model (BREEAM). This is recognised throughout the world as setting the standard for best practice in sustainable building design, construction and operation. Carillion's design for the new Royal was rated as excellent in a BREEAM 2011 pre-assessment.

Carillionis also committed to ensuring the construction of the new Royal provides local job sustainability with 60 locals out of every 100 construction workers and 15 of every 100 coming from priority wards. The project will also provide around 100 apprenticeships for local youngsters, as well as opportunities for homeless people to gain employment and 60% of construction costs will be spent locally.

Carillion is also funding £100k to support local regeneration initiatives – local charities, social enterprises or business start-ups aimed at generating local growth. In addition, the construction firm is donating a minimum of 746 hours of professional staff time to provide learning and careers information to local schools supporting initiatives in science, technology, engineering and mathematics.

Carillion's operations director for the new Royal, David Kennedy said:- "We've made a real commitment to delivering local jobs and training and supporting the development and growth of local businesses with the aim of creating a sustainable economic legacy for the local area. We've designed the new Royal to incorporate some of the very latest in green technology to ensure the building, and its operation are sustainable for the years and generations to come. The team is looking forward to beginning construction in February and launching the wide ranging initiatives we have planned to benefit the local community. "

Helen Jackson, director of strategy and redevelopment at the Trust said:- "Sustainability was a key feature for us and has been very important to the design of the new Royal. We worked closely with Carillion to ensure the design met the highest standards of environmental assessment, as well as local priorities for sustainability and regeneration. The new Royal will be far more energy efficient, much cheaper to power and the impact it has on the environment will be greatly reduced compared to the current building. When it opens in 2017, the new Royal will be one of the greenest hospitals in the country."
Liverpool's finest young voices have been given a starring role on the Lord Mayor's charity Christmas CD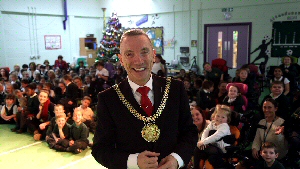 THE Lord Mayor of Liverpool, Councillor Gary Millar has released a special Christmas album to raise money for his charities. He said:- "I had the idea some time ago to create, record and produce a Christmas album called 'Voices of Angels' and thanks to the help and support of schools, individuals and my consort Steve MacFarlane I now have a fantastic CD full of inspirational and uplifting tracks I am delighted that we have managed to get the CD ready in time for Christmas, the mix of voices is truly heartwarming to hear. I hope I can encourage as many people as possible to go out and buy the CD, at just five pounds this not only makes a great gift for someone for Christmas but also goes a long way to helping out local charities."

One very special school involved in the CD is Springwood Heath Primary School in Garston, a unique school that has a mix of disabled and able bodied pupils, who recorded 2 fantastic tracks.

Bay TV Liverpool went along to the School with the Lord Mayor to meet the teachers and pupils and to see 1st hand the enthusiasm and energy regarding their involvement in the Christmas CD. To see the school perform their song click here.

The CD has 10 tracks (iTunes will have 11) and includes an introduction by Lord Mayor, Gary Millary and contributions from Steve Macfarlane (unbiasedly amazing), Pacific Swing (wow), The Mersey Voices (an over 65s choir based in Knotty Ash), the Academy of St Francis of Assisi (a mixed faith Secondary School in Kensington), The Night and Days (a stunning song), Jay P McWinen (a great new Liverpool Christmas anthem), The Royal Court Theatre Choir, Sparkle & Shine Theatre School, The Royal Liverpool Hospital Staff Choir, Liverpool Welsh Choral (gives me goose bumps every time I hear their 2 songs) and Springwood Heath Primary School (truly heart-warming).

Anyone wanting to purchase a copy of the CD, priced at £5, can do so from the Town Hall,Parr Street Studios, the City's Cathedrals, the Yacht Club, Urban Village in Williamson Square and copies can even be delivered for a small charge. Anyone wanting more information can contact Liverpool Town Hall on:- 0151 233 3020.

Network Rail delivers 1st Phase of North West electrification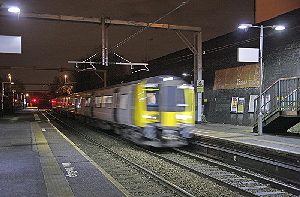 ELECTRIC trains have started to operate over the railway between Newton Le Willows and Castlefield junction outside Manchester Piccadilly, marking the commissioning of the first phase of the £400m North West electrification project on time and under budget.

The commissioning of new electrical infrastructure on part of the world's oldest public railway between Newton Le Willows and Castlefield Junction marks a major milestone in the project which will see over 350km of track upgraded across the North of England delivered by December 2018.

The North West electrification programme has been delivered into 5 phases, between December 2013 and December 2016:-

The now compleated:-

Phase 1:- Between Castlefield Junction and Newton Le Willows.

Work now has strted on:-

Phase 2a:- Between Liverpool and Newton Le Willows

Phase 2b:- Between Huyton and Wigan

Phase 2c:- Between Ordsall Lane and Manchester Victoria, all by December 2014

Phase 3:- Preston to Blackpool, by May 2016

Phase 4:- Manchester Victoria to Preston (Euxton Junction), by December 2016

Phase 5:- Manchester Victoria to Stalybridge, Guide Bridge to Stalybridge, December 2016

Dyan Crowther, route managing director, Network Rail, said:- "Electrification of key routes in the North West will significantly improve connections between our major towns and cities, boosting the economy and providing passengers with quicker, cleaner and more frequent services provide the railway that the region's passengers want and its economy needs. This is the 1st railway line to be electrified in England in over a decade. We have delivered this complex project, using modern standards and state-of-the-art technology, in 4 years from inception. We will continue to replicate the successful delivery of electrification across the North West which will be completed in phases by December 2016."

Rail minister Stephen Hammond said:- "This is the latest step in delivering an ambitious plan to electrify the national railway infrastructure across the North. I am pleased that soon passengers on the Manchester to Glasgow and Edinburgh line will enjoy the benefits electric trains can deliver including faster journey times and more reliable services."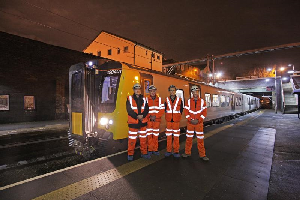 Chris Nutton, programme director, First TransPennine Express, said:- "This is a significant and important milestone which marks the start of a major improvement programme which will bring great benefits to the north of England. FTPE has delivered a £60m investment in a fleet of electric trains that will start to come into service in a few weeks and will mean a 30% increase in capaCity across our network. Customers will benefit from more journey options, faster trains and better connectivity and accessibility. The procurement of these additional 40 carriages, alongside the North West electrification programme, is a great example of the industry working together and shows our commitment to providing the best possible rail travel for customers now and in the future."

The next major improvements will arrive in December 2014, when electric trains will be able to run from Liverpool to Manchester via Newton le Willows and Wigan and from December 2016, when they will run between Preston and Blackpool, Manchester and Preston and Manchester and Stalybridge. This will be followed by the completion of trans-Pennine electrification from Stalybridge through Huddersfield on to Leeds, York and Selby by December 2018.

Key facts for North West electrification:-

The last significant electrification in England up to now was between Kidsgrove and Crewe, as part of the West Coast Main Line upgrade in 2003.

The stats are as follows:-

Overall cost of North West electrification programme:- £400m
Cost of phase 1 including bridge work:- £60m
Route km electrified:- 24.3km
Track km:- 58km
Number of bridges rebuilt:- 3
Number of bridges where track was lowered:- 5
Number of new foundations for overhead stanchions:- 517
Number of overhead stanchions erected:- 650
Km of overhead copper cable installed:- 118km
Km of aluminium cable installed:- 92km
Electrification distribution sites:- 2

Also did you know that First TransPennine Express will start running direct electric services using 10 new Siemens-built Class 350/4 from Manchester Airport to Glasgow from the 30 December? These new trains will deliver an increase in capaCity of more than 80% on this route. The new 100mph, Class 350/4 trains will each have four carriages and a total of 210 seats, 19 of which will be 1st class.

North West electrification is part of Network Rail's plan for the North of England, which includes the electrification of key rail routes, the £44m project to transform Manchester Victoria station and the building of the Northern Hub which will create space for faster, more frequent trains to connect key Towns and Cities in the North of England.
Appeal after quad bike left in path of oncoming train at Hough Green
"CAN you help to locate vandals who placed a quad bike in the path of an on-coming train?" That's the question being posed by officers from British Transport Police investigating an offence which could have resulted in a serious incident. At about 7am, on Wednesday, 27 November 2013, a train travelling towards Hough Green struck a quad bike which had been left on the tracks.

PC Paul Hevey said:- "The driver of the Northern Rail Lime Street to Oxford Road service saw a man on a green quad bike driving down the tracks. He sounded the horn of the train and the man jumped off the quad bike and ran away up the embankment. Unfortunately the driver wasn't able to stop the train and it collided with the quad bike. Thankfully no-one was injured, but this could have resulted in a much more serious incident; and could have seen the train derailed."

PC Hevey added:- "I am now calling on anyone with information about the incident, or who has information relating to a green quad bike being ridden in the Hough Green area between 6am to 7am on Wednesday, 27 November, to come forward. It is only through good fortune that no-one was harmed and it is vital that we trace the man responsible."

If you can assist officers please call British Transport Police on:- 0800 40 50 40 or Crimestoppers, anonymously, on:- 0800 555 111. In all calls please quote log:- NWA/B6 of 9/12/13.