LOCAL GIRLS NEEDS YOUR VOTE TO HELP HER BECOME THE NEXT MISS ENGLAND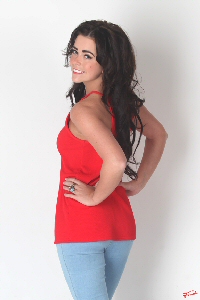 NATALIE from Merseyside is 1 of 13 finalists competing in the first Fresh Photographic heat qualifier for Miss England 2014. The public vote is now well underway and she needs the support of her local community before voting lines close in order to secure a place in the Miss England semi-final held in May 2014.

Natalie is hoping to win the heat by being voted within the top 3 of the heat. If she does reach the top 3 her fate will then be in the hands of the panel of judges, which includes Miss England 2013, Kirsty Heslewood, who will decide who is the most photogenic, and will receive a place in the Miss England semi-final.

When asked what they are looking for in the winner of Miss Fresh Photographic heat three, Miss England director, Angie Beasley said:- "As a model it is important that you are photogenic, and that your beauty can be captured by the camera and translate into a picture. Not everyone is naturally photogenic, so this qualifier aims to find those girls who look great behind the camera as well as in front of one."

The winner, will not only receive a place in the Miss England semi-final in May next year at the fabulous Kelham Hall and Country Park, she will also receive a 1-day beauty pageant training day with Miss England, an A4 print for her portfolio from the Fresh Academy and one Spray tan per month for a year from Montana Tan worth £300.

The current Miss England is Kirsty Heslewood,24, from Bishop Stortford Hertfordshire, is representing England at Miss World Bali last month and has already placed in the top ten in the Top Model round. Kirsty, who has worked as a professional model will help choose the winner of the Fresh Photographic Heat from the 3 highest public vote scores .

The winner of the Miss Fresh Photographic Heat 3 will go on to compete in the Miss England semi-final, where she will be in with the chance of securing a place in the Miss England grand final. The ultimate winner of Miss England 2014 will spend her year raising awareness for various charities and will receive a whole host of prizes worth £30,000, including a luxury holiday to Mauritius the dream holiday destination and a place in Miss World 2014. In the last three years over £550,000 has been raised by Miss England contestants to help disadvantaged children around the UK. One of the main recipients is the Variety children's charity.

Natalie needs your support to help win the Miss Fresh Photographic Heat Three title.

You can vote for Natalie by texting:- MISSFRESH311 to 64343 or vote from a landline, which is:- 09012993207 and press 11 when prompted.

Text votes costs £1.02p whilst Landline votes cost £1.02p plus standard network charge.

The voting line opened:-
THURSDAY, 5 DECEMBER 2013, AT 12 NOON
and will finish on:-
SUNDAY, 5 JANUARY 2014, AT 12 NOON

Regeneration Liverpool gets the go ahead for further development at NGV Liverpool
REGENERATION Liverpool, the joint venture partnership between regeneration specialist Sigma Inpartnership and Liverpool City Council, has signed an agreement with Countryside Sigma Ltd to develop 24 new homes in the Norris Green area.

The new, high quality 2 bedroom homes will be built at the NGV Liverpool development adjacent to Monksdown Primary School and will be managed by housing association Cobalt Housing.

Planning permission has been granted to develop the homes. Construction will commence later this month.

In addition, a planning application for improvement works at the school is also due to be submitted imminently by Regeneration Liverpool, which (subject to approval) will start on site in January 2014, and will enhance the physical and working environment of the school, which already enjoys 'Outstanding' Ofsted credentials.

Graeme Hogg, director at Sigma Inpartnership, said:- "We are very pleased to have signed the agreement to develop the new two bedroom homes at NGV Liverpool. We are wasting no time at all in getting on site and we expect all 24 homes to be up and ready for people to move in by March 2014. The new homes will complement the works planned to take place at Monksdown Primary School, with both projects assisting the Mayor in achieving his priorities to improve educational provision and provide new homes in the City."

Councillor Ann O'Byrne, the City Council's Cabinet Member for Housing and chair of Regeneration Liverpool, said:- "The work Regeneration Liverpool is doing to transform housing in Norris Green is making a huge difference to local people, and this is yet more good news for the area. If we want to build attractive, vibrant and sustainable communities, it's really important that good quality housing is supported by excellent local facilities. This scheme is a great example of how we can achieve that. By tying in major investment in new homes with improvements to the local school, we can ensure there are even wider benefits for the community. It's fantastic to see things moving forward at such pace in Norris Green, with the submission of this latest planning application. If is given the go-ahead, this scheme will be an important piece of the jigsaw in the wider regeneration of the area."

Stephanie Gough, head teacher at Monksdown Primary School, said:- "The entire school community is very excited about the proposed plans for our school. We will be getting extra playground space for the pupils in Foundation Stage and Key Stage 1, including wild life gardens, a fruit and vegetable allotment and a sports area. The Junior children will have additional green space and a bike shed. Improved security measures include new fences and CCTV."

Regeneration Liverpool is a true partnership between the community, public and private sectors and is delivering sustainable and effective regeneration across the City of Liverpool.
Ofcom said in 2015 "freephone will mean free"
IT might sound good, but sadly we still have to wait until 2015 for 0800, 0808 and 116 numbers to be free, but many will see this as a good move forward. The telecoms watchdog said that it is part of a a major overhaul to make telephone call charges and dialling codes clearer. Currently these numbers are only free from landlines and cost mobile phone users between 14p and 40p a minute. Also Ofcom's new rules target much it costs to call companies and organisations such as government agencies and charities on non-geographic numbers; like those beginning with 08, 09 and 118. Ahead of these changes a nationwide communications campaign will launch in 2014, aimed at explain the call charge changes. These new Ofcom rules have will not come into effect until 26 June 2015. Ofcom said that this gap should allow all the companies and service providers to make all the changes required.