Merseyside business networking event hailed a success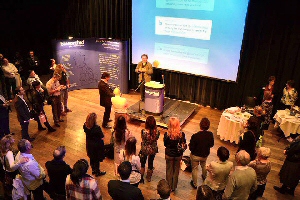 MORE than 90 delegates, including the mayor of Liverpool, turned out to a business networking event to meet and hear from some of the borough's top business brains, and network with other likeminded budding entrepreneurs from across Liverpool. The event, which was hosted by Blue Orchid, one of the UK's leading provider of free business support, took place on Wednesday, 4 December 2013, at Bluecoat Chambers in Liverpool. Lord Mayor and successful businessman Gary Millar, was the special guest on the night. Guest speakers included Alex Mathieson from Barclays Bank who spoke about how to finance a business and Simon Connell from Coffee Doodle who discussed how to create a brand. Blue Orchid business advisors were also on hand to speak about the business specialist's free services that help Liverpool residents start up a new business, as well as support existing businesses ready to take the next step in their growth. As well as being able to network, entrepreneurs in attendance also had the opportunity to promote their business in a 30 second slot.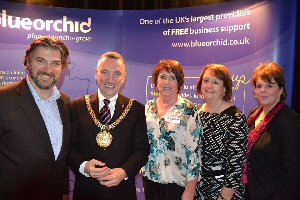 Commenting on the event, Karen McKean area manager at Blue Orchid said:- "We were really pleased with the success of this networking event. It was a great opportunity for a mixture of new and established Merseyside business owners and professionals to meet in a friendly environment and gain valuable business insights from each other."

Blue Orchid offers both pre and post start up support to Merseyside businesses. The post start support ranges from increasing growth to supporting recruitment of new staff. The next networking event will be held on 4 March 2013. For more information about the services provided by Blue Orchid, please visit:- blueorchid.co.uk.
UBS Awards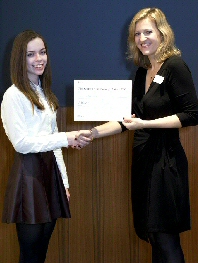 FOR the 4th time Pure Potential has teamed up with leading financial services firm UBS to recognise and celebrate the achievements of 50 bright state school 6th form students. The award distinguishes state educated students who have excelled in their academic studies. Their accomplishments were celebrated at an awards ceremony hosted by UBS at their London office on Tuesday, 29 October 2013. "UBS is proud to support this outstanding group of state school students. Campus Recruiting at UBS is committed to encouraging talented, hard-working students from all backgrounds across the UK. We wish them the best of luck in their future endeavours." said Shila Bhudia, EMEA Head of Graduate Recruiting.

Kate Haines and Ellen Boyle, both A-level students at Range High School, were chosen to receive the award from over 400 applicants due to their outstanding GCSE and AS-level results, as well as extra-curricular activities (including playing musical instruments to high levels and sporting achievements) and volunteer work.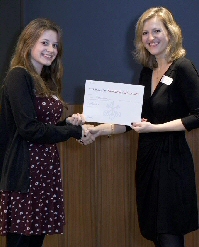 As well as the award ceremony, students also had the opportunity to meet with UBS staff and find out more about their work and gain valuable networking skills. Ellen told us:- "Having our hard work recognised was both rewarding and motivating. I enjoyed meeting the other students and in particular found the insight into financial careers useful, especially as this is an area I am interested in."
Kate added:- "The networking workshop was invaluable, and really helped improve my confidence in talking to people I didn't know. We'd both like to say a massive thank you to everyone who helped organise the event, and to Dr Ainsworth at school for nominating us."

Nominations were made by teachers, parents and peers and Pure Potential was overwhelmed with the high calibre of the students. Binda Bhudia, Events & Marketing Director of Pure Potential had a difficult task selecting the final 50 students; "We are delighted to be working with UBS for the fourth time to celebrate the achievements of this country's state-educated students. Once again we were completely overwhelmed by the exceptionally high-standard of students, and are impressed by the hard work and dedication displayed by the award winners. We are certain they will go on to achieve great things."

BOYZONE SUPERSTAR SHANE LYNCH VISITS BIRKENHEAD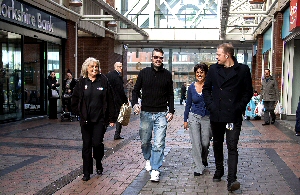 BOYZONE superstar Shane Lynch was met by excited fans when he made a special trip to a Birkenhead store to launch his new fragrance for men.

A cheer went up from a crowd of fans waiting outside Savers in Pyramids Shopping Centre when their idol came into view.

Some had been waiting for several hours and many had been at the Liverpool Arena the night before to see Shane perform alongside band members Keith, Mikey and Ronan, for their 20th anniversary Boyzone tour.

The Irish singer songwriter, actor and heart throb was there to meet fans, sign autographs and showcase his new 'Lynch' men's fragrance, described as edgy, individual and unique.

The popular health and beauty high street chain is one of the main stockists of the new scent.

Shane, who is currently on the road with fellow Boyzone band members Keith, Mikey and Ronan, for their 20th anniversary Boyzone tour, said:- "I would do this sort of thing a thousand times if I could. It's nice to get out and meet people. I don't get to do it too often but I feel it's the sort of stuff you need to make it your business to take time out to do. It's great to take time out and come and visit fans in Birkenhead. It has taken a year to develop the Lynch brand and fragrance. I call it pay back and that's giving back quality fragrance at affordable prices. Everybody deserves to smell great."

Shane, who impressed TV audiences earlier this year with his culinary skills on Celebrity Masterchef and is also a talented motor racing driver, added:- "The #BZ20 tour has been absolutely amazing so far; full houses, up for it crowds and all round Christmas spirit."

There in the queue to meet Shane were friends Lisa Cleverley of Leasowe and Nikki Kavanagh of Port Sunlight, who were at the Boyzone concert last night and have been huge fans of the band for 20 years.

Lisa said:- "We just love their music, they are good looking, they've got everything really and with Shane coming to see his fans so close to home, we couldn't miss the opportunity."

Also there was Amanda Williams, who had travelled from Anglesey in North Wales, for the chance to meet Shane.

Amanda said:- "I have been a Boyzone fan since the start and Shane has always been my favourite. It's been brilliant to come here and meet him today."

Paula Butler, Commercial Director for Savers, said:- "Shane's visit meant we have had a bumper trading day. There was a really great atmosphere in the store and it was also a fun day for our hard working staff. We are quite proud because Shane is only visiting a select number of stores throughout the UK and fans at Pyramids Shopping Centre have given him a really warm welcome."

Derek Millar, Commercial Director for Pyramids Shopping Centre, said:- "We would like to say thank you to both Shane Lynch and the team at Savers for organising this visit which has been such a fantastic success. There was a terrific turnout and his trip to Pyramids Shopping Centre meant there was a real buzz through Birkenhead."