West Lancashire Light Railway; Santa Specials 2013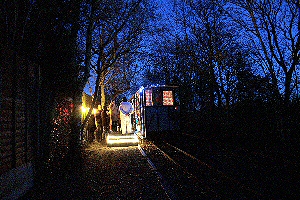 THE West Lancs. Light Railway are running their Santa Specials, but if you want to go, remember to book in advance as these are extremely popular. This years Santa Special trains will run on the following days from their base at Station Road in Hesketh Bank (PR4 6SP):-
Saturday, 14 December 2013
Sunday, 15 December 2013
Saturday, 21 December 2013
Sunday, 22 December 2013
Trains depart every 30 minutes from 10.30 am The last scheduled train leaves at 4.30 pm, although an extra train may run in response to demand. Don't worry if you have not pre-booked; there will be room for you on one of the trains, although you may have a little longer to wait.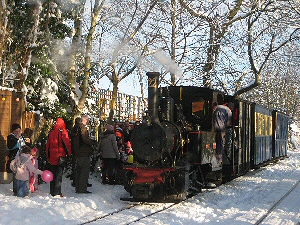 All trains will be hauled by a steam locomotive; 2 engines will be in steam. Trains go to Toyland where the children meet Santa and receive a gift. As darkness falls, Toyland becomes an enchanted place, a woodland glade lit only by fairy lights, the fire in the engine and the glow of Santa's stove.

Free sweets and balloons for children. Hot drinks, soup, hot dogs and mincepies will be served in the workshop, which will be warm and dry whatever the weather.

Fares:- Child £7.00 (includes the train ride and a present), Adult £3.50 (includes the train ride and a free mincepie)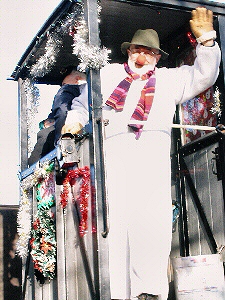 For bookings call:- 01772 815881 and also more information please visit:- westlancs.org.

Help Us Make This Christmas Special For 100 Lonely Pensioners
CHRISTMAS is the season of joy and goodwill, when families and friends come together and celebrate. But Christmas can also be a dark period for many people living alone with little or no family. There are many pensioners in Liverpool who are lonely, and this Christmas we are doing something about it.

Liverpool's youngest Councillor Jake Morrison has arranged for a free Christmas lunch on Wednesday, 25 December 2013, in conjunction with Wavertree Town Hall Tavern on Wavertree High Street. The dinners have been paid for out of Cllr Morrison's portion of the Councillor neighbourhood budget, at a discount of 60% from the management at Wavertree Town Hall.

Wavertree Church of England Primary School pupils will be hand-making Christmas cards for the 100 guests joining us on the day. We are appealing for people to drop of small gifts, offers of help and support on the day or building up to it, and assistance with transporting residents on the day. We are also looking to book some entertainment. One example of support has come from local business owner David Langan offering Christmas hair cuts to the gents, as well as using his 2 barbers shops; The Refine Room in Old Swan and Scissorkicks on Hackins Hey, City Centre as a drop off point for people to donate Christmas gifts.

We are also asking people to check what their elderly neighbours are up to on Christmas, and ask them to give us a call if they will otherwise be alone. Councillor Jake Morrison, said:- "I was speaking to a resident recently, I asked if she was ok because she seemed upset. She was feeling down because of the Christmas period, she has little family, and they do their own thing. So this Christmas she was going to be spending alone. It made me feel uneasy. The world seems to go on stand-still on those Christmas days, and to know that people unwillingly spend that time alone with no-one to be with, it is upsetting. So we are determined to make this Christmas a very joyful and energetic day for our special guests. There are many causes at Christmas directed at Children, and this is really important, and I have been proud to work on some of those causes over the past few years. This year I wanted to do something for our elderly. What we are looking for now are pensioners in the City who would like to come along. If you know anyone, maybe a neighbour, who usually spends Christmas on their own, let us know so we can get them along! We would also like to provide a small gift for everyone, so we are reaching out to people to ask if they can donate a gift, suitable for either a man or woman, which we can wrap and pass out on the day. We will be giving priority to Wavertree resident's because of the funding, but if we receive high-demand, we will be doing our best to fulfil the requests, working with partners, so please still get in-touch from across Liverpool."

If you know any elderly resident's who would like to join Jake for 'White Christmas Liverpool' or if you would like to volunteer to help at the event, please contact him via email or by calling on:- 0151 225 2302. Christmas gifts can be dropped off at The Refine Room, Queens Drive, Old Swan or Scissorkicks Barbers, Hackins Hey, Liverpool City Centre.
Farnborough road junior choir singing in Sainsbury's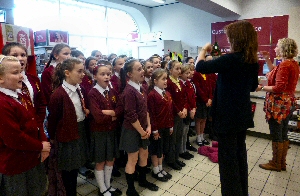 SOUTHPORT'S Lord Street Sainsbury's ad some extra Christmas cheer on offer, on Friday, 6 December 2013, after Farnborough Road Junior School preformed in the store. "The pupils come every year and any money raised goes to our current charity of the year which is Ainsdale community care. A big thank you to Formby coaches who provided transport for the children free of charge..." said Nicola Plaistow.