LITTLE GEORGE IS SPECIAL GUEST AT SANTA'S GROTTO RAISING MONEY FOR CLAIRE HOUSE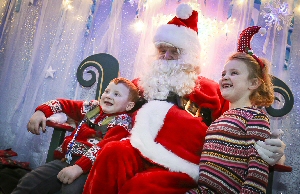 A LITTLE boy from Wallasey who has a rare condition which means he has to be fed through a tube directly into his heart was a special guest at a Santa's grotto raising money for the hospice charity which helps him.

George Johnson, 3, and his older sister Ava, 5, met Santa Claus in his special multi-sensory Santa's grotto at Pyramids Shopping Centre in Birkenhead.

The Pyramids grotto, which will be open on various dates leading up to the big day, has been funded by the shopping centre and will be staffed by volunteers from the hospice so all the money raised can go directly to Claire House.

It has been designed as a light and sound winter wonderland to echo the multi-sensory light room at the hospice which literally brightens the lives of youngsters who use it.

A visit to see Santa in the grotto is just £4 and includes a toy and a printed photo from Max Spielmann.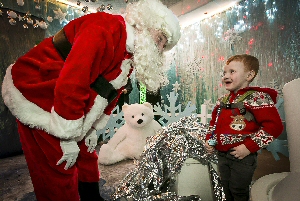 Derek Millar, Commercial Director for Pyramids Shopping Centre, said:- "Santa and I are really proud of his grotto this year and there is lots packed in there to entertain the children – a magic writing board, a cuddly polar bear and an unusual light and sound pod which changes colour and makes different sounds when the children touch it. We were very pleased to welcome George, Ava and their mum Emma as our special guests on the first official day of the grotto. There was lots of smiling going on and it was terrific to see them both having so much fun. All the money raised from the grotto will go directly to the hospice to help more families in our community like the Johnsons."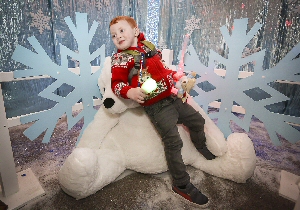 George, a pupil with his sister at St George's Primary School, was born with an extremely rare motility condition which affects his feeding and swallowing. It means he has to be fed through a central line, directly into his heart to ensure he receives the nutrients he needs to keep growing big and strong.

His condition is as yet undiagnosed but means everything from his ability to swallow down to his bowel doesn't work, leaving him unable to enjoy and digest his food.

His 75th operation took place only a couple of weeks ago where he had all of his teeth removed. Acid caused by the constant reflux he also suffers caused major tooth decay and doctors became concerned that if left, they could cause serious infection.
Mum Emma, 32, who is George's full time carer, said:- "The grotto is absolutely lovely and George and Ava have had a wonderful time. George told me he didn't want to go because he was having too much fun and his face when Santa came out to greet him was a picture. What's nice is that there is quite a lot of space, often you can feel a bit rushed and cramped in some of the grottos, but this has not felt like that at all and there is so much for the children to do while they are here. The fact it is also raising so much money for Claire House is brilliant because the charity has been so important to us for so many different reasons."

George is currently receiving treatment at Great Ormond Street Hospital in London, undergoing tests and receiving treatment, but when he is at home in Wallasey, the Claire House Hospice to Home Team step in to allow Emma and her husband Neil a break from being carers, giving them peace of mind that their precious George is in the very best hands.

The Hospice to Home Team provide a vital lifeline to families in the community, as well as acting as a liaison between the hospice and the various other external teams that make sure a child with a complex medical condition receives the very best care.

Emma explained the support her family received from Claire House, in particular through The Hospice to Home Team, and said:- "Having the support of the Hospice to Home Team has been such a comfort to Neil and I, as well as George and his big sister Ava. Hospitals are quite a scary prospect for George, although he is getting used to them. But having the Hospice to Home Team means that, if I need a break for a couple of hours, I know he's in the very best hands whilst not having to go to a hospital or leave the comfort of home."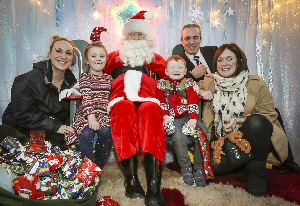 The family are currently fundraising themselves to raise money for an extremely costly trip to Ohio next year for a £15,000 consultation with Carlo Di Lorenzo, an expert in gastroenterology at Nationwide Children's Hospital.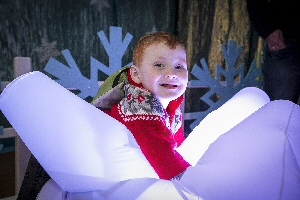 Opening dates and times for Claire House Santa's Grotto at Pyramids are:- Thursday and Friday, 12 December and 13 December, 12pm to 5pm; Saturday and Sunday, 14 December and 15 December, 11am to 5pm; Wednesday, Thursday and Friday, December 18, 19 and 20, 12pm to 5pm; Saturday and Sunday, 21 December and 22 December, 11am to 5pm; Monday, 23 December, 12pm to 5pm; Christmas Eve, 11am to 3pm.

For more information about festive events at Pyramids Shopping Centre, where parking is only £2 for a full day and free all day Sunday, go to:- pyramidsbirkenhead.com.