The Costa Christmas Singers are Coming to Town
THE UK's favourite coffee shop teams-up with Youth Music to bring revamped festive songs to Christmas shoppers in Liverpool. The UK's favourite coffee shop, Costa is bringing festive spirit to Liverpool on Saturday, 14 December 2013, as the store on Lord Street has teamed-up with UK children's charity Youth Music to bring shoppers some Christmas entertainment with a difference.

Talented young people from the local Merseyside Youth Organisation project will come together to form a specially crafted Christmas singing group to entertain customers between 11am and 1pm and will treat them to a variety of Christmas music, revamped with a modern twist.

The activity comes as part of Costa's ongoing Christmas campaign to refresh the UK's most traditional Christmas songs in the build up to the holiday season.

Research commissioned by Costa saw Cliff Richard's 'Mistletoe and Wine' and Band Aid 20's remake of 'Do They Know It's Christmas?' voted as the most disliked Christmas songs by the UK public, with the former being removed from in-shop playlists.

Costa's campaign partner, Youth Music, provides more than 90,000 young people with the opportunity to make music every year, helping many of them to overcome the challenges they face in their lives and enabling others to realise their full musical potential. The organisation is being gifted with a £10,000 donation from Costa, which will help continue to provide great opportunities for young people across the country.

Kevin Hydes, UK Retail Marketing Director from Costa commented:- "We are really delighted to be working alongside Youth Music to provide some great festive music for our customers. We hear many of the same Christmas songs every year, so we cannot wait to see what the talented group comes up with in Liverpool. It's certainly not be missed and we hope the performance gets everyone in the festive mood this Saturday!"

Glen Whitehead, Development Director for Youth Music said:- "We are very excited to be taking part in such a great initiative with Costa. The young performers from Merseyside Youth Organisation will be delighted to show off their music-making talents with creative new takes on old tunes and with some new alternatives to the Christmas repertoire shoppers usually have to listen to – repeatedly! We hope local people will take a coffee break on Saturday to pop by and listen to some uniquely different Christmas music provided by young local singers and musicians."

For more information on which Costa stores will be hosting a choir performance, check out Facebook or @CostaCoffee #CostaChristmas. For more information on Youth Music, please visit:- youthmusic.org.uk.

Patient choir casts out pain with carols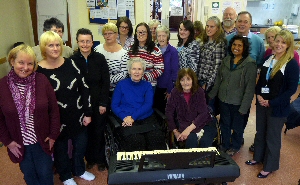 PATIENTS with chronic pain in Southport are using song to help treat their symptoms.

The Good Vibrations choir formed in April and now around 20 patients meet each week at Woodvale Community Centre to practice.

The choir will be carol singing; their first public performance; on Friday, 13 December 2013, at 11.30am in Ainsdale Centre for Health and Well-being, near Southport.

Karen Moss, a pain sufferer herself and primary school teacher at Lydiate Primary School, set up the choir with the support of Dr Becky Simm, Principal Clinical Psychologist at Southport and Ormskirk Hospital NHS Trust's Community Pain Service.

Becky said:- "There is a growing body of evidence that singing in a group can improve people's well-being, although the reasons for this are not yet fully understood. Karen volunteers her time to run the choir and the combination of her music skills and her expertise as a pain sufferer works really well. It certainly seems to have an effect from what members of the choir tell me and is also shown by improvements on their well-being measures."

At least one member misses a dose of their pain relief medication on the afternoon the choir meets to sing.

Karen added:- "The choir idea started when I realised how much singing was helping me to manage my conditions. I asked Dr Simm whether it might affect others in the same way. The pilot choir was started and has grown in many ways ever since. The members talk about how singing through the pain helps them to manage. The nature of singing together, providing a synchrony within the group, seems to affect us for the better."

Choir member Clare Patterson, from Southport, said:- "Singing takes your mind off the pain and lifts your spirits. You go away really happy."