Books wanted for new exchange scheme
HAD enough of Harry Potter? Sick of Stephen King? Done with Bridget Jones' Diary? If your bookshelves are groaning with novels and publications that you or your children have long since read and discarded, Liverpool City Council will gladly take them off your hands!

Old or new publications are needed to kickstart a book exchange scheme to be launched in 2014 as part of the City's Year of Reading, in partnership with the Reader Organisation.

People will be able to take a book at a variety of locations across the City, on condition that they replace it with another.

5 Council buildings are now home to donation points, where people can drop off books. They can be placed in special brightly painted wheelie bins decorated by school children.

Donations can be made at the following locations:-
► Municipal Buildings, Dale Street, L2 2DH
► Millennium House, Victoria Street, L1 6JD
► Premier Court, Hatton Garden, L3 2AA
► Brougham Terrace, West Derby Road, L6 1AE
► Edge Hill Customer Focus Centre, 80-82 Wavertree Road, L7 1PH

Councillor Lana Orr, Mayoral Lead for Reading, said:- "We want 2014 to be a year in which we raise the profile of reading and literacy in Liverpool. The Book Exchange is just one of a number of high profile projects which we will use to encourage people to build reading into their daily life and make it as easy as possible to do so. It doesn't matter whether they are children's stories, chick lit, fiction or fantasy, nor if they have been well thumbed. All we ask is that they are in reasonable condition with no pages missing. And if people want to buy new books to donate to the scheme that would be absolutely fantastic as well."

Details of the locations of the book exchanges will be announced in the new year.
Christmas cheer for homeless
HOMELESS people are to enjoy a Christmas meal courtesy of generous Walton residents. Walton Village Residents Association has raised more than £1,200 for the Whitechapel Centre through cabaret afternoons and bingo sessions since September. It will be used to help fund a meal for people on Christmas Day. Also benefiting is the Hope Project, which will use £550 to distribute clothing such as hats, socks and scarves to homeless people. Cabinet member for housing, Councillor Ann O'Byrne, will present the organisations with cheques at a Christmas party being held for Walton residents on Monday, 16 December 2013. Councillor O'Byrne said:- "This is a very welcome donation which will go to help make sure that the most needy in the City don't go without this Christmas." In total, Walton Village Residents Association has raised £4,000 for charity so far this year. Councillor Gerard Woodhouse, Mayoral Lead for Older People, said:- "This is brilliant news for two very deserving organisations. This is a win-win all round as the fundraising also gets some of our older residents out of the house and meeting people which is good for their health and wellbeing."

NORTHERN RAISES MORE THAN £10,000 FOR MOVEMBER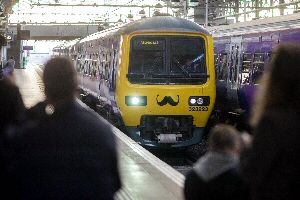 NORTHERN Rail has so far raised more than £10,000 for men's health charity, Movember, and donations are continuing to roll in. The train operator partnered with the charity to raise awareness and funds for programmes such as prostate and testicular cancer, mental health issues and overall health and wellbeing.

Northern launched the world's first 'Mo Train' on 1 November and followed with 50 trains in total operating right across the network. 200 Northern colleagues signed up as Mo Bros and Mo Sistas and pledged to raise money throughout November.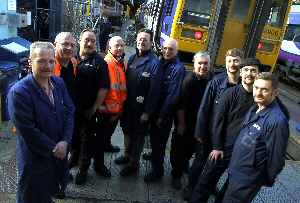 Northern's Managing Director, Alex Hynes, comments:- "We are thrilled to have raised so much money for a fantastic charity like Movember. With more than 4,000 men working for our company, this is a cause that is close to our hearts. We have colleagues currently affected by some of these illnesses and we all know someone supported by the many programmes Movember funds go towards. The Mo Trains have really grabbed our customers' attention and we have had thousands of Tweets over the course of the month about them and the efforts of our employees. We are so grateful to our fantastic colleagues for getting behind the challenge and changing the face of men's health."

Jonathan Sim, Communities Manager Movember UK said:- "Northern Rail's Movember campaign was very impressive from the internal and customer facing communications to the actual mos on their trains. This pioneering initiative provided priceless awareness across a huge swathe of England and of course, much needed funds for men's health."

See Northern's Movember video, featuring those fabulous members of staff at:- northernrail.org/movember.