One Ark brings a world of opportunities to Knowsley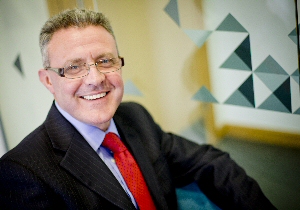 KNOWSLEY investment charity One Ark is supporting residents to take part in a global programme that helps young people develop leadership and entrepreneurial skills.

One Ark is part of the First Ark Group that is aiming to engage over a hundred residents in the World Merit programme, as part of its aim to provide employment and life changing opportunities for the people of Knowsley.

The Merit Next Leadership Programme will provide young adults with the opportunity to participate in a year long paid for training programme, which will include visits to London, Liverpool, New York and Washington DC.

One Ark has committed to working with World Merit to sponsor 3 young people from Knowsley to earn a place on the programme. One Ark and World Merit will also be running an engagement programme for Knowsley residents; offering them mentoring and career advice.

Tony Cahill Executive Director for Business and Service Development said:- "The World Merit programme will help to create opportunities for young people across Knowsley to gain invaluable skills that could be a real benefit to their career and personal development. The new experiences on offer through the scheme will help to raise aspirations and create stronger communities that people are proud to live in."

Over the next nine months prospective candidates in Knowsley will take part in activities such as organising events or volunteering which they earn credits for, with the top 3 being chosen to take part in the global programme.

One Ark and World Merit have appointed 28 year old Emily Karatay; a former World Merit participant and Knowsley resident; who will deliver World Merit Knowsley and will be responsible for mentoring and supporting the 100 young people engaged on the programme.

Chris Arnold, Chief Executive of World Merit, said:- "From the start it has always been our ethos to be as inclusive as possible; we encourage people from all cultures and social backgrounds to get involved. For many this will be the first time they are travelling abroad and this will help to really broaden their horizons and think big. The project is especially important to me; I was born in Knowsley and it means a lot to be able to give young people from my hometown the opportunity to experience the Merit Next programme. We are delighted that One Ark has partnered with us in the project and is working with its residents to develop a new generation of leaders, thinkers, entrepreneurs and innovators on the ground in Knowsley."
Aaron Grange Care Home Residents give care to the homeless this Christmas
RESIDENTS of Aaron Grange are packing up boxes to help Liverpool's homeless this Christmas. Giving hats, scarves, gloves, clothes and long life food to the Whitechapel Centre, residents and care home staff have been busy collecting and making things that can be donated to help the homeless. Aaron Grange Home Events organiser Sandra Bold says:- "It has been wonderful to see how the residents have jumped at the chance to help others. They have collected, made and are now wrapping up boxes to help the homeless in Liverpool. It's a lovely thing to do at Christmas and great that those in care homes can still participate in their community. It's what Christmas is all about, isn't it?"

Dame Judi Dench fronts local disability charity's Christmas Appeal
VITALISE Christmas campaign launched to provide festive respite for people with disabilities and carers Dame Judi Dench has been unveiled as the face of disability charity Vitalise's Christmas Appeal 2013, which aims to raise funds to give people with disabilities and carers desperately needed Christmas breaks. Vitalise runs the Sandpipers Respite Break Centre in Southport.

Dame Judi Dench, who is a Vice President of Vitalise, is spearheading the charity's campaign to raise sufficient funds to
subsidise every break at Sandpipers and its 2 other UK centres during Christmas Week. The Appeal has set itself an ambitious target of £35,000; more than double the £16,000 raised in 2012; which will fully subsidise much needed Vitalise Christmas Week breaks for a total of 103 people with disabilities and carers.

The Appeal is the culmination of a year of intense activity for Vitalise to celebrate the 50th anniversary of its foundation in 1963. During its Golden Jubilee year, Vitalise announced ambitious plans to effectively double its social impact with the opening of three more centres in the next few years. The charity is now busy fundraising to finance its expansion plans.

Vitalise Chief Executive Chris Simmonds said:- "Vitalise has had the most amazing 2013 and we really wanted to end our 50th anniversary year on a high note. Thanks to Dame Judi's endorsement of our Christmas Appeal 2013, we are really hopeful of doing just that. Christmas, as we know, is a time for celebration, for family. But there are a great many people with disabilities and carers who are unable to take such simple pleasures for granted. That's why it is so important that we provide our services right through Christmas and the New Year. Vitalise has been supporting people with disabilities and carers for 50 years now and we want to support more people than ever before in the next 50 years. With the help of Dame Judi and our wonderful supporters, I am confident we can achieve our aim. So please support our Christmas Appeal!"

In support of the Vitalise Christmas Appeal 2013, Dame Judi Dench commented:- "There are millions of people in the UK struggling to cope with disability. Whatever their situation, it's more than likely that their daily existence is a hard, unrelenting struggle against isolation and loneliness. For them, Christmas is no different to any other time of year. That's why we urgently need your help this Festive Season. So please, give what you can; and help us rekindle the spirit of Christmas."

In addition to the Christmas Appeal, Vitalise has been busy with a raft of activity to celebrate its 50th anniversary. The charity has released 2 fun videos, featuring the guests, volunteers and staff at the charity's centres performing the classic hits 'Gold' by Spandau Ballet and 'Happy Birthday' by Stevie Wonder. In time for Christmas, Vitalise has produced a set of four limited edition Christmas cards, based on original designs by the charity's guests and volunteers.

As well as the online fundraising appeal, Vitalise is also reaching out to potential volunteers through a new 'Christmas Cracker' campaign, encouraging visitors to the Vitalise website to read inspirational stories from the charity's volunteers and give volunteering a try for themselves.

Vitalise is a national charity providing essential breaks for people with disabilities and carers. Vitalise provides essential short breaks in a holiday environment for people with disabilities; including Alzheimer's and dementia; and carers at Sandpipers and 2 other accessible UK Centres in Chigwell and Southampton. All 3 centres provide 24 hour nursing care on call, personal support and a range of accessible excursions, activities and entertainment.

Vitalise was founded in 1963 as the Winged Fellowship Trust by the late Joan Brander MBE. The charity created the blueprint for the modern concept of respite care in a holiday environment. Vitalise also runs one of the largest volunteering programmes of any UK charity, offering thousands of individuals each year the opportunity to support and socialise with the people with disabilities taking respite breaks at Vitalise's centres.
People wanting more advice and information about Vitalise breaks are requested to call:- 0303 303 0145 or visit:- vitalise.org.uk.