Hampers help vulnerable in Knowsley to keep warm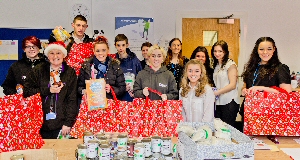 THE Knowsley Housing Trust will be helping to spread some Christmas cheer by putting together special 'Keep Warm' hampers for vulnerable people in Knowsley. KHT apprentices and residents from Octavia Court, in Huyton, teamed up to create the hampers which included donated tins of food, winter recipes and warm clothes such as hats, scarfs and gloves. "The effort that our apprentices and residents have put into making the hampers has been amazing and we hope the items will help provide a bit of warmth and comfort for vulnerable people across Knowsley this Christmas," said Jamie Sowler, Senior Customer Involvement Officer at KHT. Partner organisations and KHT staff donated items for the hampers including John Adderley Ltd, Cas Environmental, 4 Season Residents Association, Kellogs, Knitwits, Oldham Brothers Ltd, Structec, Travis Perkins and Knit & Matter also kindly made donations for the hampers.
New figures show cash boost for free childcare and Free School Meals
THE North West was given a boost of nearly £113 million to provide free childcare for 2 year olds, as well as over £19 million to help local schools provide universal free school meals to all infants, the Deputy Prime Minister Nick Clegg was announced on Wednesday, 18 December 2013.

Councils across the country will receive over £755 million of government funding to provide 15 hours a week of free childcare for 40% of 2 year olds from September next year. In the North West, nearly £113 million will be available to double the number of children who will have access to high quality free childcare from 21,700 to over 42,000.

Councils are urged to use the money to make the best use of their existing facilities; such as school nurseries and childminders; to deliver a boost to the number of high quality places which offer childcare from 8 to 6 and fit with the demands of modern, working life.

The Deputy Prime Minister, Nick Clegg, said:- "I want to give children the best possible start in life to get them ready to learn, progress, and aim high. That's why we're investing in early education for children in the North West to give them the chance to start school on an equal footing with their peers. Next year the number of 2 year olds who receive free childcare will nearly double giving over 42,000 children in the East of England access to high quality childcare that can make a real impact to their lives. Parents, local authorities, nurseries and childminders should take up the offer their children are entitled to, make sure places are available and expand local childcare provision. Every child deserves to have the best start in life, regardless of their background, financial situation or family set up, and this funding will help even more children and families get on in life."

Education and Childcare Minister, Elizabeth Truss, said:- "I want parents to get the early years support their child is entitled to where they want it and at a time they need it which is why I'm encouraging North West Councils to make sure this money goes towards providing parents with places that support those who want to work; giving them greater flexibility and choice. Encouraging school nurseries to open from 8am to 6pm rather than 9am to 3pm and passing on funding to good and outstanding childminders will help offer places at the times we know parents need them. We have already made it easier for childminders to access funding for 2 year olds, and I want Councils in the North West to pass more money down so parents are able to access the home based, flexible childcare that many prefer."

Also announced today was the amount of money available to ensure local schools have the capaCity to provide extra free school meals. Every child in reception, years 1 and 2 in state funded schools will be able to receive a free school lunch, saving parents, who currently pay for a school lunch, over £400 a year per child.

An estimated 1.55 million additional infants across the country will be able to sit down to a free school meal from September 2014, of which 200,000 children in the North West expect to benefit. To help local schools expand their kitchen and dining facilities, where needed, over £19.2 million of government funding was announced today for the region.

Commenting on free school meals, Nick Clegg said:- "Making free school meals available for infants in the North West means children won't miss out on getting a healthy meal during the day. This is good for their health and their studies. Parents can fork out around £400 for school lunches for each child every year. We want to do all we can to help ease the pressure on household budgets, and free school meals can help put money back in the pockets of these families."

Evidence shows that where children have been given a free school dinner, students were academically months ahead of their peers elsewhere and more likely to eat vegetables at lunchtime instead of less healthy food like crisps:-

► Students were found to be on average 2 months ahead of their peers elsewhere.

► The universal entitlement pilot led to around a 2% point increase in children reaching target levels in Maths and English at Key Stage 1; while at Key Stage 2 the impact on achievement was a 4% point increase for English and 5.5% points for maths.

► Academic improvements were most marked among children from less affluent families.

► There was a 26% point increase in the number of children eating vegetables at lunch and an 18% point drop in those eating crisps.

SEFTON POLICE TO HELP CYCLISTS PUT BIKE THIEVES IN A NEW YEAR SPIN
TAKE NOTE!!! People who get a new bike for Christmas are being offered a free present... in the New Year! Police in Sefton are teaming up with a local bike shop to offer free security marking for bikes and other valuable property.
On Thursday, 2 January 2013, also between 1pm and 3pm, they will be at a bike shop in Station Road, Ainsdale and between 1pm and 3pm on Friday, 3 January 2013 at Formby Police Station, Officers will be helping people register their belongings on a secure Police database. They will also be marking them up to deter thieves.

Ainsdale and Formby neighbourhood inspector, Jim Atherton, said:- "This is all about protecting your property and detering thieves. At this time of year people will be getting lots of new stuff for Christmas, much of which will be expensive and valuable to them. The last thing we want is find people having their things stolen by ruthless criminals who don't care about the misery they cause by helping themselves to things that aren't theirs. By coming along to these free events, you will be helped by my officers in registering your bikes, electronics and computers on a secure database that the Police have access to. If your property is marked as being registered with Immobilise.com, it may deter a thief, and if it is still stolen, but later recovered by the Police, we'll know straightaway who the rightful owner is."

Immobilise.com works by allowing Police forces throughout the country permanent access to a database containing the serial numbers of every item of property registered on it. The database links the serial number to the contact details of the person who registered it.

If officers stop a suspected burglar or robber in possession of stolen property, they can make a quick call to Immobilise or a check on the website so see who it really does belong to.

Police in Sefton are also encouraging cyclists to put a good quality bike lock on their Christmas list and, when storing their bikes in sheds or garages, ensure the building has good quality locks and an alarm. Keeping your bike and other valuables away from windows and out of sight under a cover is also recommended.

Sefton Homewatch is also encouraging people to protect their property using Smartwater. Call Merseyside Police on:- 0151 777 3419 or visit the website to find out more about this system.
Thousands of passengers look to get away for Christmas and the New Year via LJLA
LIVERPOOL John Lennon Airport (LJLA) is once again gearing up for the great Christmas and New Year 'Getaway', with over 100,000 passengers expected to pass through the Airport over the festive and New Year holiday period.

With many schools finishing for Christmas on Thursday, families from across the region are expected to start to head off on flights from Liverpool on Friday onwards. Many will be setting off in search of some much needed Winter sun, to go skiing, visit relatives, or looking for Christmas and New Year festivities across a range of European cities.

As usual, popular flights for passengers over the coming days are expected to be Winter ski destinations such as Geneva, Salzburg, Innsbruck and Grenoble, The Canary Islands and southern Spain for some warmer Winter weather and City break destinations including many with famous Christmas markets such as Berlin, Krakow and Copenhagen.

Ryanair expect Friday 20th to be their busiest day over the festive period, while easyJet's will be Sunday, 22 December 2013, with the airline carrying 3,000 passengers from Liverpool on this day alone.

Christmas is also a popular time for passengers to fly via LJLA to visit family and friends, with many passengers taking advantage of the great value for money flights available.

Helping to put passengers in the holiday mood, the Airport will be staging one of its regular 'Funday Friday' events on 20 December 2013, with a mini Christmas grotto in the departure lounge and a DJ entertaining passengers with popular Christmas songs. Airport staff have even managed to persuade Santa to be on hand to listen to any last minute Christmas wishes from passengers young and old on their way through the Airport, before he too flies off, back to the North Pole to prepare for Christmas Eve.

All visitors to see Santa will also be able to pick up some great prizes including free flights from Santa's sack, while many retailers at the Airport such as World Duty Free and WHSmiths have special Christmas offers and free samples for passengers to take advantage of too. The Kissing Gate bar and restaurant will even have mistletoe for all those holiday romantics!

LJLA Management are once again keen to remind all passengers to allow plenty of time to pass through the Airport during this busy period and that restrictions on liquids carried in hand luggage are still in place.
Passengers are also reminded to think carefully about what items they are intending to pack in hand luggage, before they set off for the Airport; especially those who are travelling with presents for friends and relatives.

To avoid disappointment at the security search point and to help keep security queues to a minimum, passengers are being asked to travel with their presents unwrapped if they are to be carried in hand luggage.

Robin Tudor, Head of PR for LJLA commented:- "This is always a special time of the year for both our passengers and our staff here at Liverpool John Lennon Airport. This year we're really trying to help get passengers in the festive mood though with our 'Funday Friday' event. With Santa here to listen to any last minute Christmas wishes, we expect there to be a great atmosphere for everyone, with some lucky passengers leaving with great prizes too. We also want to remind all passengers to help us to help them and avoid some of the disappointment we have seen in previous years when passing through airport security by allowing plenty of time, coming prepared and thinking about what they are carrying in their hand luggage."