HOME BARGAINS SEARCHES FOR BUDDING CHRISTMAS CARD DESIGNERS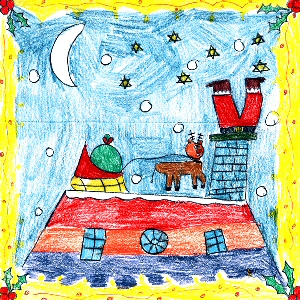 1 of the UK's largest discount retailers is searching for budding artists, to create a special range of charity Christmas cards. Children from Primary Schools across Merseyside, aged 5 to 11 years old, are invited to put their artistic skills to the test and submit their festive card designs.

The top 12 designs will be sold in over 300 Home Bargains stores for Christmas 2014, with all profits going towards Alder Hey Children's Charity. The young artists will also win a £50 gift card for their school, to spend at their local Home Bargains store.

Joe Morris, operations director at Home Bargains, said:- "Following the success of last year's design competition, we wanted to give children the opportunity to once again see their creations sold in our stores. We were blown away by the number of excellent entries we received in 2012 and thought that it would be fantastic to involve Merseyside's schools in the campaign to fundraise for children cared for by Alder Hey. The children's hospital is the busiest in the UK, so we'd really like to thank all of our customers for their support and hope that our collective efforts will continue to make a genuine difference to children in Alder Hey's care."

The charity Christmas cards have been sold in Home Bargains stores for the past 6 years and the retailers hopes that the 2013 winning designs; which are now available to purchase in-store; will raise in excess of £15,000 for the charity.

Alder Hey Hospital cares for over 270,000 young patients each year. Alder Hey Charity raises funds to support the hospital's pioneering work and aims to improve the quality of life for patients.

Helen Hughes, fundraising and merchandising manager at Alder Hey Children's Charity, said:- "We're truly grateful to Home Bargains for their continued support of Alder Hey and are delighted that we will benefit from the 2014 Christmas cards sold throughout their stores. Donations through purchases of the Home Bargains Christmas cards have made a massive difference to our patients, so we'd like to extend a huge thank you to Home Bargains customers for buying them every year."

Home Bargains' Christmas Card Competition is open to primary schools across Merseyside. Children can submit their designs by downloading an entry form from their website and posting their original artwork to the address outlined. The closing date for entries is:- Friday, 31 January 2014.

"Unfortunately we've only had two entries to the competition so far and we were hoping you could put the story out, to help us really support Alder Hey again next year. So 2014 might be your chance to win!!!" said Aimee Horwich from the PR for Home Bargains.
Fresh CCTV image released after South Parkway staff assault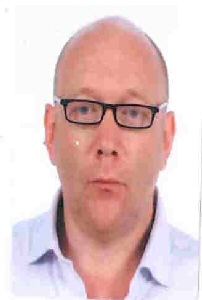 ON 18 December 2013, Officers from British Transport Police released a new CCTV image of a man they want to speak to in connection with an assault on a member of rail staff. The assault happened shortly after 12.30pm on Sunday, 17 November 2013, as the train guard travelled on the 12.22pm Liverpool to Middlesbrough service. PC Shaun Lee said:- "As the train travelled between Liverpool Lime Street and Liverpool South Parkway the guard checked the tickets of all passengers and discovered the suspect was travelling without having paid the correct fare. The man subsequently refused to pay for his ticket and refused to give his details for a penalty fare. When the train arrived at South Parkway the man was asked to leave the train. He refused and became abusive and aggressive and then threw a can of energy drink at the guard, which struck the back of his head and caused swelling and soreness to his ear and jaw. The man then left the train and walked off into the station. We believe he may have then travelled on to Manchester." PC Lee added:- "We issued this appeal to the public last month and since then have sourced fresh images of a man we would like to speak to in connection with the incident. If you recognise the man, or have any information about the incident, please call British Transport Police on:- 0800 40 50 40 or Crimestoppers, anonymously, on:- 0800 555 111." In all calls please quote log:- NWA/B15 of 18/12/13.

We mean business – hoola fitness that's streets ahead!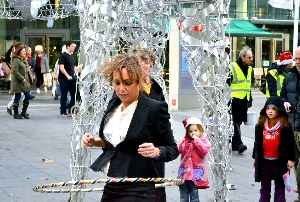 ON Saturday, 14 December 2013, 2 Hoola hoopers made their way through Liverpool ONE. Hoola Nation, a hoola hooping fitness
company, teamed up with Liverpool ONE to organise the event, with the duo interweaving among crowds of Christmas shoppers.

The hoola hoopers were dressed in full business attire, which suitably matched the event title:- 'Suited and Booted'. Hoola Nation used the suited and booted businesspeople as a recognisable example of how fun and fitness can be injected into all lifestyles and is accessible to everyone. The choice of dress, which wasn't conventional sportswear, formed part of the message:- 'Don't take yourself too seriously'.

More and more people are finding it increasingly difficult to fit exercise into a hectic routine, so the hoola hooping duo set out to reshape our perceptions of fitness.
Hoola hooping is a great way of showing that there are a diverse range of options available of how people can stay fit these days, and that exercise can be fun! Hoola hooping through the streets of the City also reiterated the message that fitness activities can be carried out in any environment, at any time.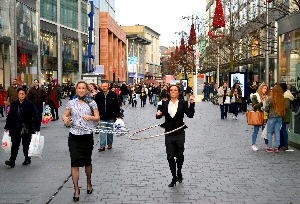 Like any cardiovascular exercise, hoola hooping lifts the spirit and lightens the mood. Hoola hooping has many energetic benefits. Most people find hooping quite meditative and, perhaps more importantly, hooping provokes laughter and smiles.
The event in Liverpool ONE certainly brought a smile to the faces of many passers-by, who encountered the hoola hooping trio.

Commented Sasha Kenney, founder of Hoola Nation:- "The day was a great success and we had a really positive response from everyone we passed. The novelty of unexpectedly encountering hoola hoopers, dressed in business clothing, really did catch people by surprise and we certainly made them stop and think. Hoola Nation is all about encouraging participants to have fun and workout with a smile, so we were really excited about this event. It's enabled us to inspire people to explore the boundaries of fitness!"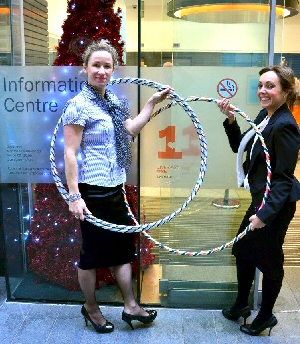 Donna Howitt, Marketing Director at Liverpool ONE commented:- "We are always committed to making the visitor experience at Liverpool ONE the best it can be, so we welcomed the idea of 'Suited and Booted'. There was a fantastic response from our customers on the day, with many onlookers taking time to absorb and enjoy the atmosphere."

For more information about Hoola Nation visit:- hoolanation.co.uk or email:- info@hoolanation.co.uk.
To find out more about Liverpool ONE, visit:- liverpool-one.com.