ROB AND JO GET OFF TO A ROYALLY GOOD START AT THE CROWN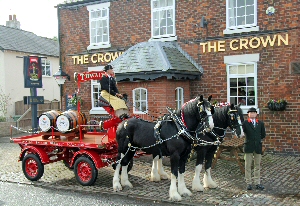 CROSTON'S most well loved pub, The Crown, has 2 new proprietors at the helm. Rob Thornton and Joanne Bentley, from Charnock Richard, are set to take the Lancashire establishment to new heights following a £75,000 refurbishment which has been financed on a joint-basis with award-winning brewer Thwaites.

Now boasting a stunning homely interior, which includes cosy revamped dining and drinking areas, The Crown proudly serves a
range of lunches and evening meals which are all cooked using locally sourced produce.

Hearty traditional breakfasts are a welcome addition to the weekend menu and new weekly favourites, such as Friday's Fish Supper have been a huge hit with customers. Foodies can also take advantage of the wine and cheese evenings, in which global gastronomic delights can be tried for a small charge.

Rob and Joanne have also over seen the redevelopment of the pub's exterior, which boasts soft lighting, new signage and ample car parking space. In addition, its large beer garden even has a new Boules pitch which is set to be a big hit with visitors in the summer months.

The pair, who are newcomers to the hospitality industry, have a very simple vision for the establishment. Joanne said:- "When we arrived at The Crown we had one clear aim: to ensure that the pub becomes a central focus for this rural community; somewhere that customers know they'll receive a warm and friendly welcome. It's not our pub; its Croston's pub; and we want to make sure that locals feel a part of everything we do. We've already had some terrific feedback on our new food and drink offering and we hope people will come and see what we've got to offer."

Meanwhile, Rob, who is a craft ale aficionado, has worked tirelessly to clinch accreditation from Cask Marque. He said:- "It's no secret that I'm passionate about world beers and was delighted that the pub receive Cask Marque status in just 4 months; that's quite an achievement! We're becoming quite famous for our impressive array of craft ales and I'd like to think we can carve a niche for ourselves in this area."

The pub's finishing touch is its now-famous picture gallery, which proudly displays over 40 photographs of the village through the ages, taken by local snapper Peter Briggs.

Andrew Buchanan, director of pub operations, commented:- "We're delighted that Rob and Joanne have taken over the lease of The Crown. The pub has never looked better and whilst the new décor is modern, it hasn't lost any of its unique cosy charm. We're confident that locals and visitors alike will flock to this new gem in the heart of the Lancashire countryside."
Find out when Sean Connolly will be signing and wrapping books at Formby Books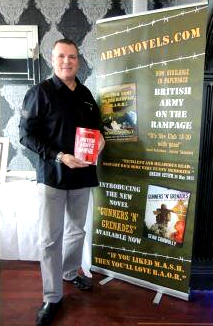 ON Saturday, 21 December 2013, Sean Connolly will be at Formby Book's signing and wrapping his new book British army on the rampage (B.O.A.R.). Sean will be at Formby Book's from 11am. Money will go to help for heroes charity. He will also wrap other books that you want to buy. This will be a good opportunity to go if you missed the book launch on the 7 December 2013. Sean Connolly is a presenter on the local radio station mighty fm, His show is called 'it's not Elvis' He does the show with David Richardson on Saturdays from 6pm to 8pm Owner of Formby Book's and Presenter of Books and Beyond Show on mighty fm Tony Higginson will be there also co-presenter of books and beyond Scott Harrison will be helping with the music on the day on the PA system, other Mighty FM presenters might pop along on the day as well. To Listen to Books and Beyond with Tony Higginson and Scott Harrison, go to:- mightyfm.co.uk, on Wednesday night's from 10pm to 12am.

BURGLARY PREVENTION ADVICE IN AND AROUND SEFTON!
MERSEYSIDE Police Officers are reminding residents that home security is vital, particularly during the festive period when criminals know that people will have Christmas presents in their homes. Inspector Jim Atherton, said:- "Burglaries tend to increase at this time of year, due to the dark nights and thieves targeting properties to look for expensive Christmas gifts. It is very important that people extra-vigilant and ensure that they take home security seriously. Many burglaries can be prevented by taking very simple measures such as ensuring all windows and doors are locked, even when at home. Please take a moment to think about your security arrangements before a thief ruins Christmas for you and your family. The shorter days mean people's houses are left in darkness for longer and can give criminals the opportunity to break in, knowing someone isn't in. However you can make life as difficult as possible for them by making your home anything but an easy target. Improving security features like locks and alarms, and making sure your house always looks occupied can make a big difference. All people need to do is pick up the phone and call us and we will offer them all the help we can. People not locking their UPVC doors remains a big problem as it is giving criminals far too easy a ride. Opportunists can try dozens of handles in a street and, at the minute, it won't be long before they find one that opens. Often people are either forgetting to both push the handle up as well as turn the key, or they are leaving it unlocked while round at a neighbour's or elsewhere in the house. The force runs regular crime prevention surgeries throughout county. For details of the next surgery taking place in you area please contact:- 101."

For more information about keeping your home and property safe please visit the Merseyside Police website or call Merseyside Police on:- 101. Also follow these steps below to help keep homes safe this winter take heed of the following advice:-

► Remember to lock all your doors and windows, even if you are at home (make sure you know where the keys are).

► Hide all your valuables; including car keys; away from prying eyes.

► Fit outside security lighting

► Remove all tools, ladders and other implements from your garden as these can be used to break into your property.
► Review your boundary security, make sure your gates and fences are in good condition and that outbuildings, sheds and gates have sturdy locks.

► Be nosey; report any suspicious people or vehicles in your neighbourhood. Many crimes are thwarted and people arrested after members of the public report unusual or suspicious activity to the Police.

► Add up the value of all your belongings, then work out how much you spend on keeping them secure.

► People who have UPVC doors are reminded to fully secure them. If you simply lift the handle you will NOT fully engage all of the locks into the frame. You MUST also double lock the door using the key.

► Remember to remove the key from the door once it is locked and leave it in a close and easily accessible place in case of emergency.

► Do NOT leave it on view where it can be seen and fished through the letterbox.

► Don't advertise new items you may have bought such as electrical equipment to people by leaving the empty boxes outside your home. Try to dispose of the packaging carefully by taking it to a recycling centre or keep it out of sight until the day your rubbish is collected.

► Mark all your valuable property with a UV pen and you should keep a record of the serial numbers.

► This can help make it easier for you to be reunited with your property if you are the victim of a burglary and the items are recovered.

► During the dark nights, use a light timing device to switch the lights on (ensuring your blinds/curtains are drawn).

► Don't leave your car keys on display (on window ledges/worktops) and don't leave them by your door/windows etc.

► Always lock your windows and doors. If you haven't got windows locks, you are advised to get window locks fitted. If you have window locks - use them.

► Don't leave your keys in the back of the door lock.

► Always check your front and back door are secure even if you are in, burglaries can often occur via insecure back doors whilst residents are at home watching television.

► Secure your shed and garage properly. Don't leave tools lying around these could be used to help offenders gain entry to your home.

► Security mark all your home and garden equipment with full postcode using a UV marker pen or permanent marker. This can help make it easier for victims to be reunited with your property if you are the victim of a burglary and the items are recovered.