Davies backs former Belgian PM for EU leadership
LIBERAL Democrat MEP Chris Davies has declared his support for Guy Verhofstadt to lead his party's campaign for the 2014 European elections, and to be its nominee for president of the European Commission.

Davies, a former leader of the British Liberal Democrat MEPs, said that Verhofstadt could provide the leadership and inspiration needed if the European Union is to remain a major force in a fast-changing world.

Verhofstadt, for nine years Belgian Prime Minister, currently leads the ALDE group of 84 MEPs in the European Parliament. He is known for insisting that many of the continent's problems can be resolved only by closer European integration.

He is expected to face a challenge from Finnish Liberal Olli Rehn, the European commissioner for economic and monetary affairs.

Davies, now the party's environment spokesman in the European Parliament, said he had known Guy Verhofstadt for five years and was impressed by his energy and his ideas.

"He is a man who can provide the European Union with a degree of leadership and inspiration that it has been missing. I am seriously concerned that Europe is stagnating while countries elsewhere gain greater economic influence. Verhofstadt is absolutely right in saying that we must break free of our self-imposed shackles and move forward. National governments should retain control over their domestic affairs, but in a growing number of instances the problems we face can only be fixed by our working together and promoting our shared values. As a former Belgian Prime Minister, no-one has greater understanding than he of the need to recognise different points of view and find ways of taking Europe's nations forward with a sense of common purpose."
Southport Community gets behind Christmas Gift-giving Scheme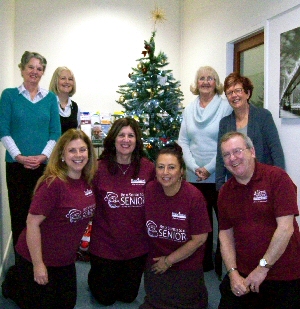 A Merseyside home care company, Home Instead Senior Care, joined forces with a number of organisations to launch their festive gift-giving scheme 'Be a Santa to a Senior'. Generous shoppers donated a fantastic total of over 200 gifts which are now being given to local older people who will appreciate a present this Christmas.

A 'Be a Santa to a Senior' stand was set up at Southport Market displaying a Christmas tree decorated with gift tags detailing the first name of a local older person and a gift they would enjoy receiving. Visitors were invited to pick a tag and then donate that particular item and other stallholders were invited to make donations of their own. Home Instead also received presents from local Boots and ASDA whilst Marks and Spencer did their own collection by displaying a 'Be a Santa to a Senior' Christmas tree in their staff room.

The Home Instead team have now wrapped all the gifts, 20 of which have already been delivered to the Sefton Pensioners Advocacy Service. The remaining gifts will be donated to older people associated with the Stroke Club, the Care 4 U team at Southport Hospital, Riverside Housing, One Vision Housing as well as Leyland Road Methodist Church, just in time for Christmas.

Owners of Home Instead, Irene Hough and Anthea Pilkington are delighted with the success of the scheme. Irene commented:- "We had a fantastic time collecting gifts and are now thoroughly enjoying distributing them all. Visitors to the market were amazing and really got behind what we were trying to do, it's wonderful how everyone has worked together to bring a bit of festive cheer to older people in our local community this Christmas. I'd like to say a big thank you to everyone who made this possible and to those who donated. I'd also like to thank Mighty FM, who really helped spread the word about the campaign as well as Southport Market Managers, Denise Ryder and Steve Hughes, who provided the stand free of charge."
Home Instead have been so delighted with the success of the scheme, that they're already making plans to roll it out again for next year (2014). To find out more about Be a Santa to a Senior or Home Instead Senior Care in Southport, please call:- 01704 547938 or visit:- homeinstead.co.uk/southport.

Firefighters to strike over pensions in England and Wales on Christmas Eve and New Year's Eve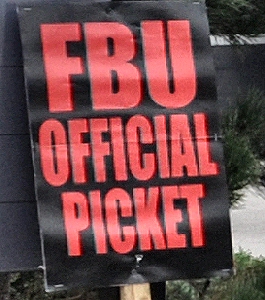 FIREFIGHTERS campaigning against government attacks on their pensions will strike in England and Wales on both Christmas Eve and New Year's Eve, the Fire Brigades Union has announced.

Strikes will take place between:-

► 7pm and midnight on Tuesday, 24 December 2013

► 6.30pm on Tuesday, 31 December 2013

► 12.30am on Wednesday, 1 January 2013

► 6.30am and 8.30am on Friday, 3 January 2013

FBU General Secretary, Matt Wrack, said:- "Firefighters provide a 1st class standard of service 24 hours a day, 365 days a year, and these strikes will remind government just how reliant they are on our members' professionalism, commitment and flexibility. However, there should be no need for industrial action, and it's absurd that firefighters' concerns over pensions have not been addressed already. The government must stop claiming they are negotiating when they have refused to talk for two months and insist on forcing through proposals that are unaffordable, unworkable and unfair. By simply conceding common sense and allowing firefighters a fair deal, the government could end this industrial action today."

As with previous strikes, on the 3 dates all FBU members in England and Wales will stop work apart from those working in Control Centres.

However, on top of these strike periods; the seventh, eighth and ninth to take place; on Christmas Eve, all members in Scotland and those working in Control Centres across England, Scotland and Wales will refuse to work voluntary overtime, meaning every firefighter in the 3 nations will be taking part in industrial action together for the 1st time.

And between 7pm on Friday, 27 December 2013 and 7pm on Sunday, 29 December 2013, all firefighters in England, Scotland and Wales except those working in control will refuse to work voluntary overtime.

The ban on voluntary overtime comes after a second ballot of FBU members voted by almost nine to one for additional industrial action on top of strikes.

Although negotiations in Scotland have so far prevented strikes action, no settlement has yet been reached and the dispute remains live.

Firefighters' pension schemes are amongst the most expensive for workers anywhere in the public or private sector, but amongst the cheapest proportionally for the government.

Most firefighters who take home approximately £1,650 a month already pay £320 or more a month into their pensions, and from April 2014 this would rise for the third year in a row to over £340 a month (£4,000 a year), with many facing a 4th consecutive rise of 2.2% in 2015.

On top of this, a large section of firefighters face an additional threat to their pensions as a result of the government refusing to honour long-standing agreements. As a result, they will not receive the pension they were promised despite paying into their scheme for many years.

The union claims that the government's proposals are "designed to fail" because they ignore the physical demands and fitness standards required by the occupation.

Evidence suggests that at least ⅔ of the current workforce will face dismissal or their pension reduced by almost half because they are unable to maintain the fitness standards required by the fire service beyond the age of 55.

A table summary of industrial action over the end of year period can be found at:- bit.ly/FBUxmasstrikes.
Responding to the Fire Brigades Union call for further strike action, a spokesman for Merseyside Fire and Rescue Service said:- "The Government is in dispute with the National Fire Brigades' Union over changes to their members' Pension scheme. The public should be reassured that our staff will maintain a significant emergency response capability as usual over the Christmas and New Year period. We will also continue our community fire safety work; recognising the importance of providing fire safety information at such a time. During any industrial action we always ask the public to show extra care and vigilance."