High Sheriff of Merseyside visits local children's charity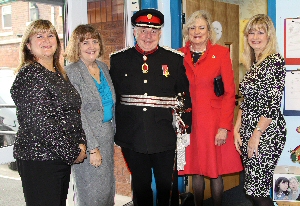 WIRRAL-based children's charity, Stick 'n' Step, welcomed the High Sheriff of Merseyside, Ian Meadows OBE DL, dressed in his full regalia, to its centre at 10am on Wednesday 11 December 2013.

During his visit, the High Sheriff had the opportunity to look in on a session, where he was able to see first-hand the benefits of conductive education for children with cerebral palsy. The visit also included a tour of the specialist facilities at the centre, including the Sage Room, Sensory Room, the main session spaces and the Parents' Room.

Stick 'n' Step is a children's charity based in Merseyside that provides free specialist conductive education and support services to children with cerebral palsy and their families and carers across the North West of England and North Wales. There are currently 70 children attending sessions at Stick 'n' Step, which costs approximately £350,000 each year to fund. The charity relies entirely on grants and the generosity of donations from the community to remain a free service.

Commented Kerry Roe-Ely, Community and Events fundraiser at Stick 'n' Step:- "We were introduced to the High Sheriff a few weeks ago at a charity event. The Sheriff expressed his eagerness to come and see for himself the work that we do, which we were more than happy to arrange. Having the High Sheriff of Merseyside visit our centre is a huge honour and we are extremely grateful for his extended support and commitment to help us. His business, local manufacturing company RS Clare and Co, has also joined our 50/50 challenge and we are thrilled to have a well-known local organisation fundraise for us."

Commented Ian Meadows OBE DL and High Sheriff of Merseyside:- "Volunteers appear in all walks of life. They seek no reward, but they do deserve recognition, and if part of my role can be to recognise the benefits they bring to others and recognise them as individuals, I shall be more than happy to devote much of my time to visiting volunteers throughout the County and personally thanking them for all that they do."
Albert Dock in Liverpool to host The Masquerade Ball
ON Boxing Day (Thursday, 26 December 2013) the Revolution, at the Albert Dock will be presenting Hidden Agenda's:- 'The Masquerade Ball'. The venue will be charging £15 advance entry and the event will run from 7pm to 3am (with last entry 2:30am). The promoters, Hidden Agenda, have said that:- "We will be putting on a night of magic and mystery in Liverpool this Boxing Day, as our Masquerade Ball descends on the Albert Dock for a spectacular party. We will have resident DJ Lewis Jardine providing the soundtracks to this stunning show, which will see the iconic Liverpool venue transformed into a decadent dream, filled with like minded party people looking to celebrate Boxing Day in considerable style. We will be having live entertainment from angle grinders, stilt walkers and fire breathers throughout the night. Also Lewis's trademark takes on party music all night long. So if your readers want to finish Christmas festivities and get ready for the New Year festivities, we hope they will join us and enter a different world at Revolution, this Boxing Day. Expect the unexpected and much more!"
If you attended let them know you read about it on Southport Reporter and also let us know what you think about this event. And, if you take any photos on your phones or cameras, send them over to us.
If we get any fantastic shots we will do our best to put a few of them in the next edition! Email us via:- news24@merseyrepirter.com.
Please note that we will not be paying you for the photos, but if you give us your name we will be crediting you! Please always read our T&C before supplying photos.

SOUTHPORT'S VULNERABLE REMINDED HELP IS AVAILABLE AS BIG FREEZE HITS
WITH the Met Office predicting months of freezing winds and heavy snow, a warmth scheme in Southport is urging local residents to seek help if their heating is broken.

In the next week, temperatures are expected to plummet to as low as minus 4°C in parts of the country, while bitter northerly winds have already left many areas of Britain feeling the chill.

Given the predicted cold conditions, npower Health Through Warmth is encouraging local residents to repair or replace boilers or heating systems that are no longer working. The scheme helps eligible, vulnerable homeowners to access funding and arrange the installation of heating and insulation measures that they can't afford themselves.

Elaine Midwinter, npower Health Through Warmth scheme manager, said:- "As the Big Freeze hits, we are expecting residents to experience more boiler breakdowns and we would encourage people to get in touch with us – we may be able to help. From helping to fix or replace broken heating systems, to ensuring homes are adequately insulated, npower Health Through Warmth may be able to help vulnerable residents with long term illnesses to improve their levels of comfort and warmth."

Help from npower Health Through Warmth may be available to any vulnerable homeowners who have a long term, cold-related illness, a low income with little or no savings and who are unable to fully fund measures, such as a new boiler or heating system. You do not have to be, or become, an npower customer to benefit from the scheme.

Since the scheme was founded in 2000, more than 81,000 vulnerable residents in England and Wales have been referred to npower Health Through Warmth for aid with heating and insulation. More than £65million has been levered to help fund the work required, which includes £1.8million from charitable organisations. In addition, over £8.8million has been contributed from the npower Health Through Warmth Crisis Fund.

For more information about npower Health Through Warmth's eligibility criteria, or to apply for help, please visit:- healththroughwarmth.com.
CLA calls for sky lantern ban through stricter entertainment licences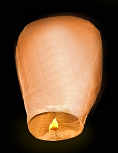 THE CLA in the North is appealing for local authorities in the region to ban the use of sky lanterns through stricter controls on entertainment licences.
With the festive season, and New Year's Eve in particular, inviting an upsurge in use, the CLA fears that it is only a matter of time before there is a serious accident.

The Association is urging local Councils to amend their entertainment licence policy so that all new licences granted for a venue or an event include a clause prohibiting the use of sky lanterns.

CLA North Regional Director Dorothy Fairburn said:- "Sky lanterns are serious fire hazards, they also endanger the lives of
grazing livestock as well as other wildlife, and create unnecessary litter. Those releasing lanterns often have no idea of the hazard they pose, nor do they consider the implications of releasing a naked flame with absolutely no control over where it will land. Lanterns that land in fields can get chopped up when farmers mow for silage or hay, resulting in fragments of wire in the forage. Cows, which naturally tend to chew things to check them out, get the wire trapped in their gut, resulting in an agonising, slow death."

The Vale of White Horse District Council in Oxfordshire has added a condition to its entertainment licence policy prohibiting the use of sky lanterns. This has been backed up by a ban on Council-owned land.

Councillor Robert Sharp told the CLA that adding the banning clause meant the process is then implemented automatically upon licence renewal at no additional cost; with the whole district eventually being covered.

The Royal Parks have a similar ban in place; they search for, and confiscate, sky lanterns brought in by those attending events on their property.

Many countries have already banned the use of sky lanterns, including Austria, Australia, Brazil, Canada, New Zealand, Spain Germany and parts of the USA.