Early Christmas Present for Liverpool as new Royal gets final sign off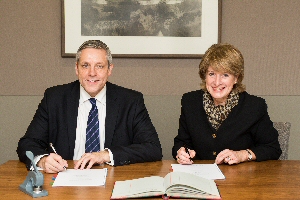 THE deal for the new Royal Liverpool University Hospital has been signed off and approved, the Trust and developers Carillion announced. Construction on the £335m new hospital will commence early in 2014.

The new hospital scheme, costing a total of £429m (including construction of the new hospital, demolition of the current hospital and landscaping) has now reached financial close - the final stage of approval for the project, where the contracts are signed.

It can also now be revealed that the European Investment Bank (EIB) will provide £90.5m. Together with £118m funding from the Trust and £94m from the Department of Health, this means that almost three quarters of the project will be publicly funded. The remaining funds will come from private lenders including Legal and General Investment Management (LGIM) Lloyds TSB and Scottish Widows Investment Group.

Aidan Kehoe, chief executive of the Royal Liverpool and Broadgreen University Hospitals Trust, said:- "This is a huge moment for all those who have worked so hard, for so many years and we are all delighted to have achieved financial close on the new Royal. This is fantastic news for our patients, our staff and the City of Liverpool. We will have a world class hospital facility designed to provide a whole new approach to healthcare and help us to tackle some of our region's biggest health issues. The new Royal will improve the health and wealth of the City creating hundreds of construction jobs and training opportunities and paving the way for thousands of hi tech jobs on the BioCampus."

Helen Jackson, director of strategy and redevelopment at the Trust said:- "We have worked incredibly hard to achieve the best deal possible for the people of Liverpool. We have gained significant backing from the European Investment Bank and have incorporated the use of institutional pension funds, with the involvement of LGIM. The deal we have achieved has further reduced the annual repayment (the Unitary Payment) which will now be over £10m less than the initial projections and will mean our annual repayments will be around just 5% of our income. This is one of the lowest cost public private deals ever."

Carillion Chief Executive, Richard Howson, said:- "We are delighted to have achieved financial close on this exciting new hospital, which will be our sixteenth PPP hospital in the UK. We look forward to working in partnership with the Royal Liverpool and Broadgreen University Hospitals NHS Trust to deliver a state-of-the-art hospital that will bring substantial benefits to the people of Liverpool."

Jonathan Taylor, European Investment Bank Vice President said:- "The new Royal Liverpool Hospital will transform healthcare in the City, providing the most advanced medical treatment and ensuring the highest standards of privacy and dignity for the thousands of patients using the hospital each year. The European Investment Bank is pleased to continue its engagement to support healthcare investment in the North-West through a £90 million 31 year loan for the new Royal project, that has been agreed following examination of the project's technical and economic plans by healthcare teams with experience across Europe. This follows £55 million support for the new Alder Hey Children's Hospital earlier this year."

Liverpool Riverside MP Louise Ellman, who has been a key figure in the campaign for the new Royal, said:- "This is amazing news for the people of Liverpool. The new Royal will have a massive impact on local people for generations to come. Firstly in the wealth of jobs and training opportunities it will bring to the City and later in terms of the improved healthcare environment and the development of Liverpool as a world centre for life sciences. I have supported this project for many years and I am delighted to see it has finally been signed, sealed and ready to be delivered."

Costa brings Christmas Cheer to Liverpool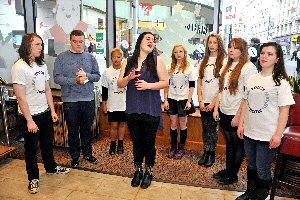 CHRISTMAS shoppers in Liverpool treated to revamped festive songs from the UK's favourite coffee shop and Youth Music. Costa, the UK's favourite coffee shop brought festive spirit to Liverpool on Saturday 14 December as the store on Lord Street teamed up with UK children's charity Youth Music to treat shoppers to some Christmas songs with a difference.

Talented young people from the local Merseyside Youth Organisation, supported by Youth Music, came together to form a specially crafted Christmas singing group and entertained customers with a variety of Christmas music, revamped with a modern twist.

The group of 8 talented musicians from across the City, who have been working with the Youth Music project developing musical talent in children from disadvantaged backgrounds across Liverpool, came together to deliver a spectacular set of Christmas classics with a twist. The first public performance of the group went down really well with Christmas shoppers flocking to see the group perform.

This activity was part of Costa's ongoing Christmas campaign to refresh the UK's most traditional Christmas songs in the build up to the holiday season.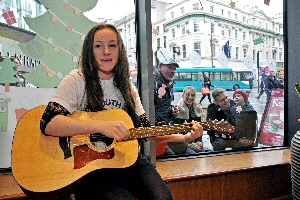 Costa's charity partner, Youth Music, provides more than 90,000 young people with the opportunity to make music every year, helping many of them to overcome the challenges they face in their lives and enabling others to realise their full musical potential. The organisation has been gifted with a £10,000 donation from Costa, which will help continue to provide great opportunities for young people across the country.

Kevin Hydes, UK Retail Marketing Director from Costa commented:- "It was great to see Youth Music's Merseyside Youth Organisation group bring some festive cheer to our customers in Liverpool. We always strive to deliver the best experience for our customers so alongside our limited-edition Christmas product offerings in-store, we wanted to 'shake up' some of the UK's favourite songs by adding a contemporary twist. We hope Saturday's performance got everyone ready for the holiday season!"

Glen Whitehead, Fundraising Director for Youth Music said:- "We're honoured to have taken part in such a great initiative with Costa. The young performers from Merseyside Youth Organisation thoroughly enjoyed updating some of the UK's well-known Christmas songs with a modern twist. We hope those who popped by and experienced the performance by our young local singers and musicians thoroughly enjoyed themselves"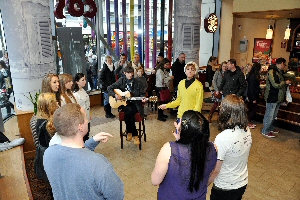 To see images from Costa stores who hosted a choir performance, check out:- facebook.com/CostaCoffee or @CostaCoffee #CostaChristmas. For more information on Youth Music, please visit:- youthmusic.org.uk.