Contract for St Hilda's school set to be awarded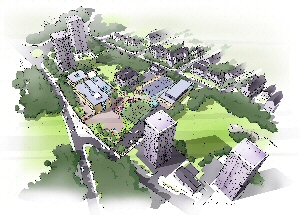 A £15 million contract for the construction of a new home for St Hilda's Church of England High School in Sefton Park is set to be awarded by the Mayor's Cabinet. Under the proposal being discussed on Friday, 20 December 2013, Morgan Sindall will build a new 4 storey building on land, at Sefton Grange, on Croxteth Drive, adjacent to the existing site.

The present school building will then be demolished and used for games pitches, a sports hall and a car park.

It will be the 6th scheme to be delivered under the Liverpool Schools Investment Programme, in which Mayor Joe Anderson has pledged to build 12 new schools in a £169 million investment.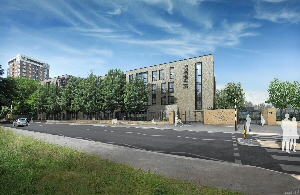 Mayor of Liverpool Joe Anderson said:- "This is great news for pupils at St Hilda's and is part of our commitment to making sure our children are taught in fantastic surroundings. This proposal will see a much needed new building for current and future pupils and also the development of improved sports facilities. Work on the investment programme is moving forward apace and I am pleased that we are delivering on one of my key pledges."

It is forecast that 85% of the sub-contracts will be awarded to firms in the City region; 68% in Liverpool; meaning local labour and apprentices will be used to build the school. As part of the scheme, the school will also become co-educational when the new building opens on the site in September 2015. The sports facilities will be completed by February 2016.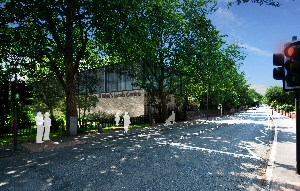 Headteacher Eleanor Benson said:- "St Hilda's is looking forward to this once in a generation opportunity for a completely new school. Staff and students have achieved magnificent results, but our premises are outdated. We are closely involved in the design of all aspects of the school and excited about getting facilities tailor-made for St Hilda's."

Subject to planning consent, construction work is expected to start in April 2014.

The nation's hearing; has it all gone a bit Pete Tong?
TO round off a year of the Medical Research Council's Centenary celebrations, researchers from the MRC and the National Institute of Health Research are today launching a unique mass participation study to see if listening to loud music is contributing to the increase in hearing loss in the UK population. The scientists will be looking at how our listening past affects our hearing present.

The latest figures published in the International Journal of Audiology estimate that around 1 in 6 adults in the UK have at least some hearing loss; enough to cause difficulties in communicating, especially when listening in social situations with background sounds, such as other people talking. This is an increase of around 12% over the last 2 decades, and given the ageing population, is likely to rise further.

The World Health Organization has stated that the single biggest cause of preventable hearing loss is loud noise. Hearing damage caused by workplace noise will have been reduced by the decrease in heavy industry, the legal restrictions on noise and the provision of protective equipment such as ear defenders. But what effect has loud music had on the population's hearing?

Over almost exactly the same period of time as the Medical Research Council has existed, we have had the ability to play music at levels capable of causing damage through the advent of amplification. Might almost a century of amplified music have something to do with it the prevalence of hearing difficulties, or is hearing loss just 'part of growing old'?

The online experiment is aimed at everyone: younger or older in age, better or worse in hearing and with a wide variety of musical experiences and hearing abilities. The researchers are asking as many people as possible to go online and tell them about their listening habits and complete a very quick assessment of their hearing for speech in a background of noise. If a lifetime of loud music does lead to hearing loss, the scientists expect to see a correlation between the participants' reported previous listening habits and current hearing abilities.

Dr Michael Akeroyd, from the MRC Institute of Hearing Research, is leading the project. He said:- "Many studies of music-related hearing loss have focused on musicians who may be exposed to loud music almost every day. But far less is known about the cumulative effects of loud-music listening on the hearing of the general public. The primary purpose of this project is to determine if there is such a link. Amplified music has been around for about as long as the Medical Research Council. Back in 1913, when the MRC came into being, music was played on horn gramophones and the first electronic amplifier, the valve, was only about 5 years old. But in the last 100 years or so, there has been revolution after revolution in music amplification and we can now play music for hours at levels that could be potentially damaging. A lot of MP3 players or headphones will be bought for Christmas presents, and there's the temptation to turn the music up loud. We want to find out if prolonged exposure to loud music really does cause hearing problems."

The UK's largest hearing loss charity, Action on Hearing Loss (formerly RNID), has long campaigned on the dangers of loud music, and the importance of protecting and, in turn, prolonging your hearing. Chief Executive, Paul Breckell, said:- "Damage to your hearing is irreversible; and, contrary to popular opinion, hearing loss is not a condition that only older people need to concern themselves with. With many nightclubs and concerts measuring 20 or 30 decibels above the safe noise level, more and more young people are likely to start feeling the effects of their music-loving, gig-going habits. Hearing loss not only rules out our enjoyment of music, but has the potential to lead to unemployment, isolation and has even been linked to dementia. The MRC's public experiment is such a vital piece of work to offer a robust understanding of and insight into how people stave off early loss of their hearing."

Please use the following link to the hearing survey, which will be live from 00.01hrs on Wednesday - online.