Helping young people into construction jobs in Liverpool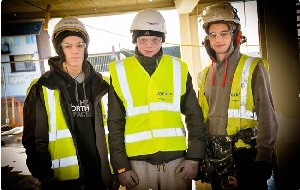 12 young people have gained a taste for construction while visiting two VINCI Construction UK project sites in Liverpool. The visits were part of Get Into Construction, a programme developed by the Prince's Trust to provide young people with an opportunity to learn about job opportunities in the construction industry. The number of young unemployed people in Liverpool reaches 27%.

Aged between 18 and 25, the group spent time at the £18.5m redevelopment of St John Bosco Arts College and an £8m multi-storey car park at The Royal Liverpool University Hospital. Before the site visit they spent 2 weeks learning the theory and practical skills involved in carpentry, joinery, plastering, brickwork, and painting and decorating. Participants are supported for a further 6 months after leaving the programme, with the charity helping them into further work, education or training.

Martin Fitzpatrick took part in the programme and was offered an apprenticeship with VINCI Construction UK's subcontractor, Bowker, on the car park project. Martin said:- "I would like to thank The Prince's Trust, VINCI Construction UK and Bowker for the opportunity I have received. Bowker has offered me employment until the end of the project with the possibility of a permanent position thereafter. I think this is a brilliant start to a promising career in construction. This wouldn't have been possible if I hadn't had the support and guidance given to me by the Prince's Trust and for that I am extremely grateful."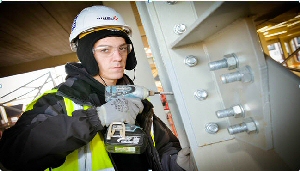 Bowker's Managing Director, Richard Bowker, said:- "Our project manager has been singing Martin's praises so we offered him a job. We are delighted to give Martin this opportunity and he will make a great addition to the team."
VINCI Construction UK's Learning and Development Adviser Michelle Curzon, said:- "The Get Into Construction programme offers a tremendous opportunity to gain experience of the built environment and the different skills required. We are committed to giving young people of Liverpool the best chance possible of making a successful career in the industry and what better way to do this than inviting them to work with our experienced staff on some fantastic projects."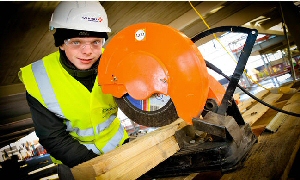 VINCI Construction UK has a long-standing relationship with The Prince's Trust and has committed to offering several Get into Construction programmes, throughout the UK, in 2014.

The Prince's Trust helps change young lives. It gives practical and financial support, developing key workplace skills such as confidence and motivation. It works with 13 to 30 year olds who have struggled at school, have been in care, are long term unemployed or have been in trouble with the law.

Fall in unemployment, but more needs to be done
AS new figures, that have been released this month, have revealed that a fall in unemployment in the North West, the North West TUC has called for more to be done to tackle the problems hidden by this news.
The Office of National Statistics (ONS) revealed that in the North West, unemployment has fallen by 29,000 (7.5%) across the region. However across the North West, long term unemployment black spots remain. Liverpool, Manchester and Lancashire are particularly affected, ranked 6th, 9th and 11th respectively amongst local authorities for JSA claimants out of work for more than one year. In total, eighteen North West local authorities have more than 1,000 JSA claimants who will be spending their second successive year out of work but desperately looking.
Lynn Collins, NW TUC Regional Secretary, said:- "We welcome the fall in unemployment that we've seen today but the long term unemployment figures show that there is a clear need for more to be done in the region. Seeing people, who want to get back in to work, spend successive Christmases on the dole is not only demoralising for them but damaging for us too. Getting people back in to work and contributing is what we need and want to see. We also need to make sure that people are getting into the work they need; there are nearly 1.5 million people working part time in the UK, when they want and need full time work. We've got to get people into jobs that give them the hours and pay they require."
The North West is not only affected by the problem of long term unemployment but pay. The recently announced Annual Survey of Hours and Earnings showed that the North West has suffered a cut in average pay of £1,900 (7.1%) since 2010, compounded by the continued squeeze on pay with average earnings increasing by just 0.9% this month against inflation of 2.2%.
Lynn Collins added:- "Festive cheer will be difficult for many families this year. We hear of workers who tell us that they see their pay packet just doesn't stretch as far anymore. At this time of year, it's more noticeable as families will find it harder to afford the basic necessities, let alone presents. It's little wonder that we are seeing urgent appeals for people to donate to food banks across the region."
According to the latest labour market statistics, 136 local authority areas had more than 1,000 people who had been claiming Jobseekers' Allowance for more than 12 months in November 2013.
In the North West, these are:-
| | |
| --- | --- |
| Liverpool | 5,790 |
| Manchester | 5,040 |
| Lancashire | 4,755 |
| Wigan | 2,270 |
| Sefton | 2,210 |
| Bolton | 2,170 |
| Oldham | 1,970 |
| Salford | 1,920 |
| Wirral | 1,725 |
| Tameside | 1,620 |
| Rochdale | 1,535 |
| Knowsley | 1,515 |
| Blackpool | 1,445 |
| St. Helens | 1,405 |
| Stockport | 1,310 |
| Cheshire East | 1,160 |
| Cheshire West and Chester | 1,085 |
| Warrington | 1,020 |
| Trafford | 975 |
| Blackburn with Darwen | 920 |
APPEAL FOR INFORMATION FOLLOWING A ROAD TRAFFIC COLLISION ON LULWORTH ROAD, SOUTHPORT
MERSEYSIDE Police Officers are appealing for information following a road traffic collision on Thursday, 28 November. The victim subsequently died of her injuries 2 weeks later. Patricia Kelly, 84 years from the Southport area, was crossing Lulworth Road at around 2.05pm, with an 85 year old man when they were in collision with a black Vauxhall Astra car. The pair were taken to hospital, where the 85 year old man was treated for minor injuries. Patricia suffered serious injuries and subsequently died on Saturday, 13 December 2013. The driver of the car stopped at the scene and continues to assist police with enquiries. Officers would urge anyone who was in the area at the time, who might have witnessed this incident to contact the Roads Policing Department on:- 0151 777 5444.