CLARKE EDUCATES STARS OF TOMORROW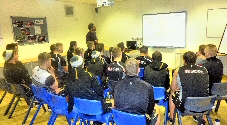 WIDNES skipper Jon Clarke has been recruited by the RFL to deliver a series of presentations across Super League Academies in a bid to educate players as they begin their journey as professionals.

Clarke, 34, has won Challenge Cups and is a Grand Final winner, he's also represented his country and has become one of the most educated men in Super League, but it's not been easy for him to reach these heights.

Hard work, being able to overcome adversity and tests of character and learning to live with a mistake is something that has shaped the man and role model he is today.

In the run up to the 1998 and 1st ever Grand Final, a young Clarke was dropped by Wigan boss John Monie in favour of Mick Cassidy, the hooker who was returning from a 6 game suspension for an elbow on Adrian Morley.

Monie's decision to make Clarke 18th man was to have a profound effect on his life. And what happened in the early hours of Sunday, 25 October 1998 shook the 19 year old and then captain of Great Britain Academy to the core.

He was involved in a serious incident that Clarke used as a positive and made him the professional Vikings youngsters look up to around the club.

"Mick's ban was up on the day of the Final and John Money dropped me for Grand Final. What happened after that is the subject of my presentation and talk which I now deliver on behalf of the RFL to young players across the country. I talk about this emotional state I was in on the night of the Final. After the Final there was a lot of drink consumed, drinking on the pitch, in the dressing room, at Central Park and then a pub crawl on the way to the Town Centre. There was an incident where I got thrown out of the club. There was a bit of a scuffle and as I was walking off someone abused me and I hit a guy and broke his neck. I ended up getting sent to jail. I talk about how things can accumulate and end up in a bad way. It was a nightmare and something I deeply regret." Clarke explained.

Clarke had a spell in prison but instead of turning that experience into a negative he used it as a driver to get his life back on track. The stint inside gave him focus to try and achieve something in his life, whether that be in or out of Rugby League.

Clarke ended up at London Broncos where he began to piece his life together. He was successful in the capital and then earned a move to Warrington where he was for 11 seasons.

It's that experience that the Vikings hooker uses as the focus of his informative talks with the stars of the future.

As part of the Professional Players Programme, Clarke presents one segment of seven workshops. Each has a different theme; from sex education to integrity in sport. Clarke's speech, which has been rated the highest amongst recipients, revolves around responsibility, decision making and knowing how to react to situations that arise everyday for professional Rugby League players.

Clarke, who has a BSc in Sports Science and an MSc in Strength and Conditioning, delivered the keynote speech for the RFL on the latest player performance day, and he says he's more than happy to educate the stars of tomorrow. He said:- "This is something that is quite unique and it's about an experience I went through when I was 19 years old. I talk about the dangers of being in certain situations, some like mine were caused through disappointment and frustration, and I tie it under the header of responsibility. It's something I'm really enjoying. I was in Hull last week and I think the players really enjoy the sessions. If I can help them in a small way then I've done my job. These are messages I'm sharing around the young players at Widnes too."

Hull FC Academy player Jack Downs was one of the young men who has benefitted from Clarke's talk. "The talk was very good from Jon. At the age we are he has really opened my eyes to realise that wherever you are as a rugby player you are always being watched. The truth is that one hiccup or piece of bad behaviour can cost you. He was honest with us and told us the truth. It was very interesting and good to hear some great advice in the path to becoming a rugby player."

Ted Chapelhow, of the Vikings under 19's, added:- "All the young players have so much respect for Jon. He's always giving his advice and tips and are responsibilities as Rugby League players are always reinforced to us. We're lucky to have him around."
Liverpool University Air Squadron cadets at RAF Woodvale on Wednesday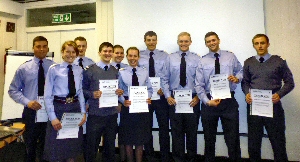 THE Liverpool University Air Squadron cadets at RAF Woodvale on Wednesday with their thank you certificates from ssafa (Soldiers, Sailors, Airmen and Families Families Association) for helping ssafa collect £4,264.15 on numerous occasions at Central Station and Aintree Racecourse during 2013.

CLA backs new T-shirt to raise awareness of sky lantern danger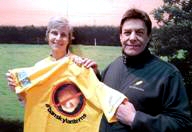 THE CLA in the North is backing a new T-shirt, designed by an East Yorkshire farmer, to raise awareness of the dangers sky lanterns pose to people, property, livestock and the environment.

Brainchild of East Yorkshire farmer Jono Dixon, co-founder of Twitter-based farmers' group #clubhectare, the T-shirt features a sky lantern in a red prohibited sign and a new hashtag for those wishing to show support on social media sites: #banskylanterns

The CLA recently called for local authorities to amend entertainment licence policies so new licences for certain venues or events can include a clause prohibiting the use of sky lanterns. The organisation has also called for this to be backed up by a ban on Council-owned land.

CLA North Regional Director Dorothy Fairburn said:- "We are launching this new T-shirt to coincide with Chinese New Year on Friday, 31 January 2014, when there is sure to be an upsurge in use of the lanterns as part of the festivities. People need to realize that if they release one of these lanterns into the sky they risk being responsible for the slow and very painful death of a cow or other grazing livestock, or a fire that destroys someone's home, business or life. A report published last year on behalf of Defra that investigated the impact of sky lanterns on livestock and the environment estimated that between three and eight million sky lanterns are sold each year in the UK. With such a large amount of lanterns being purchased, and ultimately released, it is extremely likely the number of serious incidents caused by these flying bonfires is going to increase substantially."

The T-shirts are being sold at £6.75 each with 50p per sale being donated to charity RABI. To purchase one, contact Mr Dixon via Twitter using his @sunkfarmer handle; people can follow and then direct message him for more details. Alternatively, contact the CLA North office on:- 01748 907070 or by email north@cla.org.uk.
TeenStar singing audition dates now released!
TEENSTAR singing audition dates are now released! TeenStar, the UK's only singing competition exclusively for pre-teens and teenagers, have now released their TeenStar singing audition dates for their next singing competition starting in January 2014. Auditions for TeenStar National Singing Competition 2014 will be held in Liverpool on Sunday, 9 February 2014!

The TeenStar singing competition for pre-teens and teenagers consists of a UK-wide search for the finest young talent the UK has to offer, with TeenStar singing audition dates being held across the country. The competition culminates in a spectacular National Grand Final, with last year's event being held within The O2 in London.
The TeenStar singing competition for pre-teens and teenagers attracted over 9,000 entrants to apply for the 2013 TeenStar singing audition dates in its 1st year, but it was the uniquely talented Luke Friend who was crowned the winner in an impressive showcase of the nation's future stars.

The TeenStar singing competition for pre-teens and teenagers is brought to you by Future Music, the company behind the discovery of artists such as Warner Music's Birdy, Columbia Record's Lucy Spraggan, Union J's Jaymi Hensley and Jahmene Douglas, both of which are now signed to Sony Music, and Luke Friend who's currently storming his way through The X Factor!

The TeenStar singing competition for pre-teens and teenagers has a prize pool worth thousands of pounds, including a £5,000 cash prize for the winning act to help develop their music as well as a chance to feature in top teen magazine Shout Mag. Contestants of the TeenStar singing competition for pre-teens and teenagers also have the chance to win prizes throughout the competition, such as recording studio time with some of the UK's top producers, singing lessons and extensive promotion on YouTube.

The TeenStar singing auditions dates and competition events take place at some of the best venues in the UK including Birmingham's NEC, Sheffield City Hall and Camden's Dingwalls and will be judged by some of the music industry's top professionals, including DJs who work for radio stations such as BBC Radio 1, BBC Introducing, Kiss FM, Choice FM, plus national and regional press, local studios and record labels.
The National Grand Final is the climax of the whole competition and is staged at 1 of the most prestigious live music venues in the Country, with last year's event held within The O2 in London!

The TeenStar singing auditions dates and competition events are split into three age categories - the 'Late Teens' (16 to 19), the 'Mid Teens' (13 to 15) and a special category to search for the stars of tomorrow; the Pre-Teens!
Whether it's pop, RnB, grime, acoustic or classical, the singing competition for pre-teens and teenagers TeenStar singing auditions dates have been released to find the greatest undiscovered talent from across the Country.
The singing competition for pre-teens and teenagers TeenStar provides a platform to help acts get noticed and offers winners the potential to be successfully launched in the UK as a major recording artist.

TeenStar singing auditions dates are available across the UK, so if you're a pre-teen or teen singer and think you've got what it takes, for more information and to enter go to:- teenstarcompetition.co.uk.