DIRTY KITCHENS TURN STUDENTS OFF THEIR DINNERS
GROTTY kitchens are being blamed for turning North West students off cooking in digs, according to research by National Union of Students and The Co-operative Food.

The study discovered that while 84% of students in the region are keen cooks, 33% are being put off making food from scratch due to the state of their kitchens.

The worst offending are kitchens are those in university halls of residence and privately owned shared houses, with students pointing the finger at dirty housemates as the most common gripe, closely followed by lack of space and dirty work surfaces.

However, despite the kitchen being declared the dirtiest room in digs, figures from The Co-operative Food show students are not shunning home-cooked fare completely, with fresh produce including broccoli, onions and mushrooms all making the top ten most popular items bought in Co-operative stores using their NUS Extra discount card.

Raechel Mattey, NUS Vice President, said:- "Students historically have a 'can't cook won't cook' reputation, and while the research shows they are keen to prepare fresh food, it is very concerning that something as simple as the state of their kitchens maybe putting them off. If kitchens are simply a bit dirty, a cleaning rota could make all the difference, or if they are very dated and shabby students should be approaching landlords to request improvements."

CJ Antal-Smith, Head of Commercial - Grocery, The Co-operative Food, said:- "Cooking in a clean environment is essential for hygiene reasons, but also to make the whole experience of preparing a meal enjoyable.

Since becoming the first food retailer to offer students with an NUS Extra card a 10% discount on groceries, it has been fascinating to see what is being bought, and it's heartening to see so much fresh produce up there in the top 10. I hope that, one way or another, students are able to overcome the issues with their kitchens so they can roll their sleeves up and make some delicious home-cooked meals."

The top 10 items bought by students since The Co-operative Food introduced a discount to NUS Extra cardholders in September are:-
Milk
Bananas
Lemonade
Quilted Velvet
Broccoli
Onions
Mushrooms
Walker's crisps
Cucumber
Carrots
Top tips from students to keep digs free from dirt:-
A cleaning rota is a must! Little weekly cleans mean less to clean at the end of term/year. Also, watch the state of things in the fridge. Finding very mouldy cheese is a massive put-off for other housemates!

A strong bathroom bleach is a necessity. It will easily tackle foul smells, grubby waterlines and nasty marks without you really needing to get your hands dirty.

Antibacterial wipes solve all problems. Dirty table? Antibacterial wipes. Mouldy windowsill? Antibacterial wipes. Unknown glob of generally disgusting detritus on the counter tops? Antibacterial wipes. They're a cheap and quick way of cleaning most things.

Bicarbonate of soda is an excellent all-rounder, and it's cheap too. It's particularly good on cleaning grout.
CCTV image issued after men act aggressively with baseball bat at Bidston Station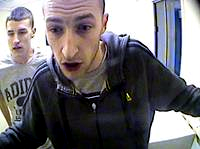 OFFICERS from the British Transport Police have issued a CCTV image of 2 men they would like to speak to following an incident at Bidston Rail Station. Shortly after 11pm on Friday, 3 January 2014, 2 men entered the station booking hall complaining that someone had stolen their bike. PC Colin Pattison said:- "The men were carrying a baseball bat and Merseyrail staff on duty at the station genuinely feared for their safety because of the level of aggression. No complaint has been made to BTP regarding the theft of a bike, but it is important that we trace the men as soon as possible." If you recognise the men in the CCTV image; or have any information about the incident; please call British Transport Police on:- 0800 40 50 40 or call Crimestoppers, anonymously, on:- 0800 555 111. In all calls please quote log:- NW/B9 of 28/1/14.
Candlemas Vigil to be held
A Vigil Service for the Eve of Candlemas is to be held on Sunday, 2 February 2014, at 6:30pm at the Ancient Chapelry of Formby, St.Peter Apostle and Martyr, L37 7DL. If you do not know what it is, it is a Christian festival that commemorates the purification of Mary after giving birth, as well as the presentation of Jesus in the temple. It entails prayers, readings, hymns and special Choral Music to celebrate the Presentation of Christ in the Temple.

Horse powered Chinese New Year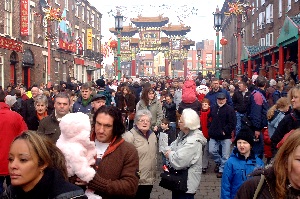 ONE of Liverpool's most popular City centre events is galloping into the City in February. 2014 marks the Year of the Horse and Liverpool's Chinese New Year celebrations will take place in spectacular style across the weekend of the 1 and 2 February.

Activities will start off at 11am on Saturday, 1 February 2014, with lantern making workshops at FACT for all the family, and the creative results go on display in a special installation at St Luke's Church (participants will be able to take lanterns home after the exhibition).

At 3pm, there will be a rare chance to see Europe's largest Chinese orchestra, the Pagoda Chinese Youth Orchestra, rehearse as part of a special open day.

Lark Lane Community Association (located at the old police station on Lark Lane) will see dance, music and Tai-Chi performances taking place from midday, and The Garden at FACT will host a traditional Chinese tea experience from 10.30am to 6.30pm.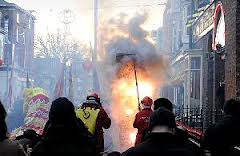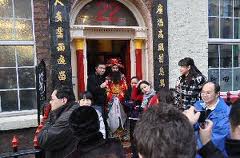 The celebrations will be in full-swing on Sunday, 2 February 2014, from 11am with the family friendly fun fair and the popular Chinese market on Great George Street selling gifts, souvenirs and mouth-watering food. At 11.30am the dragon, unicorn and lion parades will get underway in Chinatown, culminating at 1pm in a spectacular fire cracker display in Great George Square starring the 'Lucky Man' who will be handing out red envelopes to children.

Liverpool City Council's Assistant Mayor and Cabinet Member for Culture and Tourism, Councillor Wendy Simon, said:- "Liverpool excels when it comes to celebrating Chinese New Year. Each year thousands of visitors are always overwhelmed by the spectacle they are greeted with as the City celebrates its Chinese roots and community. It's wonderful to see so many organisations work together to put on this memorable event, which grows in popularity year on year. There's a whole host of events taking place across the weekend and beyond offering lots of family friendly activities which are either free, or cost very little – so it's a great way for everyone to get involved in marking this special event."

Some activities taking place across the weekend are:-
Saturday, 1 February 2014:-
11am to 4pm:- Lantern Making Workshops, FACT, £2 per lantern...

Midday onwards - Chinese New Year Celebration workshops, Lark Lane Community Association, free of charge.

3pm - Pagoda Chinese Youth Orchestra rehearsals, Pagoda Chinese Community Centre.

Sunday, 2 February 2014:-
11-4pm – Performances in Great George Square~

11am – Join in and dace with Movema – just wear red! The Black-E, £1 per person

11am-4pm – Static Gallery Indoor Market, Static Gallery.

11.30am-3.30pm – Traditional Chinese Lion, Dragon & Unicorn Dance, Nelson and Berry Street.

12-4pm – Chinese Dragon puppets workshop, FACT, free of charge.

12-4pm – Urban Strawberry Lunch decoration making session, St Luke's Church, free of charge.

1pm – Firecracker displayer, Great George Square.

2-4pm – Wah Sing Singing and Dance Group, Wah Sing Community Centre.

3.30pm – Chinese New Year performances, Pagoda Chinese Community Centre.

The event is organised by the 2014 Liverpool Chinatown Chinese New Year Co-ordinating Committee in partnership with Liverpool City Council. For full details of the celebrations, visit:- itsliverpool.com/culture.