LIVERPOOL TO DANCE FOR ST GEORGE
LIVERPOOL is to putting on its dancing shoes for a spectacular St George's Day Festival on Sunday, 27 April 2014. Now in its second year, the festival will kick off a jam packed series of events by hosting the launch of the City's International Dance Day celebrations.

In association with City Central BID, MDI will present an afternoon of world dance featuring performances from all the nations which celebrate St George's Day. There will also be free workshops for the public to get involved. And after proving a huge hit in the inaugural festival, TV character Mike the Knight is back by popular demand to show off his moves.

The focus of the festival, which has been organised to promote the City's historic St George's Quarter, with highlights including a historical medieval banquet in Queen Square.

There will be a host of indoor fun too at the World Museum, Royal Court, Liverpool Playhouse, Walker Art Gallery and St George's Hall ranging from medieval arts workshops and story-telling to costume dressing and a knight's trail.

Children are being invited to attend the FREE event in fancy dress on the theme of Knights, Dragons and Princesses with a prize for best dressed at under-10 and under-5.

Those attending in fancy dress will also be able to enjoy discounts at restaurants in Queen Square and discounted car parking at Queen Square Car Park.

Liverpool's St George's Day Festival will begin at 11am when Mike The Knight launches the International Dance Day programme at Liverpool bandstand in Williamson Square. The event is scheduled to end at 5pm.

Gillian Miller, Chair of the St George's Quarter group, said:- ''Last year's St George's Day Festival was a big hit with families and this year we've got an even better and bigger programme of free events for everyone to enjoy. To have the City's International Day of Dance involved is a huge coup and we look forward to seeing everyone getting involved in having fun. We hope the app will give people a new way to enjoy and explore the unique heritage of the quarter.''

Tracey Crosbie, Events Manager of City Central BID, said:- ''St George's Quarter is a jewel in the City's crown and this festival reflects that position and gives the City a chance to celebrate St George's Day in style. It's a great advert for Liverpool that so many partners have come together to produce such an amazing day.''

Steve Judd, Director of World Museum Liverpool said:- "We are delighted to be part of the St George's Day Festival and be involved in such a fun day. We'll have a whole host of free events on offer on the day so hope to attract many knights, princesses and dragons to our Museum and also up the road at the Walker Art Gallery."

Karen Gallagher MBE, MDI Artistic Director, added:- ''MDI is once more delighted to be celebrating International Dance Day in the City and would encourage everyone to get involved. Dance is a universal language and accessible to all, we at MDI are looking forward to bringing a variety of dance styles to the festival.''

Plans for Merseytravel 'Walrus' smart ticketing programme to go to Committee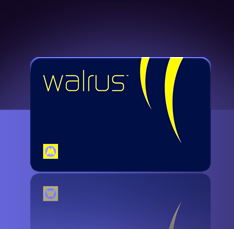 AN electronic Smart card for travel on Merseyside will be a step closer should elected Members approve recommendations for its initial roll out at a Merseytravel meeting on Thursday, 6 March 2014. Members at the General Purposes Committee are being asked to agree to the first available product on the 'Walrus' card being an electronic version of the Saveaway ticket – Merseytravel's day pass which can be used on buses, trains and ferries. Should plans get the go-ahead, it is expected that the new Saveaway will initially be able to be bought in Wirral from the autumn, with roll out across the whole of Merseyside in the months that follow. The Walrus Saveaway would be available alongside the existing paper version during the phased roll out. It is hoped that individual operator tickets will be able to be 'loaded' onto the Walrus cards during the first half of 2015. Alongside the work to get the initial Walrus product up and running, Merseytravel has begun a review of its existing pre-paid tickets to get a real understanding of what customers need and want and their travel patterns in order to develop a new suite of tickets. The overall pricing and zonal system is being looked at as well as new ways to purchase travel. The report acknowledges that the Walrus smart ticketing project has not progressed as quickly as originally anticipated due to the complexities of integrating technology across different transport businesses with different systems and processes and commercial set ups; challenges not unique to Meseytravel.

Said Cllr Liam Robinson, Chair of Merseytravel:- "Should Members approve the recommendations then this is just the start of making buying tickets and travelling more flexible and that much easier. The Smart ticketing programme was launched prematurely without consideration of all the complexities. That's why I commissioned a review. There is now a reinvigorated work programme which will ensure that the scheme is rolled out with proper consideration as to what customers need and want. This is not just about putting existing products on the cards but ensuring that what is available and how the products are bought reflects the modern world and modern traveller. We're no strangers to smart enabled cards. There are already around 320,000 issued for concessionary travel accounting for around 3 million journeys a month on Merseyside. It's about taking what we've learned here and feeding it in to a wider commercial operation."

The report which sets out the full rationale and recommended approach to Merseytravel's pre-paid smart ticketing programme is available online.