This weeks Questions!

ARE you ready.....? Well we will soon see. Don't panic now you have until 1200hours on the 7 February 2003 to get your information in! If you have not registered please do so now! See opposite...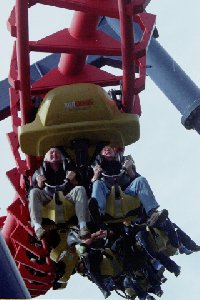 Starting questions....
This is a three-part question; join up 1 and 2 to get 3, THINK!
Question 1:- Southport Pleasureland's Cyclone was built from what tree (in full)? SEE SGB....
Question 2:- Complete this sentence with just one word. The word starts with a letter you find near letters q a s d and e.
If you go along the pier you can take a look at the new decking made from planks of ..…
Question 3:- A pub name in Formby.
Register.
WE have 4 VIP tickets to give away... This is how to enter the competition. The tickets can be used any time in 2003 giving the holder unlimited access to rides for one day. The tickets how ever can not be used with any other offer at the fun fair and age and height restrictions still apply. We have also been asked to also point out that it is also not valid on Bank Holiday weekends and the Bank Holiday Mondays.
Starting THIS week the game will last just over 4 weeks. We will be asking you some simple questions about Southport and Formby to see how much you know. Most information can be got from our web page, other information, you will have to track down. To register it is simple, just send your name and address on your email to us at:- iamavip@pcbtphotography.co.uk registration finishes on the 17 January, 2003. Date of end of the game will be 7 February 2003.
Rules. All answers must be correct and in by the 7 February. 2003. Email with information, telling you how to send answers will be sent out to your registration email address. No one working for Southport.gb.com Ltd or PCBT Photography (Southport Reporter and Formby Reporter) or Pleasureland, are allowed to enter. Judges decision is final. All enters must be in by 12:00 on the 7 February 2003. Registration email address must be valid an that of the players. The winner will be selected at random. Results will be announced the following week on the S.G.B news forum and on Southport Reporter as to who has won. Good luck....
All applicants email addresses will be used by PCBT Photography, to notify the participant of new games and will be added to our mailing lists that are connected with the site.