LIVERPOOL PRIDE RETURNS FOR 2014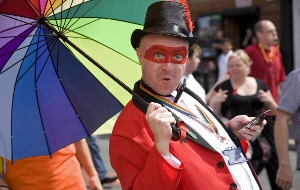 THE Liverpool Pride organisers are delighted to announce that one of the City's most popular events will return on Saturday, 2 August 2014. This year marks the 5th anniversary for Liverpool Pride, which was established in 2010 and takes place each year to coincide with the date of murdered gay teenager Michael Causer 6 years ago.

After a poll, the public have spoken and the theme for this year's Liverpool Pride is Glam Fairy Tales, with those attending encouraged to come dressed in their most wild and wonderful interpretations of the theme.

Liverpool Pride organisers are still in talks and yet to finalise the exact locations of this year's event but can confirm that the Liverpool Gay Quarter will remain a main festival site focusing around the Stanley Street and Dales Street areas.

Also returning will be the free Liverpool Pride March through the City centre streets which kicks off the day in celebratory style at 12pm from St George's Plateau. Organisers encourage as many groups, organisations and individuals to participate, entertainment and activities are also planned for the muster at St Georges Hall.

For the first time, part of Liverpool Pride 2014 is to be a paid event, ticketholders will gain entry into the zones which contain the main performance areas. Ticket prices have been kept to a minimum and cost as little as £5 for early bird bookers and will go on public sale in the near future. The decision to ticket the event was not taken lightly, first and foremost it is to ensure the event will take place this year as well as safeguarding sustainability, the organisers aim to attract bigger name artists and performers, and also to improve safety and facilities at what will become the largest single-day Pride event in the UK.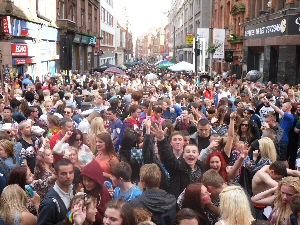 As always, Liverpool Pride will remain a family friendly event with all ages encouraged to attend, there will be a free zone at the festival with entertainment for those not wishing to pay to visit the main stages; but that still want to enjoy and remain part of the festivities.

Lucy Day, Chair of Liverpool Pride Charity said:- "Liverpool Pride is a campaign for LGBT equality and to raise awareness of hate crime which many members of the LGBT community face on a daily basis. The free march through Liverpool City Centre will be followed up by a big celebration of LGBT culture in the heart of the LGBT Liverpool community. Whilst increased costs and scarCity of funding have meant that we're unable to offer a totally free event this year, we are working hard to ensure it will be an affordable and sustainable event, we are also planning sections of the site plan to be free and we encourage everyone to take part in and enjoy".

The performance line up for Liverpool Pride 2014 will be announced in the coming months, as will a programme of film and fringe events.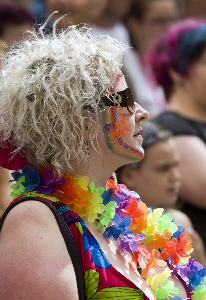 Last year's Liverpool Pride was the most successful event to date, with around 65,000 people in total enjoying the superhero themed festivities, including 6,000 marching in the parade and 20,000 spectators lining the City centre streets to cheer them on. Across the 2 main festival sites, the Pier Head (Main Stage) and Stanley Street, 65,000 revellers of all ages soaked up the music and atmosphere, with visitors travelling from as far as Germany, Dubai and even Australia to join in the fun.

With the changes ahead, expect Liverpool Pride 2014 to be an even more popular hit!

Foreign truck firms set to pay for UK roads
FOREIGN hauliers will be charged to use UK roads for the first time, on 1 April 2014, Transport Secretary Patrick McLoughlin has announced.

UK truck drivers working in Europe currently pay tolls and levies when delivering goods abroad. But foreign trucks operating in the UK have not been required to make a similar payment.

The HGV Road User Levy, which is being brought in nearly a year ahead of schedule, introduces a charge that ensures British hauliers are better able to compete with their foreign counterparts.

The levy has long been called for by the UK haulage industry and creates a fairer system by removing some of the inequality UK hauliers feel when paying to use many roads abroad.

Patrick McLoughlin said:- "The HGV Levy will provide a massive boost for the UK haulage industry. It will create a level playing field across Europe, giving UK firms a much better opportunity to win business. This is yet another example of how we are taking positive action to back British business and build a stronger, more competitive economy."

The levy is a key part of the Coalition's promise of a fairer deal for UK hauliers. Duty on standard diesel is now lower than it was in October 2010 and there has been no increase in HGV Vehicle Excise Duty (VED) during this Parliament.

The government is also investing £3.3bn in major road schemes which will provide over 500 miles of additional lane capaCity to the strategic road network and £10.7bn to add at least 400 miles of capaCity on the busiest motorways.

The levy affects all HGVs of 12 tonnes or more that drive on UK roads, irrespective of country of registration.

The levy is structured in a series of bands which reflect vehicle type, weight and number of axles. UK operators will pay the levy at the same time as VED in one transaction for administrative ease. At the same time as introducing the levy, the government is reducing VED, such that more than nine out of 10 UK vehicles will pay no more than now.

Foreign operators must pay the levy before using UK roads. Discounts are available for longer periods with charges varying between £1.70 and £10 per day or £85 to £1,000 per year.

Find out what else the government is doing to support and grow the UK economy.
Golf course transfer set to tee off
FINAL preparations are being made to transfer 2 municipal golf courses in Liverpool; and save Council taxpayers £2 million over the next 5 years. In January, the Mayor's Cabinet approved a 25 year arrangement with Formby Hall Golf and Spa Limited to operate the links at North Liverpool, and with Glendale Golf Limited at Allerton. Between now and 2019, it will wipe out a projected overspend and subsidy of almost £1.7 million and generate a total rental income of £375,000. The Council has insisted that the incoming commercial partners must continue to provide affordable and accessible'pay and play' golf. They will also be encouraged to invest in the courses through upgrades and appropriate additional facilities to attract customers.

Assistant Mayor and Cabinet member for culture and tourism, Councillor Wendy Simon, said:- "Since the deal was approved, we have been in discussions with the incoming operators to finalise the details of the transfer to make sure it is as seamless as possible for golfers. We can no long afford to subsidise the courses to the tune of almost £5 per round, but we know how much they are appreciated by the people who use them. That is why we worked extremely hard to put together a deal that satisfies everyone. This proposal will make sure that they continue to operate at a price that is affordable to users and receive investment to make them sustainable in the long term."

Subject to the conclusion of the negotiations, it is expected that the new operators will take over the courses at the start of May 2014, one month later than originally planned.
Advance Notice... Tea Dance to be held in St. George's Hall
THE historic Great Hall within Liverpool's St. George's Hall will be hosting another Tea Dance, with a live band called:- 'The Elderberries', on Wednesday, 9 April 2014. The event will run from 1.30pm to 4pm, with payment being taken on the door. For more information about the dance please call the Friends of St. George's Hall, on:- 0151 225 69 09 or visit:- stgeorgesliverpool.co.uk.