Glassical sounds head to Church Square Shopping Centre for half term family fun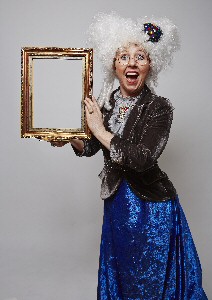 YOUNGSTERS will be able to blow a tune on a fantastical instrument made from glass bottles at Church Square Shopping Centre later this month. The glass gallery will pop up during the Whitsun half-term in the St Helens busy shopping mall. It will offer youngsters the chance to learn the ancient art of stained glass-making, with their art masterpieces going on show in the centre for shoppers, friends and relatives to admire. Church Square Shopping Centre manager Steve Brogan said:- "Glass making is synonymous with St Helens, it's the industry on which the town's fortunes are based, and which still employs many people today. "This is our chance to show local youngsters the wonders of glass, from using it to create their own musical compositions through to stained glass, an art form that goes back generations, and links in with the centre's own roots, alongside the town's parish church. The children will also learn about the science of glass making, from the early days and how it used today, plus they'll pick up some musical and art skills along the way; but they'll think it's all fun! We are at the heart of the St Helens community and we feel it's important to put on free events like this during school holidays. As a dad myself, I know that all parents welcome the chance to get out with their youngsters for the day, without having to spend too much money." The Glassical Galleria will open in a spare shop unit in Church Square Shopping Centre on Friday May 30 and Saturday May 31, featuring artists dressed as fun characters, including singer Gloria Glass Half Full and her musical brother Garibaldi Glass Half Empty. The musicians will be recruiting St Helens youngsters to be their on day helpers, and giving them a tour of the exhibits in the Glassical Galleria. Then the youngsters will be invited to take part in a glassical performance, blowing a tune on Gloria and Garibaldi's fantastical bottle based pipe instrument. Youngsters will also be invited to make their own stained glass piece, which will be attached to the Glassical Galleria's window, to be enjoyed by everybody passing by in the coming weeks. Church Square Shopping Centre is home to a range of big name stores - such as River Island, BHS, Boots and Superdrug; along with independent retailers plus the busy St Mary's Market. For details on what's happening at the centre and how to take part in the Glassical Galleria Fantastical Experience by visiting the centre's website.
Win a free entry into the iTravelSmart Liverpool Chester Liverpool Bike Ride!
THE iTravelSmart team, Liverpool Chester Liverpool Bike Ride's new sponsors for 2014, are giving away 10 free places to the event! The event is fast approaching and is set to be the the biggest it has ever been. On 22 June 2014, around 4000 riders will take to the streets of Liverpool and Chester, cycling their chosen distance whilst supporting Claire House Children's Hospice, and iTravelSmart are giving you the chance to get involved for free!

iTravelSmart, part of Cheshire West and Chester Council (CWaC), are promoting healthier, less stressful and more sustainable modes of transport for people in their local area. To really encourage people to get on their bikes they are offering 10 chances to win a free place at the event on any of the seven routes!

To be in with a chance of winning a free place, all you have to do is email them with your full name. Or you can use social media, either follow and tweet @itravelsmartuk with the phrase 'I'm in it to win it #LCLBikeRide' or like and post to the itravelsmart Facebook page with the same phrase, to enter yourself into the competition. All emails, tweets and Facebook posts need to be sent in by the 29 May 2014 and winners will be announced on the 30 May 2014.

Please note that on the 1 June 2014, the prices will increase by £1.50 on each route, so to take advantage of the current low price get your entry in before the end of May.
If you have already entered then please keep an eye out on the event Facebook and Twitter pages for any updates and competitions.

Follow LCL on twitter and like on Facebook for regular updates and competitions for the event:- @lclbikeride or on Facebook.

Final of Matrix Serious and Organised Crime Challenge Shield 2014
YOUNG people from 4 schools across Merseyside took to the pitch at Goodison Park, on Tuesday, 13 May 2014, to take part in the final of the 7 a side Matrix Serious and Organised Crime Challenge Shield football tournament 2014. The tournament, which was launched in 2008, is part of an anti-gun crime initiative put together by the force's specialist Matrix team. It is supported by Liverpool and Everton FC, Merseyside County Schools FA, Liverpool Schools FA and Liverpool County FA and has already seen 34 mixed primary and secondary school teams battling it out on the pitch in a bid to become the winners of this prestigious trophy. This year Kirkby High School and Calderstones School made it through to the girls final and Calderstones School and Halewood Centre for Learning went head to head in the boys final. The primary school final will be played at a later date.

Before the event, Assistant Chief Constable Andy Ward, Matrix Serious and Organised Crime, said:- "The tournament is now in its seventh year and is proving as popular as ever. It forms part of a wider campaign about the consequences of getting involved in gun and gang crime which is making a real difference to the lives of young people on Merseyside. The Matrix Serious & Organised Crime team is committed to working closely with young people who live and go to school in areas that have been affected by the problems caused by guns and criminality. I believe sport, and football in particular, provides us with a common interest that we can take part in together with young people, their families and the local community. I'd like to stress the vast majority of teenagers on Merseyside are keeping clear of guns and gang culture, but there will be some people who find themselves under pressure from so-called friends and acquaintances to get involved. The more people we can spread the word to, the more young people we can help to make a success of their lives and this scheme is helping us to do that."
9 people arrested in connection to online ticket fraud
MERSEYSIDE Police have informed us that 9 people, who live on Merseyside, have been arrested on suspicion they they could be involved in high value online ticket fraud, that could have many as 850 victims. The force, working with The City of London Police's National Fraud Intelligence Bureau (NFIB), executed the warrants as part of a national focus week on ticket fraud, led by the Association of Chief Police Officers (ACPO). The raids on Thursday, 15 May 2014, took place at around 7am, across Merseyside in:- Clubmoor, Dovecot, Fazakerley, Anfield, Wavertree, Kensington and Garston. In total officers executed 12 warrants as part of the investigation into a fraud, that's estimated to be worth around £116,000. The arrests following these raids relate to the online sale of tickets that never existed or did not materialise. These include tickets for music concerts/events including; Arctic Monkeys, Arcade Fire, Beyoncé and the Reading Music Festival. Also sporting events including; England rugby games and high profile Liverpool FC, Manchester United FC and Celtic FC matches. 6 men, aged 22, 24, 24, 27, 27 and 30, and 3 women, aged 23, 28 and 37, where arrested on suspicion of offenses including money laundering, fraud and possession of a controlled drug and taken to Police Stations across Merseyside for questioning.

Detective Superintendent Richard Carr, Matrix Serious and Organised Crime (MSOC) Interventions, said:- "This operation sends out a powerful message to those intent on stealing from the public in this way that they cannot hide behind the anonymity of the internet and they will eventually be caught. However, the operation is just the start of our proactive work with our partners to target those individuals conning the ticket buying public out of their money and we will continue to work with our partners to make life difficult for these fraudsters. Unfortunately we have seen a rise in reports of incidents of fraudulent concert or event tickets being sold on unregulated websites. In some cases the victim transferred the money online and then never heard from the seller again. To avoid being disappointed you should only buy from a venue's box office, promoter, official agent or reputable ticket exchange website. There are an increasing number of ticket scamming websites on the internet designed to part you from your money. So while you may be congratulating yourself on tracking down a really good deal, you could end up with no concert and no refund. Do not be talked into using payment methods that you are unfamiliar or uncomfortable with. Do not pay by sending cash, money transfers or money orders. Remember, if it sounds too good to be true, it probably is."

If you or someone else has been a victim of a fraud, report the incident promptly to ActionFraud on:- 0300 123 2040 (Textphone:- 0300 123 2050). A fraud is a criminal offence. Anyone caught committing this type of fraud could face prison.