Northern's Ticket Machines get smartER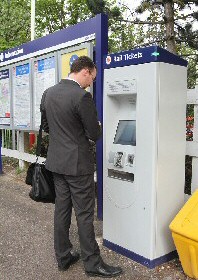 NORTHERN Rail, a Serco and Abellio joint venture, in a rail industry first, has unveiled customer information facilities on Ticket Vending Machines around its network. The cutting edge technology has been rolled out on 92 machines with smaller, rural stations benefitting first. The new software, provided by Parkeon, allows customers to not only purchase their tickets at the machine, but to also find out what time the next train will arrive and at which platform.

Alex Hynes, Managing Director of Northern Rail, comments:- "Embracing this new technology has made our Ticket Vending Machines even more customer-friendly. Passengers at a number of our smaller stations don't have access to physical Customer Information Screens and it can be difficult for them to access the most up to date train running information. We know how important this is to them and we're now offering even more ways to keep informed."

Paul Moirano, Sales Director, UK Rail for Parkeon comments:- "We are delighted to be working with Northern Rail on what is a 'first' for the UK rail industry. Delivering train running information via TVMs at the point of ticket purchase is fully aligned with the government's vision for service innovations that enhance the experience of customers."
Job success for 100 transport trainees
MERSEYTRAVEL'S Employment and Skills Team has reached the milestone of helping 100 people into employment in the transport sector. Lyndsey Stuart (37) from Croxteth, Liverpool is the 100th person to secure employment through Merseytravel's Local Sustainable Transport Fund (LSTF). Lyndsey applied for the bus driving academy with Huyton Travel Ltd. and has since successfully secured employment as a bus driver. Lyndsey explained:- "I had to give up my job as a medical dispenser when my eldest daughter Megan was diagnosed with Crohn's disease. I was unemployed for 5 years and was her sole carer. When Megan eventually turned 16 and my other two children were in school I decided I needed to find a job. I attended a Jobs Fair at St Georges Hall and the Merseytravel team were promoting bus driver opportunities. I thought why not! I had nothing to lose."

Funded through the LSTF, Merseytravel's Employment and Skills team offer careers advice to people who want to work in public transport but may not have the skills or experience to successfully compete for jobs. The team works with colleges and learning providers to help people gain the skills and qualifications they do need. Councillor Liam Robinson, chair of Merseytravel said:- "One hundred people into work is a real milestone and one of which Merseytravel and the people in employment can be proud. Getting workers, residents and visitors around our region efficiently and experiencing good customer service is just as integral to its success as the attractions, shops and places to eat and stay. We will continue to work with operators and education and training providers across Merseyside to give more local people the chance to kick start their careers."

Huyton Travel Ltd Operations Manager Darren Stewart added:- "Lyndsey stood out from the start and ticked all the boxes, she has a really positive attitude and that's what this sector needs. We would strongly encourage women to apply for these academies as females are under represented in this type of industry. Without this training we wouldn't get the quality of people we have been getting and consequently wouldn't have as many of our buses up and running on Merseyside which could impact on the community."

Other people helped by the Employment and Skills team are now employed in such roles as taxi drivers, bike mechanics, railway maintenance and travel trainers. For more information on the careers advice and opportunities available visit their website or send them an email.
The project is a partnership with Job Centre Plus and other recruitment providers, Warrington Collegiate, Oldham College, Arriva North West, Stagecoach, Arriva, Huyton Travel Limited. UK Railway Training and Seascope Maritime Training.

Woodvale Transport Festival promises you an affordable weekend for all the family!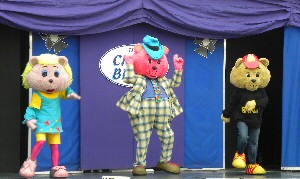 NEXT month's Woodvale Transport Festival promises to offer a fun filled, value for money weekend for all. With recent research revealing that families are being priced out of day trips with costs mounting over the last decade, the festival on 21 June and 22 June 2014, offers an affordable weekend of entertainment. But even more good news is to come as the event offers you free parking will once again be at Princes Park, where admission tickets will also be sold.

So we have some good news for you, as admission to this event is just £5 for adults and £2 for children and the best news is that those under 6 admitted free, the festival at Victoria Park, then offers most of it's attractions free of charge!

The Banana Brain Fun Show will provide free balloon modeling, circus skills workshops where youngsters can try their hand at stilt walking, plate spinning and much more as well as Punch and Judy shows on both days.

The ABC Family Club will give mum and dad the chance to have a look around the rest of the show by providing a variety of free activities including a craft and creation station, hook the duck and much more.

Diana Celine Photography will also be offering free mini photo shoots with everyone at the event receiving a digital image free of charge as well as the chance to win an ABC hamper full of goodies.

The ever-popular Crazy Bears are back this year and celebrating their 25th anniversary with 2 action packed shows, each one different and lasting over 40 minutes. All 6 Crazy Bears will be on stage with their magic and illusion shows.

Laurel and Hardy look-a-likes will also be spotted around the showground performing magic tricks and an 8ft stilt walker will also be happy to make balloon models.

There is also a larger animal petting area, a reptile marquee, dog display team, free land train and many dance displays on both days.

International motorcycle stunt rider Steve Colley will also thrill the crowds with 2 stunt filled shows.

Peter Wood, general manager, said:- "We are aware that days out with the family can be very costly so we have made sure that the festival has more free attractions than ever before to entertain all members of the family."

Members of the Duke of Lancaster's Regiment, the infantry regiment of the North West, together with 156 The Royal Logistics Corps transport regiment, will be on the showground and camping out on both days.

They will be on hand to talk about life in the Army and to offer advice on career opportunities. They will also have a display of vehicles, equipment, kit and an exhibition of decommissioned arms seized during recent conflicts

Merseyside Fire and Rescue, which has a 180 year history of firefighting, will also be attending the show with a museum displaying pictures, equipment, clothing, a water shoot, fire engines and other memorabilia.

Other displays include vintage and classic cars, motorcycle clubs, vintage and classic motorcycles, stationary engines and military vehicles.

And should the weather turn wet there are many undercover areas including craft, specialty food, auto jumble, car boot, model boats and railway and auto jumble marquees.
There is also a flea market that has proved so successful that traders have required extra space.

Live bands will also be performing throughout the weekend. There is also a picnic area, bar and dogs are allowed.