Southport Ladies get on TV and play a fantastic game!
Photograph by Patrick Trollope.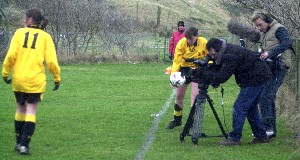 SOUTHPORT Ladies played hard on Sunday, fighting for the ball strong opposition from a equally good team Macclesfeild. The TV crews were covering the match for Channel Four's Talk TV, to be shown in May. It was strange to see them playing on Green Bank High School playing fields, being that they are now 2nd in the division not forgetting that they also had TV at the game. Despite the bitter cold wind, the two equally match teams came out at the end of the game with a draw. Final result one one. Good result for both teams. Southport's Golden Girls keep it up, promotion is in site again!