AWESOME I PINIATA

Report and Photograph by Dominic Bonner.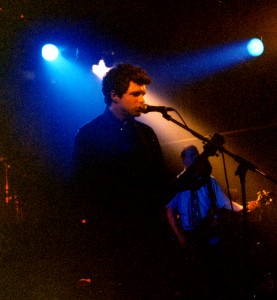 Live at the Picket, Hardman Street. Liverpool.
THE extravaganza on January 9 at this venue proved nothing, but a blazing start, for 2003 with formidable musical displays of power and grace.

First up were Cheshire based band the Bridge, who literally wiped away any of the old ghosts of 2002 with their no nonsense sub punk rock. The description of themselves on their website is one of a band that kicks a** - And literally they did.

Up next were 86 who gave a solid, but rather non descript offering and their was a feeling that it was not really their night, as on this testament they were not at their best. However, there is a sense that they will be hitting the right notes with a die-hard following soon.

But the night truly belonged to I Pinata with their brand of hybridised indie sub funk rock. Despite an idiosyncratic neo shoe gazing stage reluctance to perform and a highly post-punk element in the musical style. Their attitude was not a barrier towards engaging their awestruck audience.

Indeed the mixture of stage performance and music is reminiscent of many indie bands of the late eighties and possibly Cold play fused with Jamiriquai, as at times their intensity and passion wiped the floor with previous performances of the night.

Although Manchester based drummer Sam who hails from the band Milk, who have had much notoriety from BBC Radio One DJ John Peel, is an integral I Piniata. There was nothing here to suggest that there is a deflection from either project. But on this solid performance, I Piniata are definitely one of the up and coming bands to watch out for the coming year and a likely face for musical subculture of the future.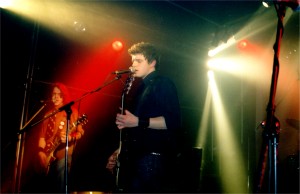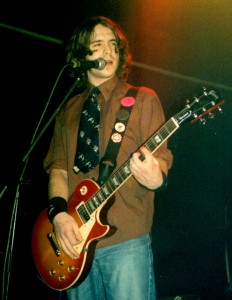 Music Review...
Ji - I cried help.

By Dominic Bonner.
HAILING from Crosby on Merseyside, this 3 piece bunch of chunkmeisters offer their second consecutive cd in as many months.
Formed from the ashes Divide - a band so near yet so far from being the biggest thing on the planet since Nirvana with their promising style of grunge. Sadly this offering from Ji is a far cry from what the fab four gave us 3 years ago, but out with the old and in with the new.

An odd sense of production looms here and the mixing rather clouds this two-track disc. Seeing front man Sumner in a more narrative lyrical style, I cried help sits ill at ease with its music, and vocal harmony format. The fusion of grunge, Sonic Youth style guitars and Muse harmony vocal indeed does appear rather incoherent. Given a few plays though, this cut bends the ear rather nicely.
This continues the fresh start to dreams of stardom, which appears a hard act to cut for want of Sumner's previous Divide project. But builds upon their previous release, 'Sexy Doughnut'.

However, live performances by Ji far outstrip hard copy tracks available from their Website. They certainly do pack a punch to your ear. So go see them!!
Tour dates and information about Ji are available at www.ji-world.com.



out of 5.