BIRKENHEAD MP OPENS NEW CHARITY STORE AT PYRAMIDS SHOPPING CENTRE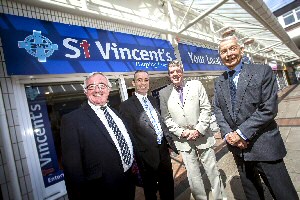 POPULAR Birkenhead MP Frank Field has officially opened a major new charity store at the town's Pyramids Shopping Centre. The new St Vincent De Paul (SVP) store was opened by the veteran MP and blessed as well and Frank Field said:- "This is a hugely important development that will help vulnerable people in Birkenhead and beyond."

The shop will offer good quality second hand items from beds and 3-piece suites down to DVDs and CDs as well as clothing and white goods and will provide household items for those who wouldn't otherwise be able to afford them.

SVP dates back over 200 years and emanated from the Catholic Church with which it retains strong links and every year its 350 volunteers across 14 furniture projects in England and Wales make over 10,000 deliveries and collections to individuals and families in need.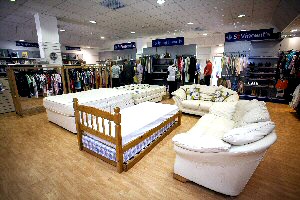 The new store is the second in the Wirral area with an existing shop in Wallasey and David Foster of SVP said:- "We're delighted to be opening in Birkenhead because we receive a lot of support in the area. We operate a distribution centre for furniture and household items for people in need and also sell second hand furniture, white goods, clothing and basically all those things that make a house a home all at affordable prices. We sell affordable everyday items and the funds we generate locally are invested locally. We have helped people who have lost everything in a fire to people who need help getting to hospital. We have been open in the Pyramids Centre for 3 weeks now and it's gone very well. We used to have a presence in Birkenhead on the edge of the town centre but we were very keen to get into the shopping centre and this is a much better location for us. The Centre have been very helpful and Frank Field has been very supportive of us and we're very grateful to him for coming to open the new shop."

Derek Millar, Manager of the Pyramids Shopping Centre, said:- "The shopping centre is at the heart of the Birkenhead community and is the main shopping centre on the Wirral so it is the ideal location for a fantastic charity such as this which works so hard to support needy people in the area. We are delighted to play our part in bringing this charity service to the people of Birkenhead and the store's opening follows on from a bumper set of new businesses joining the centre. In the last few months, we have welcomed Roman, Our Beautiful Life fashion boutique and Mi Wardrobe and soon, expanding fashion jewellery chain Mococo will be opening up."

The new SVP store is appealing for stock and while smaller items can be left at the store, larger items will be picked up, call them on:- 151 647 8599.

Liverpool aiming for WorldHost City Region status with training push
THE Liverpool City Region is aiming to become the first area in Great Britain to gain WorldHost City Region status by training over 3,500 workers from businesses and organisations in transport, tourism and the visitor economy by the end of July.

Over 130 businesses have already taken advantage of the free course for their employees, co-ordinated by Merseytravel and delivered by a network of accredited training providers at venues across the city region.

The training aims to refresh or improve their customer service skills and make sure guests visiting the region for big events including the International Festival for Business and the Open Championship are given the best possible welcome.

Originally developed in Vancouver, Canada to support customer service for visitors to the region, World Host training was used to train the hugely successful "Gamesmakers" at the London 2012 Olympics.

Delegates arriving for the Festival, which started on Monday, 9 June 2014, have been able to get advice and information on the city region from volunteers wearing distinctive purple uniforms, who have also undergone the WorldHost training course.

Funding for the courses has come from an Employer Ownership Fund grant administered through the Skills for Growth Bank, which was granted to Merseytravel, Liverpool ONE and Visit Liverpool as an employer partnership.

Free training opportunities are still available until the end of June and Sara Carthy, Support Services Director at Liverpool ONE, who are driving the IFB 2014 welcome programme, is encouraging businesses to make the most of the opportunity to allow their employees to improve their skills.

"Liverpool is known worldwide as one of the friendliest cities and the WorldHost scheme is an excellent way of enhancing service quality across the region. Developing your team will not only give them the knowledge and skills to welcome international visitors, it will also improve motivation and moral, helping them deliver the very best for your organisation. Liverpool ONE is delighted to be driving the programme, which will benefit individuals, businesses and the city region as a whole."

The training is still open to employers across the city, free of charge. Carol Williams, HR Director at Liverpool John Lennon Airport is encouraging other businesses and organisations to follow their lead and take advantage:

"The training has been extremely useful for staff to improve customer service skills, from those working in ground handling to retailers and caterers; all roles which can impact on the journey experience. It has been a useful way for workers across the airport to learn more about what's happening across the Liverpool City Region and It has also helped the 'airport community' all work together and share our experiences, which we don't often have the opportunity to do."

Cllr Liam Robinson, Chair of Merseytravel, said:- "It's fantastic that so many businesses have recognised the value of giving their employees the opportunity to get the internationally recognised WorldHost training to improve their customer service skills. Not only does it help their businesses to perform better, but also gives a great impression of the Liverpool City Region which will encourage people to return in the future."

WorldHost training involves a range of different programmes, including the basics principles of customer service, ambassador workshops, customers with disabilities and service across cultures. 2 bespoke modules have been developed for the Liverpool City Region; an Ambassador Workshop covering the International Festival for Business and events information, and a World of Different Customers, supporting staff to deliver excellent customer service while recognising the challenges of cultural and physical diversity.

There are still a number of courses available through until the end of July, which local employers can sign up their staff for. More information on the qualification and the opportunity to register for the courses can be found at:- merseylearn.net.