2 graduates are building bright future for themselves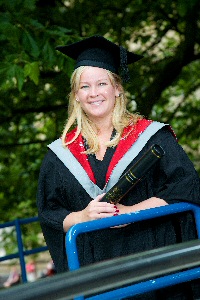 A Southport based graduate from the University of Central Lancashire (UCLan) has used the building blocks of learning, cemented with huge amounts of determination, to help fulfil her career ambitions. Single parent Sarah Holmes, 35, achieved a First class honours degree while also working full time in the industry and helping her dad to recover following a stroke.

The former Ainsdale High School pupil also won the award for best dissertation having graduated from UCLan's BSc (Hons) in Commercial Management and Quantity Surveying. Sarah explained that:- "I'd always wanted to study for the degree but family commitments took priority when my son Harry was born. I then started working in an estate agency and it was there that my interest in the construction industry really began."

Sarah originally enrolled on a Foundation Degree in Construction and once completed moved on to the full degree. A year before she was due to finish her course, Sarah undertook a period of work experience in the summer holidays for Carillion PLC, a British multinational facilities management and construction services company.
"After I'd completed my work experience the company asked me to work for them full time while also finishing my degree part time over another 2 years." It was an opportunity not to be missed. "The final year of my course was really tough. My dad had a stroke, I had important course deadlines to meet, final exams, a dissertation to write and I was working full time while at the same time looking after my son. It was all worth it though. I achieved a First in my degree, as a result was promoted at work and thankfully my dad is now recovering well. I've really enjoyed my university experience. I had a great relationship with my tutors who were really supportive and encouraged me all the way." added Sarah.

As to the future Sarah hopes to make continued progress within Carillion. "I feel very loyal to the company, they gave me a chance and I want to repay their faith in me. I'd certainly consider studying for a Master's degree, but in the next two or three years I want to concentrate on achieving my full Royal Institution of Chartered Surveyors (RICS) accreditation. My son Harry enjoyed my graduation ceremony. He's creative while being good at maths and I certainly think he has the potential to follow in my footsteps. Who knows, I may be returning for his graduation ceremony in a few years' time."

Sarah was one of a record breaking 4,600 students who graduated in front of family and friends at Preston's Guild Hall this week.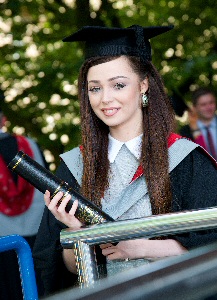 Also an entrepreneurial graduate who set up her own business while studying for a degree at the University of Central Lancashire (UCLan) has cause for a double celebration this week. Not only has Sarah Howard graduated from UCLan with a First Class Honours degree in Business Studies, but clothing giant 'Urban Outfitters' is stocking the handmade iPhone cases she creates in her spare time. In fact the national retailer has ordered more than 650 of the customised cases which will be sold through its website!

Sarah, who is from Southport, originally started customising and selling iPhone cases under the name 'Cutekawaii' as a way of keeping out of her overdraft while studying. After being inspired by her sandwich year working for Blackburn based toy distributor 'The In Thing', the 22 year old decided to focus on the business more seriously.

Sarah said:- "Customising phone cases started out as a hobby but my work placement gave me a real kick-start to make cutekawaii a success. As part of my course at UCLan I'd studied modules on business enterprise projects and setting up a business, which taught me what I needed to know to get started. I learnt about marketing too so I knew how to identify my target buyers and promote my products to the right people. I contacted bloggers and asked them to review my cases, and I sent free products to celebrities including Amanda Hendrick, who is a well known Scottish model. She started posting about cutekawaii on her blog and social media accounts."

Sarah built up an online following and one customer, a receptionist at Urban Outfitters' UK headquarters, showed the products to the chain's buyers.

As a result, Urban Outfitters contacted Sarah and ordered 40 cases in four designs, followed by an additional 85 cases due to demand. The retailer has now placed an order for 540 more cases which will be available from August 2014. Sarah said:- "I can't believe how the business has taken off or that I've graduated with first class honours. It feels really good, especially as it was difficult balancing the business with my studies at times. Originally, I wasn't sure about coming to University, but when I heard that UCLan offered sandwich courses I liked the idea of getting some experience while learning. It turned out to be the right decision as without the course and my work placement I wouldn't have had the knowledge to set up cutekawaii."

Sarah is now in discussions with Topshop about a distribution partnership and has turned down a graduate scheme to concentrate on 'Cutekawaii' full time. She said:- "This isn't something I feel I could leave and come back to as there's such momentum surrounding cutekawaii at the moment. I'm going to spend a year focusing on making it a success. Business is seen as being quite corporate but I'm doing something creative with my degree, which is exactly what I've always wanted to do."

Sarah was 1 of a record breaking 4,600 students who graduated in front of family and friends at Preston's Guild Hall this week.