Sanctuary owls expected to create another big flap when they return to Pyramids Shopping Centre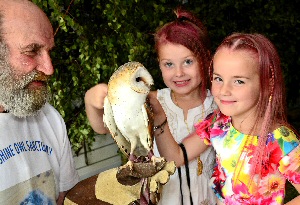 IT promises to be another real hoot when a group of magnificent owls come swooping back into Birkenhead's Pyramids Shopping Centre to meet young shoppers.

The beautiful birds of prey from Moonshine Owl Santuary in Wallasey have already appeared twice at the shopping centre's summer holiday indoor forest drawing more than 2,500 shoppers through the door wanting to see them up close and learn more about their lives.

And all the signs are that the owls will create the same sort of flap when they make their next and final visit of the summer to Pyramids Shopping Centre on Friday, 29 August 2014.

The indoor forest was created as part of a busy summer activities programme for youngsters visiting the shopping centre.

It has been dressed to recreate a forest using branches and camouflage, complete with woodchip on the floor and there is a dedicated buggy park area.

One of the most exciting parts of the programme, arranged by Birkenhead Park Ranger Paul Davies and supported by Wirral Council, has been live transatlantic links between the Junior Rangers based in the Pyramids forest and rangers in the world-famous Central Park in New York which was modelled on Birkenhead Park.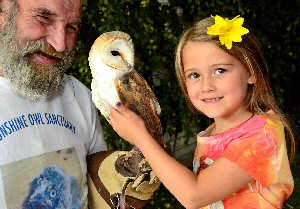 The activities, running every Monday, Tuesday and Friday, from July 21 to August 29, have also included a Gruffalo Day where youngsters made masks and dens, along with minibeasts, story-telling, puppet-making and North American art sessions.

2 of the most popular events were the appearances of the Moonshine Sanctuary owls with the first of them, at the end of July, attracting almost 1,000 visitors to the forest throughout the day and the second visit earlier this month bringing around 1,500 flocking through the doors.

Terry Gurr, who has run Moonshine Sanctuary from the garden of his home in Wallasey for the past 19 years, reckons the owls' third Pyramids date, from 10am until 4pm on August 29, will be equally popular. He said:- "There is something about owls that so many people; especially the children; just love and it's not every day that you get to see these marvellous birds close up. The first time we were at in the indoor forest in Pyramids the place was packed and we had 900 people in to see them during the course of the day. The second time we had about 1,500, so I'm expecting to be busy again on August 29 when I'll probably take along three owls, including a barn and a tawny."

Terry, 70, is originally from Millwall in east London and himself became fascinated with owls when he was young and used to help out at an owl sanctuary run by a friend in Kent. "I moved out of London 30 years ago and came to Wallasey about 10 years later. Before I retired I was working first as a welder and then a joiner. While my wife Ann and I were on holiday in Prestatyn 19 years ago we met up with the man from the Kent sanctuary and he suggested that as I loved owls so much I ought to open my own sanctuary for them. I decided it was a good idea and I went out and bought my first two baby barn owls and it sort of grew from there. We now have about 60 owls altogether along with a couple of kestrels, which is another bird of prey I admire. We keep about 20 of the birds in our garden at home and, as we've now run out of room, the rest are looked after by a network of friends around the Liverpool area and in North Wales. We have 10 different species of owls, including European eagle; both Western and Northern; African spotted, barn, tawny, Bengalese eagle, white faced scops, snowy and English little owls. We have 11 aviaries built in the garden for them to live in, which doesn't leave too much room for anything else."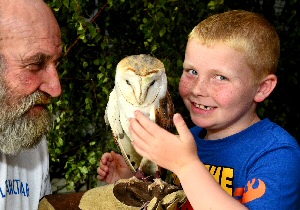 Terry explained that most of the owls in the sanctuary have been donated by people who originally took them on as pets and then decided not to keep them. "Owls are birds of prey and aren't really right for pets so we when people have wanted to get rid of them we have taken them on. We also get quite a few injured owls brought to us by the Wirral rangers. I'm not a vet, so I have to arrange for them to have specialist treatment. It's things like vet's bills which can take up quite a bit of money; that and the feed bill for all the birds. Apart from the mice, shrews, voles and rabbits some of which they might kill themselves, they also eat day old chicks and I arrange to get dead and frozen ones from a chicken farm at a cost of about £28 per thousand. With 60 birds in my garden or living with friends that means a total feed bill of about £200 every six weeks. To pay for all this I take the owls to do talks around local schools, nurseries, ladies' clubs, libraries and places like Pyramids Shopping Centre. In fact, I'm booked throughout this summer at one place or another. I always ask for small donations and people are very good, which keeps the sanctuary ticking over."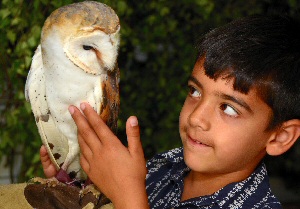 Terry added:- "It's lovely to see the way people react and appreciate them when they see the owls up close. What I love about them is the way they combine grace and speed when they are flying and swooping down on their prey. When I show them off I have the owls perched on a leather glove on my arm and they are tethered by a leather strap known as a Jessie so they can't fly away. In my talks I describe what species can be seen in this country and in other parts of the world and how they live. I also try to give interesting little facts about them such as that they never have to drink water because they get all the moisture they need from their food. I also explain how barn owls have become a little rarer because they mate for life and when their partner dies they do not take another, which means they reproduce less. I really enjoy what I'm doing and I'm looking forward very much to visiting Pyramids again to share some of the secrets of these magnificent birds."

For more information go to:- pyramidsbirkenhead.com.

Merseyside Search and Rescue Team
"IF you like the outdoors, are a team player and want to join a friendly team of volunteers who dedicate their time to helping the people of Merseyside in times of need, this may be just the opportunity for you. Successful applicants will be invited to meet the team (probably 19.30 hrs. on Friday, 5 September 2014) for induction and training as detailed on the website. Applicants need to commit to training from September until the end of November 2014, that includes weekends of first aid (6 September to 7 September 2014), water safety (20 September to 21 September 2014), navigation (probably 4 October to 5 October 2014) culminating in a Search Technician course (probably in Berkshire on 21 November to 23 November 2014). These courses are compulsory. Please do not apply for this intake if you are unable to commit to this training. Our Regular Friday night training sessions will also be held. The time commitment for training reduces significantly after November 2014 and will then revert to Friday night sessions (probably two a month). All applicants and Members are expected to attend at fundraising events (bag packing etc). MerSAR is a volunteer organisation. We are not paid; training and call outs are undertaken at the individual's own risk. We rely on participants to inform us if they feel uncomfortable doing any activity at any time. Any equipment that is provided is purchased from funds raised. Members will need to provide much of their own personal equipment (rucksack, waterproofs, torches, batteries, vehicles, petrol, food). We welcome team players who are relaxed, have a sense of humour and who are happy to take part in our activities as probationary team members. It is very important to us to keep our team ethos and atmosphere. Subject to team requirements, there may be opportunities for progression to Team Leader and Search Manager once probationary members have been offered full membership and served a suitable period of time and evidenced commitment to the team. This would require further courses and training. We look forward to receiving your applications and to welcoming you to the team and a very worthwhile cause. Application forms and full details are on our website." Norman Hutchings, Secretary, Merseyside Search & Rescue.
Buskers' guide promotes harmony
A new guide is being produced to help promote better relations between buskers in Liverpool City Centre and local businesses. The Guide to Busking in Liverpool has been produced as a joint initiative by the City Council, the Musicians' Union (MU), the Keep Streets Live Campaign and the Business Improvement District (BID) and it is thought to be the first of its type in the country.

The 12 page best practice guide advises buskers, Council officers, businesses and residents on issues such as pitch selection, noise levels and the best way of resolving issues. A laminated advice card is also being produced which highlights guidance and recommendations.

It is anticipated that that the guidance will help reduce the number of complaints and lead to those which continue being resolved amicably. It also sets out the procedures for enforcement should this prove necessary.

This move represents a new approach to street entertainment in Liverpool. In 2012 a managed system of buskers with licensed pitches was to be introduced but was opposed by buskers and the MU and the idea was dropped.

Mayor of Liverpool Joe Anderson said;- "It represents an entirely new approach to busking in Liverpool… a City is famous for its culture and music. By working together with the busking community we will bring our streets alive for the benefit of everyone. I think visitors to the City would be surprised and disappointed if they didn't find a lively street music culture, given the City's reputation," "But we also know there are complaints from business and visitors about noise and obstructions so we have tried to balance the needs of all parties. I don't mind making mistakes as long as we learn from them. We recognised that an imposed solution was never going to work so we have bought together a range of organisations to produce this guide. This has been a unique partnership which bodes well for the future of street entertainment. I'm really grateful to everyone who's been involved. The guide sets out a positive way forward and if everybody follows the guidance in it we can have a thriving street culture based on good relationships." said Councillor Steve Munby, cabinet member for neighbourhoods.

Jonny Walker, Founding director of the Keep Streets Live Campaign said:- "The collaborative approach that Liverpool City Council have modelled in putting together this busking guidance makes it a pioneer amongst major cities worldwide in its active support for grassroots street culture. The busking community has had the unique opportunity of working alongside the local authority, the BID and the Musicians' Union to preserve the spontaneity and informality which is intrinsic to the nature of busking, whilst actively seeking to build good relationships between all those who share public space in the City. It is right that buskers should be closely involved in decisions that affect them and it is to Liverpool City Council's immense credit that they chose to include the busking community at all stages in the production of this guidance. The busking community will continue to cooperate with the local authority to ensure the ongoing success of this new approach, and will hold a regular open buskers' meeting which all are welcome to attend. We are confident that this guidance will help to harness the capaCity of busking to transform the experience of shared public spaces in the City, and to continue to play its part in what makes Liverpool such a wonderful place to live, work and visit."

Morris Stemp, North of England Regional Organiser for the Musicians' Union, said:- "This is a real achievement for all parties concerned, and I'd like to congratulate Liverpool City Council and the BID for engaging so actively with interested parties and organisations to be with us at the forefront of what I believe will be the future for busking in cities, towns and villages in this country. The aim of the guide is to foster a vibrant street culture which allows for spontaneity whilst at the same time making provision for constructively resolving any issues that may arise, using existing statutory powers, and is an example I anticipate many will want to follow. It also blows apart the myth that busking is in some way illegal. This is in stark contrast to some less pragmatic authorities and Councils, where heavy handed regulation and over zealous bureaucracy stifle self expression. Buskers in Liverpool now have a guide that will help nurture music and other art forms on the streets, with all the benefits this will bring to the City, to buskers and to wider society."

Bill Addy, Chief Executive of Liverpool BID Company, said:- ''We welcome the introduction of this guide. It brings some clarity as to what is expected of everyone to ensure the vibrancy of Liverpool City Centre is a cause for celebration and not consternation. Street entertainment can be a huge added bonus to the appeal of a City Centre and this guide is a very encouraging step forward in ensuring Liverpool gets the balance right for all parties.''
APPEAL FOR THE PUBLIC'S HELP TO TRACE MAREK HORVATH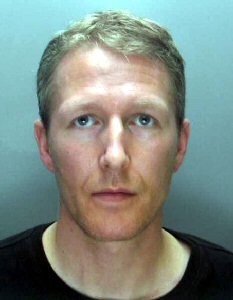 MERSEYSIDE Police are appealing for the public's help to trace a 31 year old man from Slovakia, who is wanted on a European Arrest Warrant. Marek Horvath is wanted on warrant after failing to appear at Westminster Magistrates Court on Thursday, 13 October 2011. Proceedings are continuing to seek to extradite him to Slovakia in connection with an alleged fraud case there. Horvath is believed to be living in the Merseyside area and officers are continuing to carry out enquiries to locate him. Horvath is described as 6ft tall, with brown hair and of a proportionate build. He has tattoos on both arms, including a tattoo of a skull on his right arm. He is believed to have links to the Bootle and Tuebrook areas. Anyone who has seen Marek Horvath, or has any information about his whereabouts, is asked to call the Police on:- 0151 777 3835 or via the Police Non-Emergency number:- 101 number. If they prefer, people can also contact Crimestoppers, anonymously, on:- 0800 555 111.