New multi million Pound Arts School for Liverpool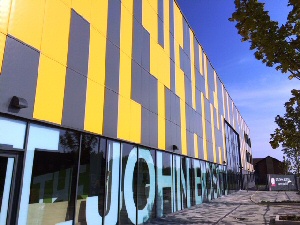 VINCI Construction UK has completed work on a new £18.2m high school in Liverpool, Merseyside. St John Bosco Arts College is a 3 storey Catholic comprehensive school for girls aged 11 to 18. Specialising in the arts, the new building provides a performance area, as well as an all weather sports pitch and a multi games area located in the middle of the development.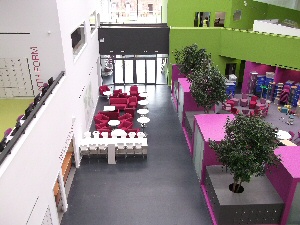 The new building was constructed adjacent to the former school, which is now being demolished. John Fowler, Project Manager for VINCI Construction UK, said:- "The new building really addresses the specialist requirements of the college. We were delighted to provide the facilities that support the arts curriculum of the school, which will be enjoyed by both students and staff. "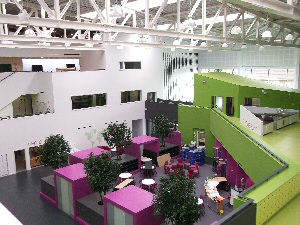 VINCI Construction UK's client, Neptune Developments, is providing this major regeneration project on behalf of Liverpool City Council and the arts college is just part of a larger £170m programme to build a dozen schools in the area. Employing local labour and suppliers was a key focus for the project, as well as providing 6 site apprenticeship placements to help create employment and opportunities for young people in the area. The construction team also took part in Get into Construction, a learning and development programme in conjunction with the Prince's Trust. This gave 12 young people aged 18 to 25, a taste of the construction industry. They spent 2 weeks working on the project and a fortnight learning the theory behind the different construction trades.

HMRC seeks tomorrow's top tax talent
HM Revenue and Customs (HMRC) is searching for more than 250 graduates to join its graduate training scheme. The graduates will join the specially designed 4 year Tax Specialist Programme, gaining skills across all of HMRC's activities. This could include investigating tax fraud, unravelling complex tax avoidance schemes and scrutinising the tax affairs of big businesses. The department is looking for graduates with at least a 2:2 degree in any discipline to apply for the challenging scheme. Last year around 11,700 graduates applied for 200 places. Edward Troup, Second Permanent Secretary of HMRC said:- "HMRC's work is incredibly varied, and our graduate programme attracts thousands of graduates each year. This is our biggest intake yet and we're looking for bright, motivated graduates who want to play a part in collecting the money that makes the UK's vital public services run." Graduates can find out about the Tax Specialist Programme via the HMRC website and at HMRC's Tax Professional Graduate Facebook Page. Applications for the scheme close on Wednesday, 26 November 2014.
Sefton residents urged to write a Will
LOCAL law firm Maxwell Hodge is urging local residents to make a Will following shocking statistics that reveal 66% of us do not plan for when we die.

The firm is holding a free advice seminar on Wills on the 20 October 2014, at the Gild Hall in Formby to help local residents plan better for the future.

Michael Yates, solicitor at Maxwell Hodge said:- "Death is something that most of us would rather not think about and perhaps this is why around 70% of people die without leaving a Will; the main reason for this is 'not having the time to get around to it'."

Recent research by 'Unbiased' revealed that more than 29.5 million people in the UK have not made a Will and more than 10% of people without a Will believe their estate will go to the right people automatically.

According to Michael, the reality is if you do not make a Will your estate can be hit by everything from higher inheritance tax to your assets being given to people you would not choose to be beneficiaries. Michael advises that making a Will is inexpensive and will save money and heartache for loved ones in the future.

Michael Yates said:- "There are many misconceptions surrounding Wills. People incorrectly assume that 'everything will automatically pass to my spouse' or that they do not need a Will because they do not see themselves as being particularly 'wealthy' but this may not always be the case."

Michael's recommendation to anyone considering a Will is to always use a reputable law firm when drafting a Will, preferably a member of the Solicitors for the Elderly.

He also warns that if you use a Will Writing firm, be careful. He said:- "If you use a Will Writing firm, be extra vigilant. You are paying for a service but often getting a fraction of the legal advice you require. Will Writers are not always adequately qualified, trained or insured and if something goes wrong, there is no safety net as they are not regulated."

For further information on Wills, Equity Release, Inheritance Tax and Lasting Powers of Attorney call:- 01704 872 156 to book your place at the free seminar.