Hollyoaks 'medics' to abseil down the Royal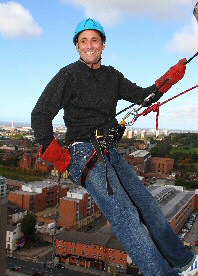 A Hollyoaks 'nurse' and 'junior doctor' will overcome their fear of heights to abseil 200ft down the Royal Liverpool University Hospital. Since joining the long-running soap earlier this month, Daisy Wood-Davis has become used to walking the wards of the fictional Dee Valley Hospital as Kim Butterfield. But on Sunday, 19 October 2014, Daisy will be joined by on-screen sister and junior doctor Lindsey, played by Sophie Austin, to walk down a slightly less familiar hospital environment; the side of the Royal. The fictional sisters will raise money for the hospital's R Charity by completing the feat.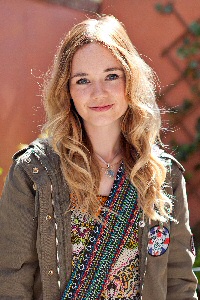 Daisy said:- "I've done zipwiring but apart from that I like to stay clear of heights. I've never done an abseil before so I'm sure it will be a nerve-racking experience. But it is for such a good cause so I'm going to just get on with it. I'm fairly new to the City but I've already heard about the exciting plans for the new hospital and it's great that I can do my bit to help the fundraising appeal."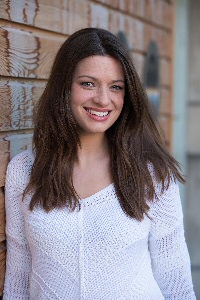 Sophie added:- "I can't wait to give the abseil a go! It will be great to have my on-screen sister there for moral support and raise as much as we can for the new Royal appeal. I'm a junior doctor on the show but I could never dream of doing the job for real. They do fantastic work and it's an honour to help provide them with the best equipment possible in the new hospital." R Charity has launched a £10 million appeal to fund specialist equipment and ensure patient environments in the new hospital are world class. The charity is helping to fund a specialist Teenage and Young Adult Cancer Unit with emotional, psychological, practical and social support for people diagnosed with cancer who are aged 16 to 24. Loren Slade, from R Charity, said:- "We hope to fund 10 single en-suite bedrooms, each including a flat screen TV and comfortable seating in each bedroom, creating a home from home for patients and their visitors. Patient bedrooms will include additional pull down beds so family members can stay close to their loved ones when they need them most. We will also create an Entertainment Hub, a space within the unit where young adults can hang out, play games, and listen to music with fellow patients and visiting friends. This much needed space will also include a computer suite, so teens can continue their education while in hospital or relax and chat online with friends."

If you want to do the abseil on Saturday, 18 October 2014 or Sunday, 19 October 2014, please contact Loren Slade at the R Charity on:- 0151 7063150 or email to register. You can sponsor the Butterfield sisters online.
North West workers would be £90 a week better off had pay risen at pre-recession rate
WORKERS in the North West would be nearly £90 a week better off if real wage growth had remained at its pre-recession rate, according to new analysis published by the TUC. The analysis shows that even using the government's preferred inflation measure (The consumer prices index), which excludes housing costs, workers in the region would be earning £88.50 a week more had pay had continued to rise at 1.9% a year after the crash. The TUC says the analysis shows how much working people's living standards suffered during the recession and how pay has failed to recover during the recovery. This is the 7th year that average weekly earnings have been falling – the longest period since records began in the 1850s, says the TUC. Last month Bank of England Governor Mark Carney said that average weekly earnings have fallen by around 10% in real terms since the financial crisis. The TUC analysis highlights how much better off working people would be if real wages had risen at their pre-recession rate. North West TUC Regional Secretary Lynn Collins said:- "Workers in the North West would be nearly £4,500 a year better off had wage growth remained at its modest pre-recession rate. Instead, pay has fallen off a cliff and shows little sign of recovering any time soon. Ordinary households are not sharing in the recovery and are facing their seventh consecutive year of real wage cuts. With savings spent and credit cards maxed out, people are finding it increasingly difficult to make ends meet, and unless Britain gets a pay rise soon the UK's personal debt problem will get even worse. That's why thousands of people from across the North West; who work in both the private and the public sectors; will be coming to London on Saturday for our Britain Needs a Pay Rise march and rally."
Parks picture sails off with prize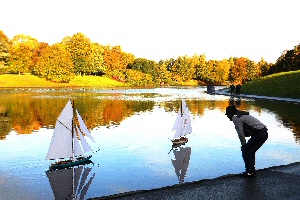 A stunning image of model yachts on Sefton Park lake in Autumn has taken the top prize in the Liverpool parks photograph competition. "Reflection Inspection" by Tom Duckworth was the overall winner and also took the category prize in the Parks for People section. Winner of the Countryside in the City category was Michael Cosgrove with Heather Taylor, taking the young person's competition. A total of 128 entries, showing all aspects of the City's 70 plus parks, gardens, recreation grounds, playgrounds and nature reserves were received. "The standards of entry was extremely high but the judges have chosen very worthy winners. Our parks and green spaces are a photographer's paradise and this competition shows them at their best." said Councillor Peter Mitchell, Mayoral lead for Parks. The competition is organised by the City Council in conjunction with Liverpool Parks Friends Forum and supported by Myerscough College Croxteth Park Centre. The Parks Friends Forum brings together Park Friends groups from all over the City to represent the views of park users and actively contribute to the management and upkeep of Liverpool parks. The winning and shortlisted entries will be published later this month in the Liverpool Parks Calendar for 2015. Category Winners and Shortlisted entries can be seen at:- flickr.com. And all the entries can be viewed at:- flickr.com

Runaway Success for Wirral half marathon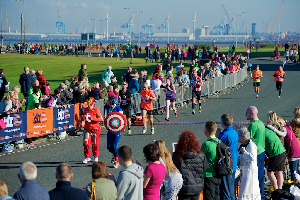 PERFECT weather conditions and improved race courses greeted 2,200 keen runners in Wirral at the weekend. The 2nd annual BTR Wirral Half Marathon and 10K took place on Sunday (12 October), and the point to point races were hailed all-round successes with a large number of runners achieving personal best times on the day.

Both the 10K and the half marathon covering 13.1 miles started with a one-mile route through Birkenhead Park and finished in New Brighton. The course took all runners along a coastal route past Seacombe Ferry, Egremont Promenade and Fort Perch Rock, with views across to the Liverpool waterfront as a backdrop.

The 10K runners then veered off to finish their race on Coastal Drive, while the half marathon runners continued along King's Parade and the North Wirral Coastal Path to Leasowe Lighthouse, before returning to Coastal Drive to complete their race.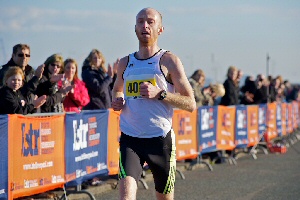 The BTR Wirral 10K was won by James Riley (Liverpool Harriers) with a time of 32:04, with the first female finisher being Alex O'Brien (Liverpool Running Club) in 37:42.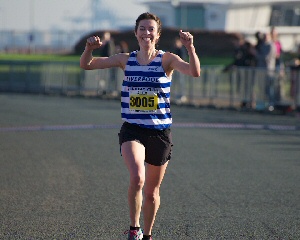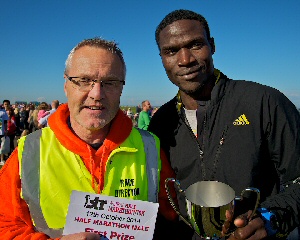 The winner of the BTR Wirral Half Marathon was Tarus Elly (Salford Harriers) in 1:08:47, with Jenny Clague (Liverpool Harriers) being the first female finisher in 1:22:58.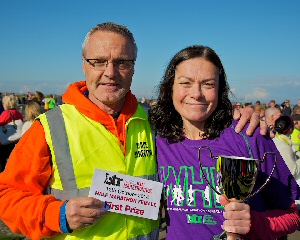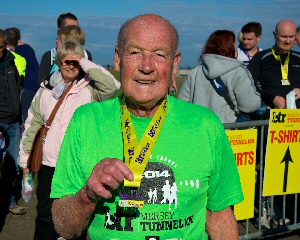 Eldest runner on the day was Wirral's very own Eddy Mountford, aged 91, who ran the 10K in 1:30:22. Eddy only began running aged 58, and has since completed 30 marathons and countless 10Ks and half marathons.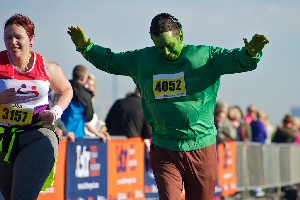 The event also attracted a number of charity runners, and overseas runners who had travelled from Norway and Poland to participate.

Race Director Alan Rothwell said:- "We are delighted with this year's event. The race conditions were perfect, much kinder than last year, and the runners certainly took advantage with a lot achieving personal best times on the fast and flat courses. The improved courses meant that all the runners enjoyed more distance in scenic Birkenhead Park, and then further route changes to the Half Marathon course round Leasowe which worked well. The finish area at New Brighton is fantastic, giving the runners an excellent space for a sprint finish before they collected their special finishers' medal, T-shirt and goody bag. We have to say a big thank you to the volunteers who make such a big difference on race days, as well as the spectators who provided encouraging support along the course."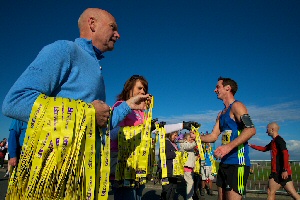 Quickly becoming established on the Wirral events calendar, the event was shortlisted as Event Of The Year in the Wirral Tourism Awards 2014... A huge coup to be recognised in its inaugural year.