National Dispute Reduces Ambulance Resources
THE impact of the continuing national pay dispute is contributing to some delays for patients and performance, according to North West Ambulance Service NHS Trust.

Following on from the full strike between the hours of 7:00am and 11:00am, on Monday, 13 October 2014, staff are continuing with dispute related action, in the form of an overtime ban, which is resulting in some Ambulance beings unable to go out on the road due to not having enough crews.

Director of Operations, Derek Cartwright, comments:- "The ban is certainly having an impact on the Trust in terms of filling overtime and getting vehicles available to respond but more importantly, it is the patients who see the real impact when we don't have enough Ambulances on the road. This leads to delays in reaching those who need urgent emergency care. So we can reach as many patients as possible, we are having to rely on volunteer services to assist the Trust and while we are very grateful for their help, this is not an ideal situation."

The impact is more noticeable in the Greater Manchester, which in the last 48 hours, over 5 shifts, has had a total of 35 vehicles out of action since the overtime ban came into force at 1100 on Monday. In Cumbria and Lancashire, the figure is 21 and Cheshire and Merseyside has seen 23 vehicles off the road. The Trust is required to reach 75% of Red 1 and Red 2 incidents within 8 minutes, but in the last 48 hours has only managed to achieve a performance of 70.7% for Red 1 and 71.9% for Red 2 incidents. Derek added that:- "We recognise and respect the right of our staff to take action, but at this moment, our major concern is having enough resources to be able to provide a service for our patients. We do rely on the goodwill of our staff to volunteer for overtime shifts to cover sickness, annual leave and vacancies and when that offer is withdrawn, it does have an effect on patients."

The:- 111 service is operating normally and the Trust's Patient Transport Service has not seen any impact from extended action. The Trust continues to ask the public to only call:- 999 in cases of life threatening or serious emergencies and to consider seeking advice from GPs, the:- 111 service or for minor conditions, their local pharmacy.

Calling all would be Construction Industry apprentices!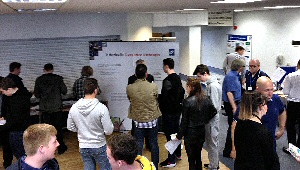 CARILLION, who are the company building the new Royal Hospital in Liverpool, are holding another event to showcase the apprenticeship and training opportunities in construction available on the new hospital. In May 2014, Carillion held the 1st such event, with more than 200 local people registering their interest. The next event, being held on Thursday, 23 October 2014, with showcase opportunities in the following trades:-

► Joinery
► Formwork Joinery
► General Construction Operative
► Mechanical
► Electrical
► Dry-lining
► Plastering
► Painting and Decorating
► Hard and Soft Flooring

3 information sessions will be held throughout the afternoon:- 3pm to 4pm, 4:30pm to 5:30pm and 6pm to 7pm. Entry is by appointment only. To book your place via email quoting:- 'Apprentice Event'. interested parties can also telephone Lynne Debbazi on:- 0151 233 1933 / 233 4036.

Carillion are committed to providing 100 apprenticeship opportunities over the 3 year construction of the £335m new hospital. David Kennedy, operations director at Carillion said:- "1 of our key objectives for the new Royal is to support local employment, training and the up-skilling of local people and to add real value to the local community. We have a huge range of apprenticeship opportunities available to local people. We can also provide support to assist long-term unemployed people to become ready for work, with the aim of getting them placements on the new Royal construction. We intend to leave a social and economic regeneration legacy that will benefit the Liverpool community for decades to come."