Voices Unite at Cancer Charity Fundraiser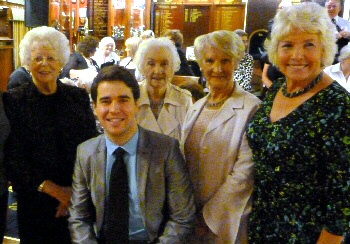 A popular local choir gave a pitch perfect performance to help a Southport based fundraising group raise hundreds of pounds to support cancer research projects in the North West.

United Voice North West, which is fronted by Search for A Star, regional winner James Loynes from Chorley, sang a selection of its best songs during the sell out 'October Song' fundraiser held at the West Lancashire Yacht Club on Marine Drive.

The 50 strong ensemble sang hits from popular musicals, chart toppers and more, helping to raise £690 for North West Cancer Research (NWCR) Incorporating Clatterbridge Cancer Research.

The charity facilitates cancer research projects in the North West, helping to increase our understanding of cancer and how to diagnose, treat and prevent the disease.

Over 80 people from the local community attended the event on Friday, 17 October 2014, which included a light supper and evening's entertainment. Additional money was raised via a raffle with all prizes kindly donated by local residents.

The event was organised by the Southport based NWCR fundraising committee, which has been raising vital funds for the charity since 1957. Today it has 18 volunteers, many of whom became involved in the charity after being personally affected by cancer. Olive Cutts, Chair of the NWCR Southport committee, said:- "I would like to say a big thank you to everyone who helped organise our first ever 'October Song', in particular Madeline Cruikshank, Betty Robinson and Wendy Fieldhouse who took the lead on it all. Everyone's hard work really paid off and we have managed to raise such a wonderful amount of money for NWCR, to help fund research which will directly help people living in Southport. It was a really enjoyable evening and the United Voice choir went down a storm with the guests, so much so that we are hoping to organise another October Song next year."

To date, NWCR has raised over £28million to fund cancer research projects in the North West of England and relies on the continued support of its fundraisers to maintain its vital work.

The Southport based fundraising committee is one of over 20 regional committees in the North West and Wales, assisted by a network of volunteers who cover Merseyside, Cumbria, Lancashire and Cheshire.

Anne Jackson, CEO of NWCR, added:- "We are very grateful to the hard work of the volunteers on the Southport fundraising committee, who never fail to amaze us with the amounts of money they raise for NWCR. Without the dedication of our fundraising committees, we would not be able to support the research into cancer which we do, so thank you to Olive and the committee, as well as everyone who turned up to give so generously."

More information about North West Cancer Research can be found online at:- nwcr.org.
Blind Veterans UK challenges Liverpool to put their onesie on
A national military charity is calling Liverpool to support blind ex-Service men and women in an exciting and daring way - "Wear Your Onesie Week".

Blind Veterans UK, the national charity for vision impaired ex-Service men and women, is challenging anyone in Liverpool to wear your onesie to work, school, or any public place between 17 and 23 November 2014.

Blind Veterans UK asks participants to pick a day between 17 and 23 November where they will be wearing their onesie and donate £1 to Blind Veterans UK's Llandudno Centre. Those who want to support but do not have a onesie are welcome to pay a £1 onesie waiver and wear pyjamas or casual outfit instead.

Staff and volunteers at Blind Veterans UK's Llandudno centre are leading the way in this challenge and will be wearing their onesies during "Wear Your Onesie Week".

Victoria Beech, Regional Fundraiser at Blind Veterans UK, says:- "This event offers those who want to support Blind Veterans UK a fun way to raise funds while being comfy in their workplace or classroom."

Blind Veterans UK provides exceptional support, rehabilitation, training and recreation to blind veterans, regardless of when they served or how they lost their sight. The Llandudno Centre was opened in September 2011 to allow better access to blind veterans based in the North West and Wales. All proceeds from wear your onesie week will be used to support the work carried out at this centre.

If you'd like to do more than just wear your onesie and donate £1, Blind Veterans UK is keen to hear from anyone who would like to challenge a teacher or manager to wear a onesie or be sponsored by friends and family. The charity can provide a onesie challenge pack, so you can challenge someone to join in providing you can raise a minimum of £50 sponsorship. You can also request a sponsor form and collection bucket.

Get in touch today and sign up for this fun challenge - contact Victoria Beech at:- 01492 864574 or you can also send an email:- victoria.beech@blindveterans.org.uk to register for "Wear Your Onesie Week". Registration for "Wear Your Onesie Week" closes on 10 November 2014.
MyCSP launches apprenticeship scheme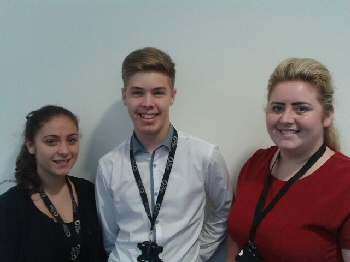 LIVERPOOL based MyCSP, the public sector pension administrator, has launched an apprenticeship scheme at its Head Office. MyCSP has welcomed 3 apprentices to the business and enrolled them on a programme which will last for at least 18 months. The scheme will provide the apprentices with an all round skill set by working in a number of teams within MyCSP including the Contact Centre, Pension Administration, IT Systems and Corporate Services including Finance, Human Resources and Marketing. They will also receive training one day a week in business administration by local company, Sysco, as part of the national apprenticeship scheme. Richard Wainwright, head of operations, MyCSP (Liverpool), said:- "MyCSP has had a very successful first two years and believes that with that comes the responsibility of nurturing young talent. We want to offer bright school leavers the opportunity to embark on a good, solid career path, where they will receive excellent hands-on training and have the chance to learn from experts in the pensions field. Our employees are very important to the running of the business and they work extremely hard. We always reward hard work and believe there are young people out there who could really benefit from working with MyCSP. MyCSP is serious about its social responsibilities and is committed to setting aside resources to support our communities, it is an important part of the ethos for our mutual company". The apprenticeship scheme is part of MyCSP's 1+1+1 Programme which commits MyCSP to offering 1% of total headcount to apprentices and interns.

Highlighting the plight of homeless ex-Forces as new campaign aims to turn the #LightsOnForVeterans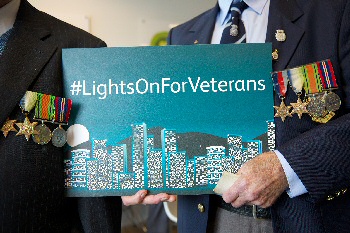 ONE of the country's largest housing associations which specialises in providing support for homeless Veterans, has launched a new campaign to put the #LightsOnForVeterans. The campaign is part of Riverside housing's response to over 1000 enquiries annually from Veterans in housing need, and comes just as the nation prepares to turn its clocks back and put lights on earlier in the evenings.

During 2014 Riverside has already helped over 1,000 Veterans and their autumn survey has shown there are 35% more in the 30 to 50 age range who need intensive support, compared to those under 30. Younger Veterans have benefitted from more focused national support as part of Government initiatives since 2011 aimed at supporting younger people.

Riverside's Executive Director of Care and Support, Leanne Hearne, said:- "During such an important commemoration year when we have been reminded of how the Lights Went Out all over Europe in 1914 we are making a firm commitment to continue expanding our support for Veterans, particularly older ex-Servicemen and women who can find it hard to return to civilian life after serving many years in the Armed Forces. Riverside runs the country's main housing advice and accommodation helpline for homeless Veterans and this gives us a unique insight into the challenges they face. Over the last three years we have seen a marked increase in older Veterans needing our specialist housing and therapeutic support services. This summer we signed up to the national Armed Forces Corporate Covenant and as a next step Riverside staff will be standing alongside some of the Veterans currently using our services, retired representatives from those who served in World War II and those still currently serving their country, in order to make a commitment to continue to support them. We will be launching an online campaign to put the #LightsOnForVeterans and make sure every Veteran who faces homelessness knows where to receive help if they need it."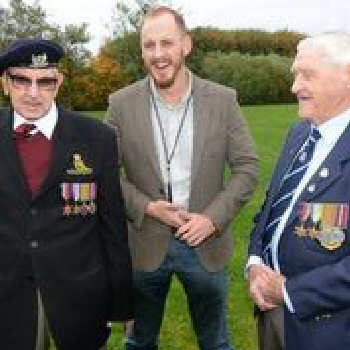 Riverside's specialist support for Veterans started in 2000 when it set up a groundbreaking partnership with the Ministry of Defence to provide housing advice and support to the small proportion of Veterans who struggle to make the transition back into civilian life when they leave the Armed Forces. Each year Riverside now supports around 1,200 Veterans including in specialist temporary housing and enterprise centres, which have been set up and run by staff who themselves come from an Armed Forces background.

Over 40% of Veterans in their specialist centres have mental health problems, with a total of 26% discharged from the Armed Forces on medical grounds. Riverside conducted a survey in September 2014 which highlighted the increasing plight and need levels of older Veterans between 30 and 50 years.

The 'Lights On For Veterans' campaign is supported by soldiers from the 2nd Battalion the Duke of Lancaster's Regiment who showed their support for ex-servicemen and women at risk of homelessness. The Light Role Infantry Battalion is trained to conduct offensive and defensive combat operations in all types of terrain, from built up areas to the jungle.

Regimental Sergeant Major S T McDermott, said:- "Our soldiers and officers have to be fit, robust and determined. It might be strange to think a soldier back from Afghanistan could end up on the streets, but not everyone adjusts easily to Civvy Street. Vulnerability is hard to admit for people trained to face up to tough situations so we felt it important to visibly support these lifeline services. It could easily be one of us facing difficulties next."

The Light Role Infantry Battalion recruits from the North West of England with most members of the Battalion coming from Cumbria, Lancashire, Greater Manchester and Merseyside.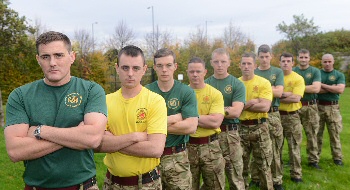 On August 4, the nation was invited to participate in 'Lights Off' and plunge into darkness and light a single candle for a shared moment of reflection to mark the day Britain entered World War I and the lamps went out over Europe.

Statistics from the Ministry of Defence in 2014 show that up to 11,000 serving members of the military have been diagnosed with mental health conditions, including PTSD and depression. These figures do not take into account the substantial number of those who suffer mental illnesses after leaving the Services.

Leanne added:- "The majority of Veterans adjust to civilian life successfully, but for some it can be daunting, so Riverside is working hard with the Ministry of Defence to provide the services and support to meet this need including a new specialist development for Veterans in Colchester which was announced in the summer."
Woolton scoops gold award
WOOLTON village has once again proved its fabulous floral displays are a cut above the rest. Judges from the National Royal Horticultural Society gathered last night to celebrate horticulture's highest achievers from across the country. Woolton village represented the North West and was awarded a gold medal in the 'Champion of Champions' category, fighting off fierce competition from Ulster, London and Scotland with the overall winning title going to Shrewsbury. The team were highly commended for their efforts, which included a bed of poppies surrounding a sculpture of a soldier to commemorate the start of World War One. Woolton In Bloom chairwoman Barbara Mace, said:- "We are absolutely delighted with this latest achievement, it is the pinnacle of all our hard work and dedication which we started way back in 2001. This is one of many successes for everyone involved in Woolton in Bloom and it could not have been done without the fantastic team of volunteers. I hope this win can spur us on to keep creating beautiful and eye catching floral displays for residents and visitors to enjoy year after year."