A man dies and roads are closed as Storm hits Merseyside
AS the remnants Hurricane Gonzalo hit the UK over Tuesday, 21 October 2014, the Met Office issued a Yellow Warning - 'Be Aware' to much of the country. Gonzalo was the strongest of storms to hit the British overseas territory, Bermuda, in a decade and many groups in the UK had predicted the tail end of Hurricane would cause travel disruption and widespread damage. Sadly 3 died and many were taken to hospital across the UK, as a result of the storm. One of those killed was a 63 year old man, whose Ford Fiesta smashed into a railway bridge in St Helens, Merseyside, as the area was being lashed by heavy rain and gale force winds. Police are investigating the cause of the crash. Also in St Helens, Merseyside Fire and Rescue Service were called out to Eliza Street in Sutton, after stone cladding on the front of a house had fallen on to the pavement. As a result fire-fighters removed a section of loose cladding from that property. In Liverpool, a sheet of corrugated iron fell off the side of a building in Old Hall Street, leading to the area being cordoned off the area while the incident was dealt with by an aerial appliance from Merseyside Fire and Rescue Service. Fire Fighters also attended to a tree in a dangerous condition on a grass verge, in Dobson Street in Everton, at around 4.15pm. Also in Liverpool a tree fallen on to a house in Mersey Road in Aigburth, at around 4.20pm. In Old Swan a car was in collision with a tree that had fallen. The occupants of the car are not believed to have been injured and the tree was removed from the road. Fire Fighters were there for around half an hour. In Tuebrook, Fire Crews were called out to shop premises on West Derby Road after a section of chimney had fallen due to the high wind. A fire appliance was also called out to a tree that has fallen across a road in Elmsley Road in Mossley Hill just after 5pm. In Liverpool City Centre, Merseyside Fire and Rescue Service was called out to Unity Building in Rumford Place at around 12.50pm, as a quantity of metal cladding had come loose from a building, outside the 17th floor. It resulted in the area being cordoned off for around an hour and a half whilst the scene was made safe. In Stanley Road, Kirkdale, section of chimney has also fallen onto the roadway at 5.25pm, leading to Fire-fighters being called out. At around 12.20pm, in Green Lane, Old Swan the wind and rain caused a 5 metre section of plastic guttering that was hanging off a 3 storey building. In Wallasey fire crew removed a section of a property's border wall and fence that was in danger of collapse due to the high winds on Seaview Road, just after 4pm. In Southport Merseyside Fire and Rescue Service where called to Chapel Street in Southport at around 3.45pm to deal with a metal sign that was hanging off the Pippins coffee house building. Fire Fighters cordoned off the area around the building and used an aerial appliance to remove the sign. Plus the window of Farmfoods supermarket on Lord Street was completely shattered and a tree was blown over on Town Lane.
Visit Southport Eco Centre to know your blood pressure
THE Stroke Association will host a Know Your Blood Pressure event at Southport Eco Centre, The Esplanade, to mark World Stroke Day on Wednesday, 29 October 2014, and help prevent the biggest cause of strokes. High blood pressure is the most important risk factor for stroke, contributing to about half of all strokes. It is treatable with medication and by making lifestyle changes such as exercising regularly and eating healthily. Almost a quarter of people in the North West are living with high blood pressure. Supported by the local Rotary, Southport Eco Centre and Zest for Life Training, the Stroke Association will offer free blood pressure checks to visitors to the centre from 10.30am to 3.30pm. They'll also provide information and advice to raise awareness of the causes of stroke. Christine Ray, Family and Carer Support Coordinator from the Stroke Association, said:- "High blood pressure contributes to about 50% of strokes and is the biggest controllable risk factor for the condition. It affects 16 million people in the UK, but has no symptoms, so many people are completely unaware that they have it. Getting tested is simple; blood pressure tests are quick and painless and taking control of your blood pressure can reduce your risk of stroke. We hope to see lots of people on World Stroke Day when we'll be encouraging those with a high blood pressure reading to follow up with their GPs." High blood pressure is usually diagnosed if readings are consistently higher than 140/90mmHg. In many cases high blood pressure can be controlled by making healthy lifestyle changes or taking medication. For more information on blood pressure testing, visit:- stroke.org.uk/kybp.

Charity calls for ban on adults sending sexual messages to children
Photography by Jon Challicom. The girl in the photos is a model.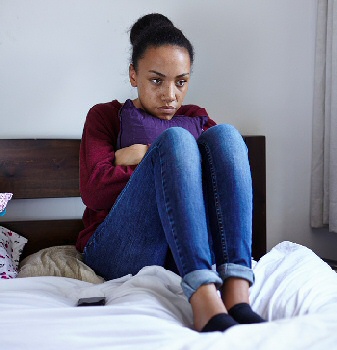 THE number of children counselled by ChildLine about online sexual abuse increased by 168% last year; averaging 7 counselling sessions a day to the free, 24 hour helpline.

The rise in children's cries for help is revealed as the NSPCC launches its Flaw in the Law campaign to make it a crime for an adult to send a child a sexual message.

A national YouGov poll, which included 255 people from the North West, found that nearly three out of four adults believe it is already illegal for someone over 18 to send a sexual message to a child under 16, when in fact no such specific offence exists.

Over 8 out of ten people polled by YouGov said they would support a change in the law and the NSPCC is now urging the public to back its campaign by signing an online petition.

The ChildLine base in Liverpool counselled 197 children about online sexual abuse last year.

1 young person who contacted the Liverpool base, said:- "I've been texting this older guy I met online a lot recently. He seems really nice and has suggested meeting up. I've told my friends about it and they've said it's not a good idea. They don't understand our relationship though. I talk to him for hours a day so I know I can trust him."

NSPCC head of child safety online Claire Lilley said:- "No adult should be deliberately sending sexual messages to children, but incredibly it is not always illegal. Existing laws are a hotch potch and sex offenders can and do exploit the loopholes. The rise of online communication means that children are increasingly being exposed to sexual messages from adults, on social networks or through messaging apps, but in many cases the Police are powerless to act. Currently, old laws are being stretched to fit new paedophile behaviour. The Serious Crime Bill now being debated in Parliament is a unique opportunity to tailor the law to better protect children from sexual abuse. And we need the public to get behind our Flaw in the Law campaign."

There have been reported convictions of adults in Scotland for communicating sexually with children under the Sexual Offences (Scotland) Act 2009. However, the NSPCC believes that under the current law in England, Wales and Northern Ireland it is unlikely that similar cases would have led to a criminal prosecution, unless the abuse had escalated.

People can find out more about the NSPCC campaign and sign the petition at:- nspcc.org.uk/flaw and join the debate on social media at:- #FlawedLaw

Anyone looking for advice about keeping children safe online, or concerned about the safety and welfare of a child, can contact the NSPCC's 24 hour helpline on:- 0808 800 5000 or email:- help@nspcc.org.uk.

Children worried about online safety or any other problem can call the free, 24 hour helpline on:- 0800 1111 or get help online at:- childline.org.uk.
Please email us your views on this topic to our newsroom via:- news24@southportreporter.com and let us know what you think about this issue.