An Nidiot's guide to Jon Richardson...
Review by Jo Forrest.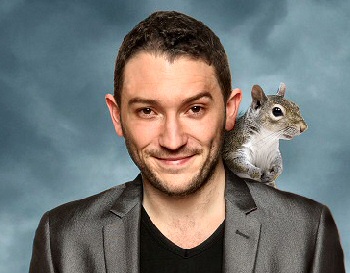 OBSESSIVE behaviour certainly makes for good comedy and it certainly isn't doing Jon Richardson's career any harm what so ever. A full house at the Empire Theatre on Monday night the star of 8 out of 10 Cats and Mock the week talks about his life as single man, who thinks happiness is the worst thing that could ever happen to him. The Lancashire comic's set takes in all his foibles; obsessiveness, fretfulness, dejection and angst, and twists them into long, hilarious, shifting stories that start and stop and start up again with ease. He talks us through his trip to America for the TV series Real Men, how he was only invited on as:- "the fanny who would cry" and how an encounter with Bulls testicles made him become a vegetarian. The second half of the show talks about his acquisition of a girlfriend after being set up by mates and how weekend trip to Portugal was spent on the toilet, none of which seemed to put her off. Jon Richardson makes his extremely well composed set seem thrillingly ramshackle, and its often the off kilter paths he hurtles down where the night's greatest laughs are to be had. 2 hours of brilliant comedy which had myself the audience in stitches. Only an Nidiot would not have found it funny.
If you attended one of his shows, please do let us know what you thought of it by emailing us to:- news24@southportreporter.com.
If you missed him, you can still locate him at these venues!
► Saturday, 8 November 2014 at the Halifax Victoria Theatre, for tickets call:- 01422 351 158 or visit:- VictoriaTheatre.co.uk.

► Sunday, 9 November 2014 at the Hull City Hall, for tickets call:- 01482 300 300 or visit:- Hullcc.gov.uk.

► Saturday, 15 November 2014 at the Plymouth Pavilions, for tickets call:- 0845 146 1460 or visit:- PymouthPavilions.com.

► Tuesday, 17 November 2014 at the Aylesbury Waterside Theatre, for tickets call:- 0844 871 7607 or visit:- AtGtickets.com.
► Friday, 21 November 2014 at the Bristol Colston Hall, for tickets call:- 0844 887 1500 or visit:- ColstonHall.org.

► Sunday, 23 November 2014 at the Milton Keynes Theatre, for tickets call:- 0844 871 7652 or visit:- ATGTtickets.com.

► Monday, 24 November 2014 at the Watford Colosseum, for tickets call:- 0845 075 3993 or visit:- WatfordColosseum.co.uk.

► Friday, 28 November 2014 at the Brighton Dome, for tickets call:- 01273 709 709 or visit:- BrightonDome.org.

► Saturday, 29 November 2014 at the Cardiff St David's Theatre, for tickets call:- 029 2087 8444 or visit:- StDavidshallCardiff.co.uk.

► Monday, 1 December 2014 at the Southend Cliffs Pavilion, for tickets call:- 01702 351 135 or visit:- TheCliffsPavilion.co.uk.

► Sunday, 7 December 2014 at the Sheffield City Hall – Oval Hall, for tickets call:- 0114 278 9789 or visit:- SheffieldCityHall.co.uk.
Chief Constable of Merseyside Police receives award from the British Horse Society
THE Chief Constable of Merseyside Police, Sir Jon Murphy, has been given a prestigious award by the British Horse Society following the force's work to crackdown on the illegal and anti-social use of scrambler bikes.

The force runs Operation Brookdale every year and, over this Summer, 140 bikes were seized after being ridden in an illegal and/or anti-social manner and more than 60 people were arrested.

The British Horse Society has made the award to recognise the success of the operation in improving access for horse riders to open spaces across Merseyside and making sure that bridle paths are safe for them to use.

The award has been collected on behalf of Sir Jon by Superintendent Dave Charnock at a ceremony in London this afternoon, Friday, 7 November 2014.

Superintendent Charnock said:- "We know that the anti-social and illegal use of scrambler bikes blights the lives of many people on Merseyside and Operation Brookdale is all about listening to the community and taking pro-active action to respond to peoples' concerns. This is the 3rd year we have run the operation and the vehicle seizures and arrests have made a real difference to the safety of roads, footpaths and green spaces across the area. I'm very proud to receive this award on behalf of the Chief Constable. It symbolises the hard work of officers to make Merseyside a safer place for both equestrians and the whole community."

Merseyside's Police Commissioner Jane Kennedy said:- "I am very happy indeed to see this award being won by Merseyside Police and I would like to congratulate the Chief Constable Jon Murphy and all those involved; a real tribute from the British Horse Society. Operation Brookdale has been a really effective initiative in removing nuisance bikes from our communities, making hotspot areas safer for everyone who uses the bridleways and off road routes, in this case particularly horse riders. This operation demonstrates the degree to which the Force listens to the concerns of all the communities of Merseyside and take action to put a stop to anti-social behaviour and crime and I am delighted this has been recognised by the British Horse Society."
Trust voted number 1st for quality & gaining a Gold Award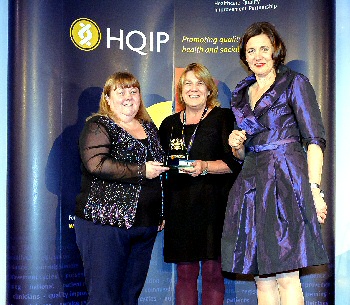 THE Trust's Come Dine with Me dining companion project was winner in the local improvement category of the 2014 Health Quality Improvement Partnership Awards. The project was also voted the national Gold Award winner out 25 entries, including those from NHS teaching hospitals and medical royal colleges. Come Dine with Me was launched last year following feedback from a national dementia audit. Volunteers are trained to sit with patients at mealtimes and give help to those who need it. There are now 21 companions volunteering at Southport and Ormskirk hospitals. Matron for Performance and Standards Sue Johnson who received the award with Janette Mills, Head of Audit and Effectiveness, on behalf of the Trust said:- "Come Dine with Me is a deceptively simple idea but it really made an impact on the delegates who voted it gold award winner." Angela Kelly, Interim Director of Nursing and Quality, added:- "As well as helping with eating, the dining companion can chat, encourage patients to eat and help alleviate the boredom and loneliness that can be experienced while staying in hospital. This is vital support for some patients who don't receive any visitors and may be lonely or anxious or suffering from a form of dementia or Alzheimer's." HQIP Chief Executive Jane Ingham said:- "The HQIP Quality Improvement Awards received a record number of entries this year and standards were extremely high. We congratulate all of the winners for the excellence they have shown in their field." Anyone interested in becoming a Come Dine with Me volunteer should contact Chris Pilkington, volunteer coordinator for the project, on:- 01704 704955 or email:- chris.pilkington@nhs.net. Training for the role is provided and volunteers must be available at meal times.
Comedy's Best Kept Secret at Southport Comedy Cub
ROGER Monkhouse is one of the regular writers on Channel 4's hugely popular comedy panel show '8 Out of 10 Cats.' is heading to Southport on Saturday, 15 November 2014. Do not miss this amazing show, or the Comedy Police will hunt you down... You have been warned!!!!!!
Roger is responsible for scripting up-to-the minute topical gags every week for the show, which features Jimmy Carr, alongside team captains Dave Spikey and Sean Lock. Other television credits include appearances on 'The Comedy Store' and 'The World Stands Up', (both Paramount), 'My God I'm My Dad' (Bravo) and 'Street Cred Sudoku' (UKG2). Nevertheless, he remains a clear favourite of comedy insiders and is probably comedy best kept secret - In other words, in our view and the view of many others, he is one of the best (possible THE best) comedian who's not famous yet! A consummate stand up who exerts a masterful control over any audience. A highly original and quirky performer, his trademark stage prowling style and curious, inimitable manner have established him as one of the hottest names on the comedy circuit. Supremely confident, with audience banter down to an art form, he's happy to improvise freely but has no shortage of first class material in his armoury. Roger is a widely regarded as a master of observational comedy with routines that are universally and unfailingly hysterical.
He will be joined on the night by Finlay Taylor, Damion Larkin (MC) and Scott Bennett... Scott Bennett played the first ever 'Laugh Out Loud Comedy Club Night', at The Atkinson, back in May 2103 and was such a big hit we've brought him back! He charms audiences with his delightfully witty comic observations about life's little quirks, relationships and the subtleties of human behaviour. The last time we saw someone this talented on his way up the ladder it was Jason Manford and before that Alan Carr. Like them he's already won awards and turned heads in the comedy industry. So it wont be long before he's snapped up by a cigar smoking bigwig and we wont be able to get him to come and play for us as he'll be busy with his own tours and TV work.
Fin Taylor - is a uniquely charming youngster with a winning and laugh inducing appeal who, at the age of just 23, has gigged internationally and warmed up for TV shows such as Never Mind the Buzzcocks (BBC2) and Pointless (BBC1).
Plus your MC for all the above is Southport born Damion Larkin, one of Britain's most promising comedy talents, renowned for being a spontaneous and lovable host. All line ups are subject to change, but don't worry, we'll only replace them with someone just as funny!
Doors open:- 7.30pm and the show will start at:- 8pm.
Tickets cost:- £12.50 in advance or £15 on the door and you can also get a £40 Season Ticket (4 shows)...
To book in advance call:- 01704 533 333 or go online at:- theatkinson.co.uk.

Paloma Faith live in Liverpool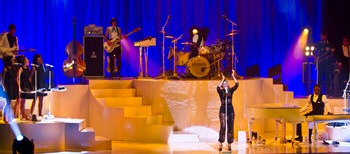 THE Brit-Nominated star Paloma Faith was in the Liverpool Empire Theatre, on 4 November 2014 ahead of her Arena tour that visits the Liverpool Arena, on Tuesday, 24 March 2015. The Theatre is a lovely intimate venue for the setting of her current tour. I have to say that I was somewhat surprised by the very varied age range in the audience, but as Paloma bounced onto the stage, of the packed theatre, she delighted everyone in attendance. Her 3rd album:- 'A Perfect Contradiction' was released in March 2014 and she went on to perform almost exclusively some of her best known hits from this. She did however perform a rousing version of one of her all-time heroine's classics:- 'River Deep Mountain High.' For more photographs of Paloma Faith performing to the very receptive audience, her unique, retro and eccentric style numbers, please visit Jo Forrest's website.
IRANALAMADINGDONG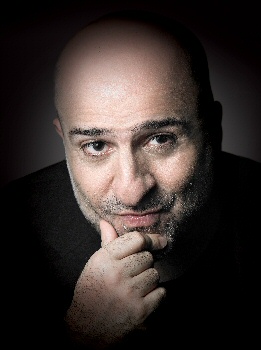 TAKE note of below..!
Question:- Is stand-up your first love?

Answer:- I've done lots of different things and enjoyed them but stand-up, when it goes well - it often doesn't - is definitely a love. There's something deeply satisfying about a good gig. I'm not often happy with myself as an actor. I get upset when I see myself acting on screen, mostly because of the way I look. But as a stand-up it's always a bonus if you look heavy or awkward or damaged…in my case it helps in fact.

Question:- So you feel very much at home in the stand up arena?

Answer:- When I was working on Moonfleet last summer Ray Winstone told me:- 'I don't feel I come alive on set until I've done a fight scene and thrown my first right hook'. Similarly, I don't really feel I've come to life unless I've triggered laughter from a crowd. It's probably an illness… a comedian's illness. But I don't panic like I used to. If a joke misses or backfires I know there's a hundred more on their way. But it's strange, I'm getting more serious off stage and savour even more the times when I'm on it. There's always something in my mind telling me 'enjoy it while you can, this isn't going to last much longer.'

Question:- Do you feel fired up on stage?

Answer:- Not really fired up, but sometimes I am genuinely upset when a show is over. I would love to go on all night… in a way I understand Ken Dodd who famously starts at 8pm and sometimes finishes at 2am. My problem is I just don't have the material. So I usually just take the feeling of loss and disappointment off with me when I say goodnight and drive home alone in the dark thinking of the good times and how I can say more next time and say it better.

Question:- Is your relationship with the audience important?

Answer:- Most comedians are sensitive to audience reaction. Generally speaking, comics like people. Stand up is basically one person talking to many people. It's a bizarre dynamic… public speaking has been with us for thousands of years. I remember even feeling a panic when I was younger that I should get up and speak because I'd have to one day so best start young. If you're not too nervous about speaking and saying what's on your mind in a one on one then that openness is what you need on stage. It's important not to be too hung up about what people think of you. Finding a comedy voice can take years though.
Question:- What themes will you be addressing in the new show?

Answer:- Growing older. We all struggle with it. As Dave Allen once said:-'I enjoy getting older. I have to because there's no choice'. When you hit your forties you understand life better, but at the same time your body is more prone to fail. So you have to find a way of joining your received wisdom with physical prowess. A lot of men who hit 40 try to do things that make them feel more alive because they want to prove themselves. That's why I did Splash! I wanted to do something out of the box, stretch my courage and prove I was still a young man at heart even though my bits were dropping off.

Question:- What else will you be discussing?

Answer:- Relationships. I think I've maybe come to understand the secret to them now. I know when a woman gets married, she has to learn to forgive her man from day one. Because men are idiots. Before they become conscious human beings, that is. They can take years doing the wrong thing before they learn to adjust their behaviour. So women need patience and forgiveness… and a voice to articulate what the man is doing that is wrong in a way a man can hear Otherwise it's over.

Question:- You also address the subject of celebrity in this show…

Answer:- Yes… I talk about the fact that when you become a celebrity… or in fact in any line of work where you feel you are important somehow in a worldly sense because people around you are telling you so… there is a period when you become an arse. It happens to everyone. You start believing your own hype and behave foolishly. A more eloquent way would be to describe it as becoming "a plaything of the ignorant". Not many talk people about this "arse" - phase but I'm happy to. I became an arse. I'll go there. And it's bad….

Question:- So how did you snap out of it?

Answer:- I'm not sure I have. It's up for debate.

Question:- Do your recent visits to the US also inform the act?

Answer:- Yes. I love America. It's very hard trying to obtain a visa to work in the US. My work Visa was delayed so badly I nearly missed my flight. Maybe referencing Pablo Escobar and Osama Bin Laden on the form didn't help.

Question:- Am I right your act has become less overly political these days?

Answer:- I don't feel the same pressure to talk about things in the news any more. On Twitter, comics feel they constantly have to comment on things that are trending and put their oar in. But nowadays if everyone is talking about fracking I'll just talk about Peters and Lee (1970's singing duo).
Question:- Is there such a thing as an archetypal comedian's mentality?

Answer:- (thinks) Erm… not really. But most comedians I know do have a filter missing. They usually 'go for the gag', even if it's at the expense of total social humiliation, but they still do it because they know it'll be great story they can tell later (or even use on stage). It's almost as if comics need to be loved and talked about more than being respected. Stories circulate amongst comedians about who did what amd when and stories are told with such relish they almost become myth. I talk about this is show…
Question:- Are you happy with where your career is?

Answer:- (pauses) Well… I think in life you have to count your blessings otherwise you'll never be happy. But I haven't worked out the reason why I'm overweight yet, and I really shouldn't be. It's an issue that takes precedence… so forgive me for not really answering your question.

Tickets for Omid Djalili Live tour can be found at:- online.
Dates and times:-
November 2014

8
Hull
City Hall
8:00PM
0148 222 6655

13

Bolton

8:00PM

0120 433 4400

14

Aylesbury

8:00PM

0844 871 7607

15

Chatham

8:00PM

0163 433 8338

16

Southend

8:00PM

0170 235 1135

21

Tunbridge wells

Assembly Hall Theatre

8:00PM

0189 253 0613

22

Dartford

8:00PM

0132 222 0000

28

Margate

8:00PM

0184 329 2795

December 2014

6

Salisbury

8:00PM

0172 243 4434

7

Liverpool

8:00PM

0844 871 3017

11

Wolverhampton

8:00PM

0870 320 7000

January 2015

16

Bournemouth

8:00PM

0844 576 3000

17

Reading

8:00PM

0173 439 0390

18

Buxton

8:00PM

0845 127 2190

20

Doncaster

8:00PM

0130 237 0777

21

Newcastle

8:00PM

0844 493 9999

22

Edinburgh

8:00PM

0844 871 3014

23

Perth

8:00PM

0173 862 1031

24

Aberdeen

8:00PM

0122 464 1122

25

Shrewsbury

8:00PM

0174 328 1281

29

Peterborough

8:00PM

0173 326 5705

30

Cambridge

8:00PM

0122 335 7851

31

Coventry

8:00PM

0247 652 4524

February 2015

4

Lichfield

7:30PM

0154 341 2121

5

Northampton

8:00PM

0160 462 4811

6

Carlisle

8:00PM

0122 863 3766

7

Preston

8:00PM

0844 844 7710

9

York

8:00PM

0844 871 3024

12

Nottingham

8:00PM

0115 989 5555

13

Birmingham

8:00PM

0121 345 0600

15

Brighton

8:00PM

0844 871 7650

17

Cheltenham

8:00PM

0844 576 2210

18

Plymouth

8:00PM

0845 146 1460

19

Swansea

8:00PM

0179 247 5715

20

Bristol

8:00PM

0844 887 1500

21

Cardiff

8:00PM

0292 087 8444

22

Milton Keynes

8:00PM

0844 871 7652

23

Darlington

8:00PM

0132 548 6555

24

Crewe

8:00PM

0127 036 8242

28

Isle Of Wight

8:00PM

0198 386 8000

March 2015

1

Woking

8:00PM

0844 871 7645

6

Jersey

8:00PM

0153 451 1115

7

Jersey

8:00PM

0153 451 1115

9

Stoke-On-Trent

8:00PM

0844 871 7649

10

Burnley

8:00PM

0128 266 4400

12

Leeds

8:00PM

0113 224 3801

13

Manchester

8:00PM

0844 871 3018

14

Manchester

8:00PM

0844 871 3018

15

Bridlington

8:00PM

0126 267 8255

17

Weymouth

7:30PM

01305 783225

18

Leicester

8:00PM

0116 233 3111

19

Isle Of Man

8:00PM

01624 600555

20

Guildford

8:00PM

0844 7701 797

21

High Wycombe

7:30PM

01494 512 000

22

Norwich

8:00PM

01603 630000

26

Watford

8:00PM

0845 075 3993

27

London

8:00PM

020 8563 3800

28

London

8:00PM

020 8563 3800