£5000 lifeboat lotto jackpot turns the tide for Nicola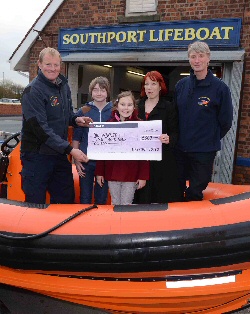 CARE home worker, Nicola Hughes has donated hundreds of pounds to lifeboat volunteers for more than 12 years; but now the tide's turned and she's scooped a fabulous £5000 jackpot from a fund raising lifeboat lottery. Nicola is the lucky winner of Southport's Lifeboat Lotto – which raises desperately needed cash for the Southport Offhore Rescue Trust volunteers. Nicola, 44, who lives in Fir Street, Southport, began supporting the lifeboats after her partner, Ian Thornton, a keen sea angler, was killed in a car accident 12 years ago. She says:- "At his funeral, he had wished for mourners to give to lifeboat charities and we raised a substantial amount. Ian was very involved with the sea and he knew what a debt all coastal communities owe to the dedicated volunteers who staff the lifeboats. It seemed a very fitting memorial to him. My support for the lifeboats went on from there and I have taken part in numerous fund raising efforts over the years; especially Lifeboat Lotto. This win is fantastic. It means I will be able to give my son and daughter the dream visit to Disneyland Paris they have always wanted. And I will also be able to afford some essential repairs around the house. It is great to get some good news completely out of the blue. And of course, I will still continue to support Lifeboat Lotto." The Southport Lifeboat is totally independent and gets no funding from the RNLI. It is totally reliant on donations from local people and Lifeboat Lotto is an essential part of the trust's fund raising efforts. Nick Porter, who is a coxswain with the Southport Offshore Rescue Trust said:- "Congratulations to Nicola. Lifeboat Lotto is a huge success for all concerned. It has helped us to renew two engines for our main rescue boat; at a cost of £20,000 and it is also contributing towards our planned new boathouse." The crews' training ensures that the boat and equipment are always available for emergency situations. The crew are responsible for the maintenance and repair of the boathouse, boats, launch vehicle, and the 2 quad ATV's used for beach rescues. Due to the corrosive nature of saltwater, maintenance can be very time consuming. Typically after each launch, the crew can spend between 1 and 2 hours washing down the boat and vehicles. The latest lifeboat, Heather White is fitted with Radar, GPS, and a Chart plotter. Carrying a crew of 4, the twin 150 hp outboards give a maximum speed of 50+ mph and a range of 150+ miles. The lifeboat is stationed in the old lifeboat house which was built over 130 years ago, it has no toilet or sink. These facilities are in desperate need of modernisation, during the summer months, the boathouse is ok, however during the winter months it can be a bleak place for the crew to undertake their duties. The volunteers are at present investigating the possibility of relocating to a new lifeboat house nearer to the sea, however this will require substantial funds to be raised.
Appeal after medication was lost on a bus
MERSEYSIDE Police are appealing for the public to be cautious after prescription medication was lost on a bus somewhere between Bootle and Aigburth yesterday, Tuesday, 4 November 2014. A man was travelling on the 61 bus from Bootle Strand to Aigburth, when he is believed to have left a quantity of medication on the bus. The tablets were in a pharmacy bag and comprised one box of 56 x 75mg Pregabalin tablets and 56 x 20mg Omeprazole capsules. Officers are now carrying out enquiries and reminding people that taking medication which hasn't been prescribed for them can be dangerous and, in certain circumstances, can prove fatal. Anyone who finds any of the medication is asked to hand it in to any Police Station, Pharmacy or call Merseyside Police via the:- 101 number.

Holding Out for an Arriva Hero?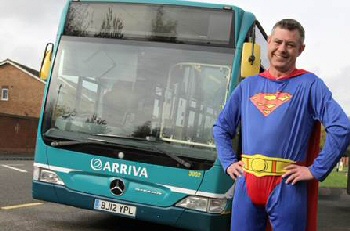 IS it a bird? Is it a plane? No, it's an Arriva bus driver swooping in to not only save the day, but to also hopefully secure your votes in Arriva's annual search for its most committed, heroic drivers who go above and beyond to you get you safely from A to B. Arriva, which operates services across Southport, is giving its customers the chance to nominate one of their drivers for its nationwide Bus Superhero award. This accolade is designed to recognise drivers who make a difference to customers when they travel on Arriva buses, be it through their heroic efforts or just by adding a little extra sunshine to their passengers' day. Whether it is their friendly manner, flawless driving or the fact they go above and beyond the call of duty, Arriva wants the people who know best, its customers, to nominate drivers that deserve to t have their dutiful deeds acknowledged. Debra Heaton, marketing and communications manager from Arriva North West said:- "At Arriva we are incredibly proud to have some of the most helpful, caring and committed individuals amongst our dedicated team of drivers, and this is our way of saying 'thank you' to those who consistently go that extra mile to ensure our customers are able to enjoy their journeys in safety and style. We want to celebrate our home-grown Arriva Bus Superheroes, but in order for us to do so, we need your nominations as to who puts the razzmatazz into your route, or the delight in your daily drive." The 'Bus Superhero – Driver of the Year' title forms part of Arriva's annual 'Made A Difference' (M.A.D) Awards campaign, a national recognition programme which looks at all elements of the bus company, including; engineering, depot management and back office functions. The top regional drivers voted for by customers, will be celebrated during a glittering ceremony at the Holiday Inn in Stratford Upon Avon on 26 March 2015, where the overall national Bus Hero will be announced. To vote for your Bus Hero please email with details of the driver, the route, and reasons for your nomination, or alternatively visit the website. Text or phone votes can be made on:- 07931 378 566.
Chairman bids farewell after 8 years at Trust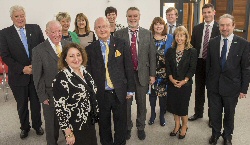 SIR Ron Watson CBE has retired as Chairman after 8 years at Southport and Ormskirk Hospital NHS Trust. Sir Ron chaired his final Board meeting was on Wednesday, 29 October and welcomed the new Chair, Sue Musson, took up the position on 1 November 2014. During his time with the Trust, Sir Ron has seen many changes including the creation of the Integrated Care Organisation in 2009, which saw the Trust take responsibility for community health services. Sir Ron, said:- "I have thoroughly enjoyed my time with the Trust and I've always been impressed with the commitment, skill and hard work all the staff put in to make the Trust a success and deliver the best care possible for our patients. The Trust will face challenges over the coming years, as will the entire NHS, but I have confidence in the team to ensure the local community continues to receive the best service possible under changing circumstances. I will certainly miss my contact with everyone, but will continue to give my absolute support as the Trust moves forward on its journey to foundation trust and beyond."