Amy and Zoe grow UK's fattest sunflower face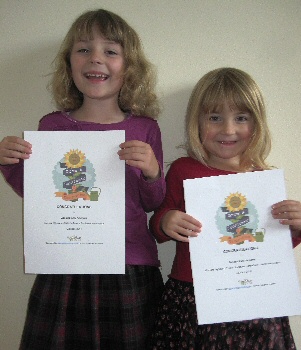 AMY and Zoe Andrews from Formby, Merseyside have recently (November, 2014) been crowned the overall National Winners of a national charity's sunflower growing competition after winning a regional round of the contest. 3 year old Amy and Zoe, aged 5, have been crowned as the winners of the competition organised by bibic after growing a sunflower face measuring 35.5cm in diameter. As Regional Winners Amy and Zoe were awarded a £10 Potterand Rest Voucher and a Regional Winner's certificate. As the overall National Winner, having grown the sunflower with the 'fattest face' of all the entries, they have won a £50 Potterand Rest Voucher. Zoe, who is a pupil at Woodlands Primary School in Formby, explained the secrets to their success:- "We planted a lot of sunflower seeds into little pots and put them in the greenhouse. When they were big enough we put them outside in a sunny place and watched them grow tall; taller than us!" Zoe's school will also be presented with a £50 Potterand Rest Voucher. Jon Shoesmith, Interim Chief Executive at bibic, which helps children and young people with conditions affecting their social, communication and learning abilities, said:- "We would like to congratulate Amy and Zoe on becoming the overall National Winners in our competition. The sisters were also champions of the North West Region. Earlier this year we teamed up with online garden centre, PotterandRest.co.uk and gave away packets of special sunflower seeds nationwide, which had been bred especially to have large flower 'heads', free of charge to green fingered youngsters who wanted to enter the competition. There were 2 titles to be won; Regional Winner and National Winner." bibic helps children and young people aged from 6 months to 18 years old with conditions affecting their social, communication and learning abilities to achieve their potential for a happier and more fulfilled life. These include developmental conditions such as autism, cerebral palsy, Down's syndrome and brain injury. bibic receives no government funding and relies on support and donations to provide the life changing help needed by many children and their families. The charity has a national assessment centre in Somerset. Its therapists work closely with families nationwide to create a therapy programme, which provides them with the skills and strategies to support their child or children. If you would like to support bibic's work and wish to make a £5 donation to the charity, please text:- KIDS02 £5 to:- 70070 or for a £10 donation text:- KIDS02 £10 to:- 70070. Potterand Rest aims to be the largest 'true' garden centre online with free expert advice available to gardeners via telephone and social media, backed by a 5 year plant guarantee. The e-garden centre also hopes to appeal to all levels of gardeners from complete novices to keen amateurs and on to expert gardeners.
Men jailed for violent robbery in Liverpool station underpass
2 men who carried out a violent robbery on a 72 year old man have been jailed by Liverpool Crown Court. James Lewis, 27, of Thomas Drive, Prescot, and James Condliff, 23, of Jeffreys Crescent, Huyton, pleaded guilty to robbery and were sentenced to 3 years and 18 months, respectively, on Friday, 31 October 2014. The conviction follows a British Transport Police (BTP) investigation into the incident, which took place on Friday, 10 January, 2014. After withdrawing cash from his bank in Huyton town centre, the victim was followed into the underpass at Roby station. He was approached by Lewis, who hit him in the face, and dragged him downstairs. He was then joined by Condliff, before Lewis reached into the victim's jacket and stole an envelope containing £2,050, which the victim had withdrawn from his savings to pay a contractor. Following the robbery, BTP launched an investigation and extensive enquiries were undertaken in an attempt to trace the men responsible. CCTV enabled officers to identify Lewis and Condliff and they were subsequently arrested. DC Jeff Preston, who led the investigation, said:- "This was a particularly nasty attack on an elderly gentleman, who had been watched withdrawing his cash from the bank and then followed quite a distance before the pair stuck. The victim was left shaken and distressed and suffered a swollen lip and bruising in the attack. The robbery was violent, unprovoked and cowardly. Lewis attacked and robbed an elderly man going about his business, hitting him in the face and knocking him down the subway stairs, before stealing his cash and running away. Thankfully, violent crime on the railway is rare. It is completely unacceptable and will always be fully investigated by Police. Through the hard work of myself and my colleague DC Martin Melia, we were able to identify Lewis and Condliff and bring them to justice. This sends a clear message to other criminals that we will always fully investigate such offences and will not hesitate to put them before the courts. We are committed to tackling all forms of violence and will use all available means to trace offenders and bring them to justice."

What effect will the 'Northern Futures Summit' in Leeds have on Merseyside?
THE DPM, on Thursday, 6 November 2014, launched a major project called:- 'Northern Futures' that is asking people in the North what our Northern Cities needed in order to compete globally, and to grow, at a summit, with Centre for Cities in Leeds.

Deputy Prime Minister Nick Clegg said:- "One of the key things that comes up time and again is the need for better transport links; electrification for the rail networks connecting Leeds, Sheffield and Manchester, renovation of the dilapidated commuter lines. That is why I am pushing for a huge programme of transport improvements in the North to begin immediately. The suggestions and ideas we have had will be debated at the Northern Futures Summit in Leeds today, and I will turn as much as I can into swift action. London and South East has had billions of transport investment over recent years from HS1 to Crossrail to the Northern Line extension. The perfectly reasonable requests I have been hearing from the North are basics that are needed if we are to create a true economic hub in the North of England. The North needs improved transport now. The roads and railway lines connecting our great Northern Cities have seen improvements in recent years, but I want more. Much more. As we negotiate over what gets government funding in the Autumn Statement, one of my key priorities will be to change that. We need to get this started as soon as possible. I want a fully upgraded and electrified network between Manchester, Leeds and Sheffield by 2025. We also need to improve commuter services on lines that are not electrified. I want significant improvement; government money to buy better rolling stock to improve commuter routes in the North; also by 2025. Ancient rolling stock and lines that have not been upgraded in 30 years are not fit for a 21st century metropolis. Decrepit trains such as the Pacers, which are literally ancient buses on rails, are not a fair way for people in the North to get to and from work. They would not be deemed acceptable on London commuter lines, and they are not acceptable in the North. This is not just about rail. 64% of journeys in the North are by car. We need to build on the announcements already made to improve road links such as the M62. I want to go further, starting by extending the full stretch of the M62 between Manchester and Leeds to 8 lanes using the "smart" motorway model (that is, turning the hard shoulder into a 4th lane in each direction), and having a programme of improvements for the Woodhead Pass (A618/A626) between Manchester and Sheffield. I will push to see these in the upcoming Roads Investment Strategy for completion by 2025."

But many in Liverpool and other parts of the North West as questioning why the focus has again been on Manchester, with the likes of Liverpool being missed out of the HS2 and HS3 links.

With over 25 million people using the cross Pennine rail routes every year, today over a 3rd of passengers have to stand during their commute, it was announced at the summet, so by 2025 the DPM wants to see electrified cross Pennine links between Liverpool and Manchester on one side and Leeds, Sheffield, Newcastle and Hull on the other. This, they say, will shorten journey times to 40 minutes at most between any 2 of Manchester, Leeds and Sheffield and end the misery of overcrowding when people journey to work. But again Liverpool and Chester have been left out!

The DPM have told the media that the:- "Top Facts on road and rail in the North" are as follows:-

► Ancient rolling stock and lines that have not been upgraded in 30 years.

► Over 25 million people use cross-Pennine routes every year, and over a 3rd of passengers have to stand during their commute.

► Electrification of key routes will shorten journey times to, at most, 40 minutes between any 2 of Manchester, Leeds and Sheffield.

► 64% of journeys in the North are by car.

The Deputy Prime Minister, Nick Clegg also said:- "It's absurd that our great North is missing out on visitors when it boasts such stunning countryside, history and culture. Through the Northern Futures project, I asked people what our Northern cities needed in order to compete globally, and to grow. Your resounding call is clear; a strong Northern future relies on putting the North back on the map: a top tourist destination. From next year, up to £10m could be put in place for there to be a clear strategy for tourism in the North, bringing harmony to the current offer from 29 individual tourism boards into one great offer."

Yet, the RMT slammed Nick Clegg in a press release, for what they say is hypocrisy, as he outlined his rail plans in Leeds. Mick Cash, RMT general secretary, said that:- "It is clearly hypocritical for Nick Clegg to talk big about improving rail services in Yorkshire; while he is the deputy leader of a Government whose current franchise proposals on Northern and TPE would decimate jobs and services. This is pure political posturing and his electorate in Sheffield will not be fooled. If Nick Clegg was serious about improving rail in the North he would come out in support of RMT's fight to defend and expand jobs and services in the here and now."

So what are your views about this topic? Please email us to:- news24@southportreporter.com and let us know what you think about it today!

For more information about this subject click on here.