Southport's 1st Halloween Parade...
Photographs by Patrick Trollope.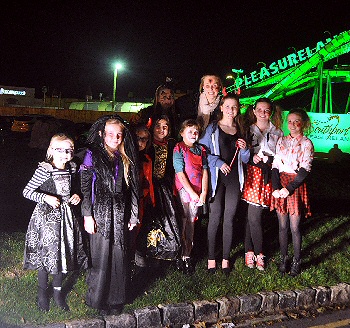 A spooktacular parade through the streets of Southport was held on Halloween, 31 October 2014. The event has raised mixed reactions from locals and visitors as young and old, dressed in costumes attended the town's festivities. For those taking part, this event was fantastic fun, as we found out after talking to many of the participants. This event was part of a weeklong themed series of events, around Halloween, leading to organisers dubbing the town:- "The nation's Halloween Capital." The parade started at 6:30pm from Pleasureland and snaked its way down the Esplanade, onto the Promenade, turning off down Neville Street, then running along Lord Street. It then turned off and headed down Coronation Walk, back on to the Esplanade and finished at the start, in Pleaureland's car park. Even though the event replaced the Christmas Lights Parade, it was not as big, as it was the first year and it had been very quickly organised, this was a fantastic starting place to build up from. Taking part were the Ormskirk & Southport District branch of the Oddfellows Society, D'vine catering Southport, Goldwing Motorbike Club, Dance Flava, Baby Ballet, Pleasureland, The Champion, Barry Pedder's "Addams Family" hearse, a headless horse rider, local fire dancers, Southport Offshore Rescue Trust and a few others. On the Town Hall Gardens, there was hot food and drink to purchase, including; candy floss, toffee apples, hot doughnuts, hot chocolate and much more! Well done to all who took part, as it was very entertaining. As well as the photos in this edition, we also have some video footage from the event on our Facebook Page. To see the rest of our photographic coverage from the event, please click on here now! Also did you enter into the spirit of things and take part or do you think Southport should not do this type of event? Let us know by emailing us to:- news24@southportreporter.com.
Arson attack in Southport as young children and parents sleep in their house!
MERSEYSIDE Police are appealing for witnesses and information after a fire was started deliberately at a house in Southport, at around 1.30am, on Saturday, 1 November 2014.
Officers, from the Sefton area, were called to the house on Norwood Road by Merseyside Fire and Rescue Service, who had atened a man living at the house had been woken up by his dog barking at around 12.50am. Luckily he went downstairs and found that 3 wheelie bins had been set on fire outside his house. The fire then spread to a caravan on the drive and subsequently to the house itself. The outside walls were damaged and some windows were smashed, but it is a miracle no one was injured.
The property has been forensically examined by crime scene investigators and house to house inquiries have been carried out. Also CCTV is being located and reviewed and an investigation into the full circumstances surrounding the incident is continuing.
Detective Inspector Rob Hill, Sefton CID, said:- "Whoever did this is incredibly reckless and has put an entire family's lives at risk. In total, 2 adults and 3 young children were in the house at the time of the incident and it is only through sheer good fortune that none of them was injured, or even killed. I'd like to reassure the community in Southport that incidents such as this are very rare and we are doing everything we can to bring the people responsible to justice. Norwood Road is a very busy road and even though this happened in the early hours of Saturday, it's likely that people were still on their way home from Halloween events or nights out. I'd appeal to anyone who saw people acting suspiciously in the area, or has any information whatsoever about this fire, to get in touch with us as soon as possible."
Anyone with information can call detectives in Sefton CID on:- 0151 777 3011 or Crimestoppers, anonymously, on:- 0800 555 111.

KEEP up-2-d

ate




with our free daily news emails.



Are you subscribed? Si

g

n

u

p

today

to

our daily email news service via... Formb

y

-

Re

p

orter

.com



If you subscribed you can keep in up-to-date with what's going on in and around Merseyside. It is free and we do not send out massive amounts of emails. Your email is kept under the UK's Data Protection Act, so you can be sure that you will not have problems.
YOU CAN ORDER PHOTOS CLICK HERE TO FIND OUT HOW!