£1.2m MRI suite scans first patients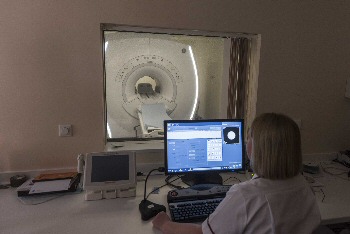 SOUTHPORT hospital's new £1.2m MRI scanner suite has welcomed its first patients. The radiography department at Southport and Formby District General Hospital was extended to accommodate the £500,000, 7-tonne machine which was lowered into position by a 50ft crane in September 2014. Jeanette Abraham, assistant director of operations for planned care, said:- "This is a major investment which will help meet increasing demand for MRI services. A second scanner will also reduce waiting times for diagnostic investigations and, in turn, get patients home more quickly." The hospital's existing scanner, which was installed in 2005, will be refurbished.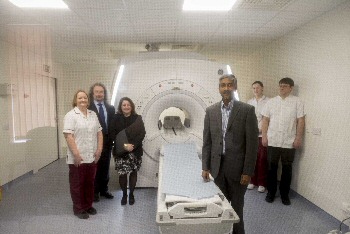 MRI (magnetic resonance imaging) is a type of scanner that uses strong magnetic fields and radio waves to produce detailed images of the inside of the body. The scans can be used to examine almost any part of the body and the results can be used to help diagnose conditions, plan treatments and assess how effective previous treatment has been.

Southport Hesketh Round Table raise £1990.58 With Pudsey Bear for Children In Need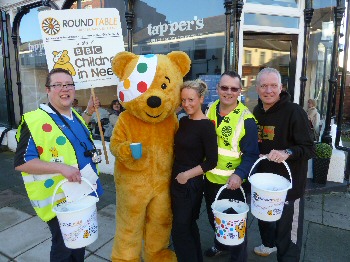 PUDSEY Bear would like to say a:- 'BIG THANK YOU' to all the people he met during his day in Southport for their kind donation and support for the Children In Need Charity.

Pudsey and his Southport Hesketh Round Table support team were made very welcome as they travelled around from early morning to late evening on Friday 14th November.

We have collected a Record Breaking £1990.58 and 2 Euros!

Pudsey started his day in Southport Railway Station, posed for many photographs and then travelled by train to Birkdale. After a delicious breakfast in the Retreat, Pudsey had a walk around the village in the shops and a children's nursery.

MD Travel then kindly provided a Limo Party Bus to transport Pudsey and the Round Table team to visit Ainsdale village and a couple more children's nurseries.

In the afternoon and evening Pudsey Bear was back in Southport town centre doing a walkabout visiting shops, cafes, restaurants and other businesses.

Pudsey Bear and Southport Hesketh Round Table would like to say a special thank you to Merseyrail, Retreat in Birkdale, MD Travel, Champion Accountants, Spiga Restaurant, Lings on Kings Restaurant, Gorgemead Ltd and all the various press for your continued support.

We all had a great fun day, Pudsey posed for many photos, made new friends and raised a fantastic amount for the Children In Need Charity.
For more information about Southport Hesketh Round Table visit our website.