Free art work on the streets of Walton
MORE than 50 pieces of free art work are to be left around Walton in Liverpool as part of a special festival. 'Mark It – Liverpool Street Art Festival' is running a Free Art Friday event, on 28 November 2014, which will see artists from the local area and all over Merseyside donating pieces - which will be placed on County Road and inside local shops and bars to be loved and cherished by new owners.

It will include paintings, photography, sculptures, stencil art work and other objects of interest. Each piece will be tagged with the Free Art logo, and details about the work and the artist will be included on the back.

Free Art Friday is a global event set up as an antidote to Black Friday to encourage people to stop shopping for one day and instead leave items on the streets where they could find a new home.

Also on the day, the former Ethel Austin building on County Road will be transformed into a spectacular piece of art by street artist Whoam Irony.

The project is being run by Pamela Sullivan from Mark It and Kieran Gorman from Zap Graffiti Arts with support from the Mary Portas High Street Innovation Fund.

Local Councillor Roy Gladden, who is chair of the local Mary Portas Innovation Fund, said:- "The group of artists we have been working with are passionate about taking art out on the streets to enjoy. We are encouraging people to explore the County Road area and identify unique pieces of artwork which they can give a good home to. I know people will also be blown away by their plans for the Ethel Austin building, and although I can't say too much about it, it will be visually stunning, attract people's attention and get them talking."

Co-ordinator of Liverpool Street Artist Festival, Pamela Sullivan, said:- "We are really excited about this festival and hope that people come out on to the streets to look for artwork that that they can take home with them. I would like to thank all of the artists who have contributed pieces of work and I hope that people who choose to take pieces of the artwork give them a good home and love and cherish them for a long time to come."

For more information visit:- Facebook.com/markitliverpool.
Mayor backs festive gift campaign
LIVERPOOL'S Mayor is urging people to back a festive gift campaign by North Liverpool Foodbank in aid of needy families. They are holding a Big Coffee Morning at St Andrew's Church on Adshead Road in Clubmoor on Wednesday 26 November 2014 from 10am to 12 noon, which will be attended by Joe Anderson. People are being asked to bring along gifts which will be distributed to local families in time for Christmas.

North Liverpool Foodbank recently benefited from a £10,000 donation from the Mayor's Hope Fund, which is aimed at relieving poverty in the City, and were also given funding to purchase a van to transport food and other goods across the City.

Julie-Anne Wanless, St Andrew's Community Network Manager, said:- "We'd really love people to come along on Wednesday and have a cup of coffee and some cake with us, find out more about what we do and also make a donation that will support a needy family. The gifts really do not need to be expensive, just something as simple as socks, a toy or toiletries will make a big difference to the lives of local people this festive season."

Mayor Joe Anderson said:- "North Liverpool Foodbank does amazing work supporting families hit hard by the austerity measures and welfare reforms. I am really pleased that we have been able to support them through the Hope Fund, and I would urge people to donate to their festive appeal and make sure that local people have a better Christmas."

For more information about The Mayor's Hope Fund, visit:- themayorshopefund.org.uk.

Local Wirral disability charity secures over £200,000 funding from the Big Lottery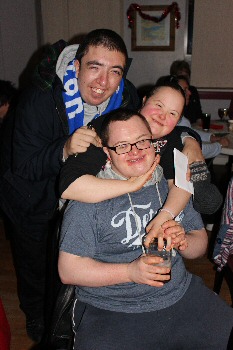 BIRKENHEAD based Wirral Mencap is delighted to announce funding success from the Big Lottery's 'Reaching Communities' programme. The charity has secured a grant of £216,247 spread over 5 years, to deliver an Outreach Service to local families that include a child or adult with a learning disability.

The Outreach Service provides information and support to local families, helping them to identify solutions when they are experiencing challenges or issues. The service has supported people with a learning disability to lead a more fulfilling life through access to activities and clubs, and it has supported carers with things like planning for the future, accessing entitlements and navigating local services.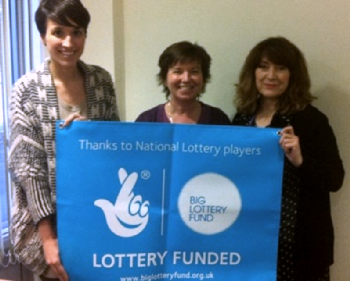 One carer, commenting on the support she and her adult old son had received, said:- "It has turned my life around and given my son confidence that he was certainly short of. It amazes me how different things are now. I can remember him sitting in the [Wirral Mencap] office crying with his head down when we first met the team. Now he is so independent and has achieved so much. We are so grateful."

Wirral Mencap received news of the grant in mid-November, and Gwen Seller, Chair of Wirral Mencap commented:- "We were thrilled when we received the news. It means this vital service can continue to support local people for the next five years. We have seen some fantastic outcomes during the first two years and this grant will allow us to develop the service further to benefit more Wirral families."

Wirral Mencap is a small, independent charity that has been supporting local people with a learning disability and their families for over 50 years.
The charity is governed by a group of 7 voluntary trustees, who manage and oversee the strategic direction of the charity.

For more information about its service and other Wirral Mencap activities, or if you would be interested in becoming a Wirral Mencap Trustee visit:- mencapwirral.org.uk or call:- 0151 666 1829.